Korean ground beef bulgogi is quick to make in the instant pot but it's also easy on the stove top. Make it with frozen ground beef (or fresh) tonight for a quick weeknight meal! You can use rice or cauliflower rice or even wrap in lettuce leaves!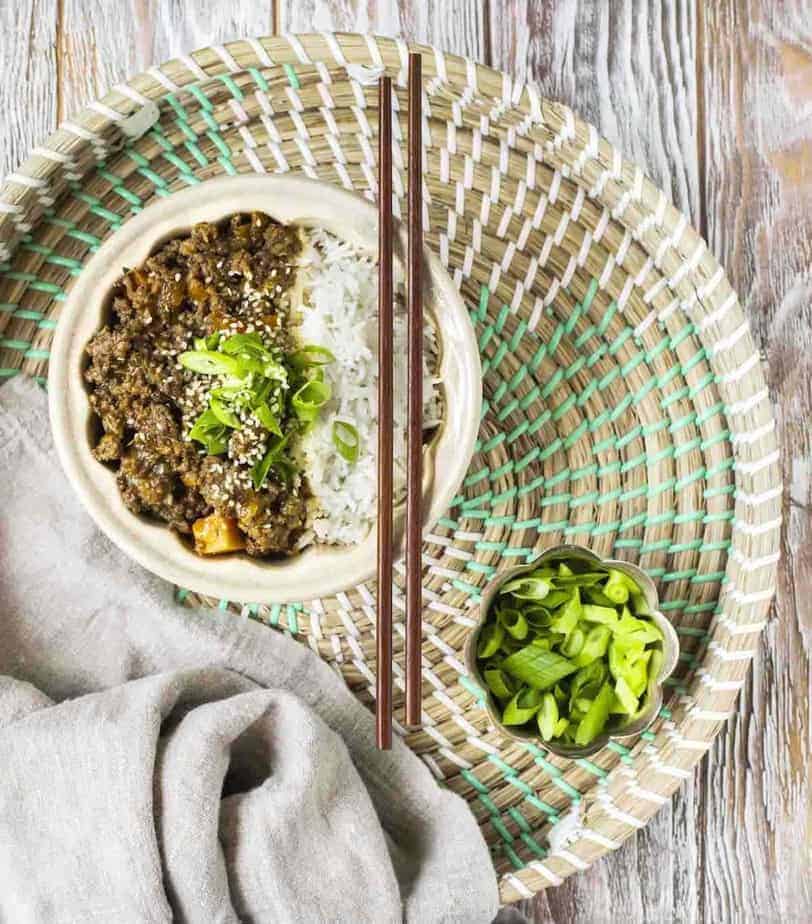 Jump to:
Intro
Ground Beef Bulgogi
Korean style beef, Bulgogi, is briny and sweet marinated beef that is easy and quick to make on a skillet. We also love the BBQ short ribs with a similar marinade.
But you know what? Inexpensive ground beef makes just as delicious and flavorful bulgogi that even a poor college student can afford without sacrificing flavor or nutrition. That's why this recipe was my daughter's "go-to" recipe while in college.
Make Bulgogi With Frozen Beef
For me, though, there is another reason why I love using frozen ground beef to make bulgogi - I can make it without defrosting the meat!
You see, it's harder to make bulgogi with frozen sirloin or rib eye slices since they don't soak up the flavors as well in the Instant Pot or on the skillet. But frozen ground beef defrosts quickly and soaks up the sweet and briny sauce while cooking in the Instant Pot.
It's a wonderful thing.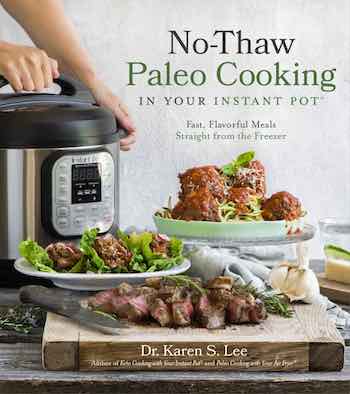 These are just a few reasons why this recipe was included in my latest cookbook, No Thaw Cooking in your Instant Pot.
So use this recipe to make a quick dinner tonight in the Instant Pot or Mealthy Multipot, like the one I used to make Kimchi Pork Fried Rice. You don't have an electric pressure cooker? No problem. I added a direction for stove top skillet method below too.
I think you'll find ground beef just as flavorful and easy to use for this quintessential Korean marinated beef recipe. It will become your family's favorite! Make a double batch, freeze half to reheat later. That's even better than cooking from scratch!
Featured on Food52 IGTV!
This recipe is a great take-off from the traditional bulgogi recipe that Food52 asked me to share a video on how to make it. So, check out the "At Home With Us" series on Food 52 IGTV where I cook this Korean Bulgogi with Frozen Ground Beef for Instant Pot. You may need an Instagram to watch the full video.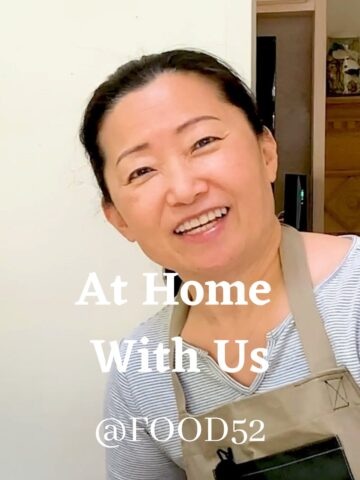 Ingredients
Here's a bit more information about the ingredients I used, including any substitutions or replacements you can make.
Tamari or Coconut Aminos: You can use soy sauce in place of the coconut aminos. Coconut aminos are best for people who don't eat gluten.
Blackstrap Molasses: You can replace this 1:1 with dark corn syrup, honey, or maple syrup. (If you are eating low-carb, use a sugar-free honey substitute).
Ginger: Grate some fresh ginger. It has a lot more flavor than ground ginger from your spice cabinet.
Onion: This will be diced, so any type of onions will work perfectly in this recipe.
Mirin: This is optional. If you don't have any, you can leave this out.
Rice: I used medium-grain rice. You can also use cauliflower rice if you are trying to eat low-carb.
FAQ
How can I make this with defrosted meat?
If you bought fresh ground beef and don't want to make another burger or meatloaf, this is a perfect dish for you. Combine all the ingredients, except carrots and any other greens you want to add, in a mixing bowl and marinade for about 10 minutes. Then, use HIGH pressure for 10 minutes. You can see more detailed instructions on the recipe card.
Wouldn't ground beef be too tough if you cook from frozen?
Some cuts of beef might get too tough when cooked from frozen but for this recipe, you're only cooking it for a short period time UNDER pressure so meat gets tender.
Can I make this on the stove top?
Yes! You don't have to brown the meat first but combine the ingredients to marinade for 10 minutes and then, cook the meat on the skillet and add carrots and any other veggies you like at the end. See the recipe card for more detailed instruction.
Can I double the recipe?
Yes you can! And the good thing is, time for the pressure cooker does not change!
⭐️ Have you tried this recipe? If you love this recipe, give it "5 star" ⭐️⭐️⭐️⭐️⭐️ rating on the recipe card! We appreciate your feedback!
Related recipes
And you KNOW you NEED some kimchi to go with it so here is my Authentic Korean Kimchi recipe that you will love.
Recipe
Did you try this recipe? We would love your feedback!
Click on the stars on the recipe card below.
Korean Bulgogi with Frozen Ground Beef for Instant Pot
Korean Bulgogi made with frozen ground beef is a simple and easy to make without defrosting the meat. It's not only easy but also very flavorful when you make it in the Instant Pot. But for those who do not have the Instant pot, scroll down for the skillet method.
Ingredients
½

c

tamari or coconut aminos

or ¼ c soy sauce + ¼ c water

1

tablespoon

blackstrap molasses

1

tablespoon

raw honey

1

teaspoon

minced garlic

1

teaspoon

grated fresh ginger

2

teaspoon

sesame oil, divided

1

teaspoon

fish sauce

1

teaspoon

sea salt

1

teaspoon

freshly ground black pepper

1

lb

ground beef

½

c

diced onion

½

c

diced carrots

1

teaspoon

mirin

optional

¼

c

chopped scallions

for garnish

1

teaspoon

sesame seeds

for garnish

2

c

medium grain rice

soaked

4

c

cold water

divided
For Stove Top
1

teaspoon

neutral oil, like avocado oil
Instructions
For Pressure Cooker
In a small mixing bowl, combine the tamari, molasses and honey with a whisk. Add the garlic, ginger, 1 teaspoon of sesame oil, fish sauce, sea salt and black pepper to the bowl. Mix and set aside.

Wash the rice, drain water and repeat 3 times or until water runs clear. Then, soak the rice in 3 cups of water until it's ready to cook.

Turn on the Instant Pot by pressing "Sauté" and set to "More." Insert the inner pot and wait until the panel says "Hot."

Add the frozen ground beef to the inner pot and let one side brown for 1 minute. Add the onion, carrots and the tamari mixture to the inner pot and stir the liquid and the vegetables for about 1 minute. If using defrosted ground beef, see NOTES below.

Then, turn over the ground beef to brown the other side and place the beef on top of the vegetables.

Drain the water from soaking rice. Then add the remaining water to the rice and place it in an oven proof bowl that fits inside the inner pot. Stainless steel bowl is best but glass bowl is fine too.

Place the trivet inside the inner pot, over the meat and vegetables.

Put the bowl containing the rice on top of the trivet and close the lid tightly.

Hit "Cancel." Move the steam release handle to "Sealing." Press the "Pressure Cooker/Manual" button and set the timer for 15 minutes on HIGH pressure.

When the timer ends, press "Cancel" and allow the Instant Pot to cool down naturally until the float valve drops down. Open the lid carefully.

Take the rice bowl out and keep it covered until serving. Break the meat apart in the inner pot or transfer the meat to a cutting board and cut into small pieces with a sharp knife. Mix the meat and the vegetables. Add the remaining sesame oil and mirin (if using). Stir for about 2 minutes.

Fluff the rice into 4 bowls, place the Bulgogi on top of the rice. Garnish with scallions and sesame seeds before serving.
For Stove Top
Place the frozen ground beef in a ziplock bag and submerge in large bowl of warm water until most of the meat is defrosted. It should take about 15-20 minutes. Turn the meat over time to time to time.

In a small mixing bowl, combine the tamari, molasses and honey with a whisk. Add the garlic, ginger, 1 teaspoon of sesame oil, fish sauce, sea salt and black pepper to the bowl and mix.

Combine half of the sauce mixture and ground beef and mix. Set aside.

In a large skillet over medium-high heat, heat oil. Saute onions for one minute.

Add carrots and sauce for another minute.

Add the marinated ground beef to the skillet and stir to break down the beef into small pieces. Cook for 3-5 minutes or until beef is browned. Add mirin if using.

Transfer the meat with vegetables into bowls with rice or cauli rice. Garnish with scallions and sesame seeds before serving.
Notes
Sodium:
Coconut aminos can vary in sodium content, depending on whether the bottle is labeled as "sauce" or just plain coconut aminos. This recipe uses plain coconut aminos with 130 mg sodium per 5 ml so check the sodium content of tamari or soy sauce you are using. If the sodium content is higher than 130 mg per 5 ml, you can dilute it with water. 
For Fresh Ground Beef
For Instant Pot: if you are using fresh ground beef, combine the beef with marinade and diced onions and set aside for 1o minutes. Then, brown the meat mixture for 1-2 minutes on Sauté, and cook on HIGH pressure for 10 minutes. And follow the rest of the steps after opening the lid. 
For Stove Top: if you are using fresh ground beef, you can skip the defrosting step in warm water and follow the steps above. 
For Ground Chicken
The recipe is the same as above but use 2 teaspoon of grated ginger. 
Nutrition
Serving:
4
g
|
Calories:
762.5
kcal
|
Carbohydrates:
103.2
g
|
Protein:
30.8
g
|
Fat:
23.6
g
|
Saturated Fat:
8.9
g
|
Cholesterol:
80.5
mg
|
Sodium:
2419.9
mg
|
Potassium:
504
mg
|
Fiber:
4.2
g
|
Sugar:
6.2
g
|
Vitamin A:
62.3
IU
|
Vitamin C:
2.9
mg
|
Calcium:
50.8
mg
|
Iron:
8.1
mg
Disclosure
This recipe may contain links that pay commission to this site when you purchase from the links, at no extra cost to you. Full disclosure!
➡️ Subscribe to our YouTube Channel for more recipes and tips. And follow @drkarensle on Pinterest, Facebook, Instagram and say "Hello!" 👋
💌 I would love to receive more posts like these in my inbox! SIGN ME UP for FREE newsletters!