Air fried shrimp with garlic and butter from the air fryer leaves no oily mess around the stove and it only takes a few minutes to make. This savory appetizer can be easily made into a meal with pasta or zoodles any day of the week!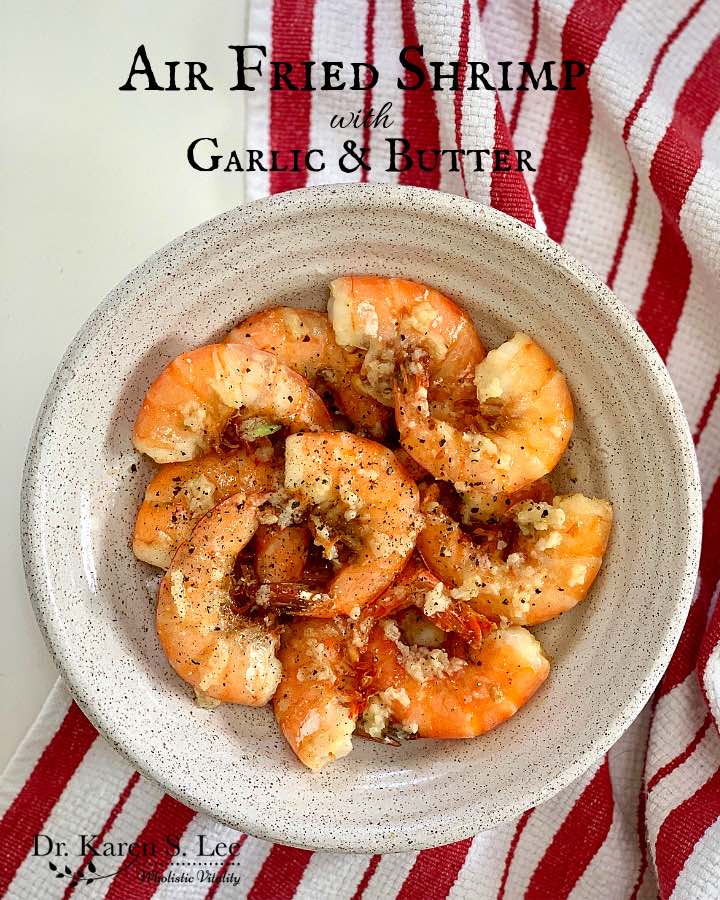 You know how much I love my Instant Pot so it's no surprise that I have many Instant Pot recipes on the blog. But I love my Air Fryer too (Amazon affiliate link) and published some of my favorite recipes in my cookbook Paleo Cooking with your Air Fryer last year.
Air fryer is everything Instant Pot is not since it makes food crispy. And I use both almost every day. Mind you. I have a CONVECTION oven that circulates hot heat which cooks food 10% faster than a conventional oven but it's still not faster than the air fryer or makes great crispy food.
And when you are on the Paleo diet without grains, like us, it's even more challenging to make crispy textured foods. Besides, who wants to eat deep-fried food so often? Again, who's got time to clean all the greasy mess on the counter-top? Not me.
That's why I love using air fryer when I need crispy foods. And shrimp is one of our FAVORITES to cook in the air fryer, like the Air Fried Paleo Coconut Shrimp. 
This time, I made Shrimp with garlic and butter because, well, who doesn't love garlic and butter? And unlike the coconut shrimp, I didn't have to use eggs or dredging so it was even quicker! It's so easy and there's no countertop mess. Can you tell I hate kitchen mess?
Don't have an air fryer? What are you waiting for? You need one! But make sure to buy one that has a stainless steel wire basket, like  my Philips Avance XL air fryer (Amazon Affiliate.) And make sure to buy my cookbook Paleo Cooking with your Air Fryer since it's on SALE right now!! (Amazon Affiliate) 😉
Air Fried Paleo Shrimp with Garlic and Butter
This recipe is so ridiculously simple to make. While the air fryer is pre-heating, marinate the shrimp with shells in ghee (or butter if you can have dairy) and minced garlic and then, fry them for a few minutes. These are Extra Large (16/20) shrimp so they took 6 minutes. If you are using a smaller size, obviously they'll take less so check if they are bright pink for doneness midway. You could peel the shells right after you suck out the buttery liquid before eating or if you are like me, eat the whole thing. Who got time for messy peeling? Not me.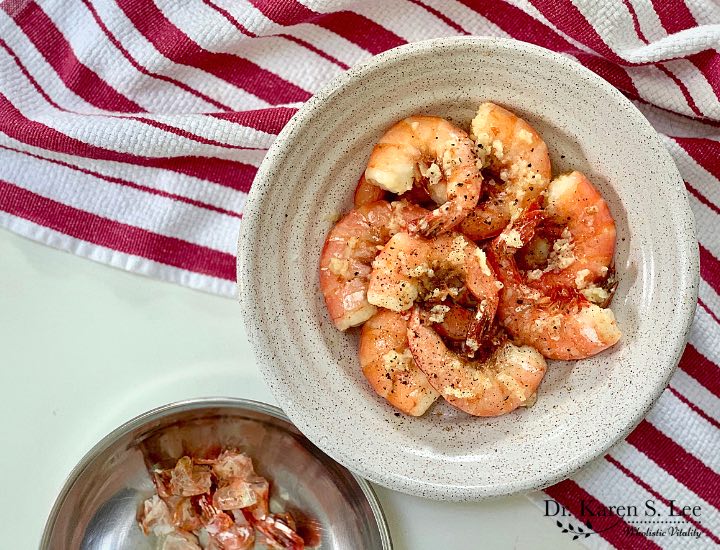 Don't they look scrumptious? Look at all the garlic! Crack some fresh black pepper all over them before serving and you're good to go!
Air Fried Shrimp with Garlic and Butter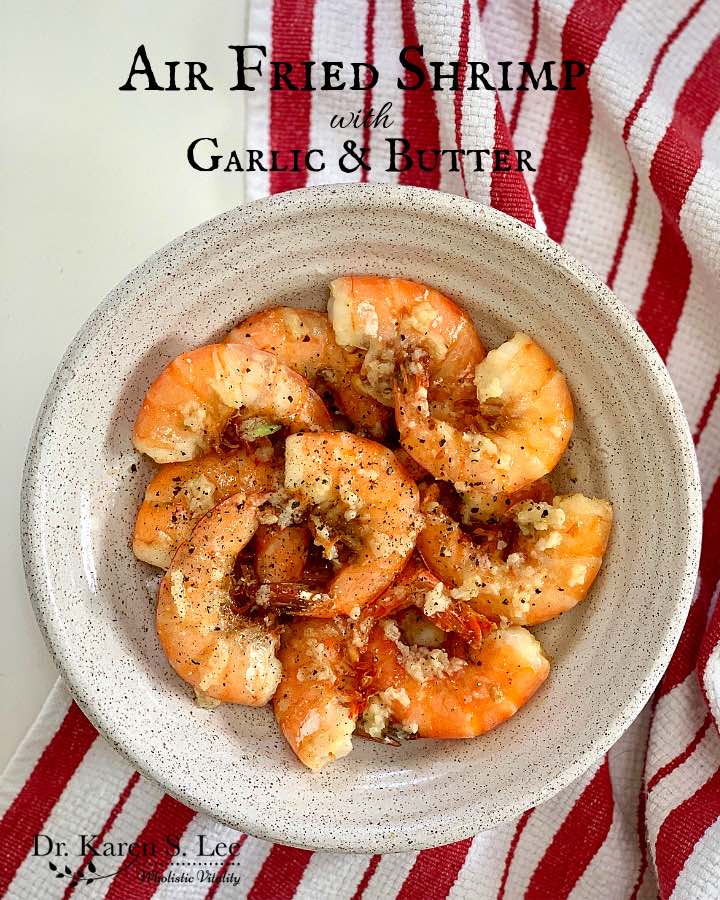 Air Fried Shrimp with Garlic & Butter
Print
Ingredients
3

tbsp

butter (or ghee)

melted

3

cloves

garlic

minced or pressed

12

extra large shrimp

16/20 or smaller

1

tsp

sea salt

1

tsp

fresh black pepper
Instructions
Wash the shrimp in cold water. If needed, using kitchen shears, slit the top of the shrimps and devein. Keep the shells on and place the shrimp in a medium bowl.

Turn on the air fryer to preheat to 360°F

In a small bowl, mix the melted butter or ghee, and garlic.

Pour the garlic and ghee mixture over the shrimp to marinate.

Place the shrimp in the air fryer basket. Set the timer to 6 minutes.

Reserve butter and garlic mixture for later.

When the timer goes off, open the basket and check for doneness. If the color of the shrimps is red and the flesh is opaque white, they are cooked. These shrimps were XL and it only took 6 minutes. Obviously, depending on the size, the cooking time may vary.

Place the shrimps back in the medium bowl and toss them with the reserved garlic butter mixture.

Sprinkle sea salt and black pepper and toss well. Serve immediately.
Notes
The cook time will vary depending on the shrimp size. 
You can substitute with butter if you are not Paleo. 
Disclosure Policy
This post and recipe contain affiliate links for products or services that pay this site small commissions if purchases were made via those links at no additional cost to you. Read full disclosure here.
PIN IT FOR LATER