Crispy and savory Korean style paleo seafood pancakes are popular appetizer with gluten-free flour. Briny seafood flavors will whet your appetite and if your family is like mine, they'd want seconds! There's a Keto-friendly version too!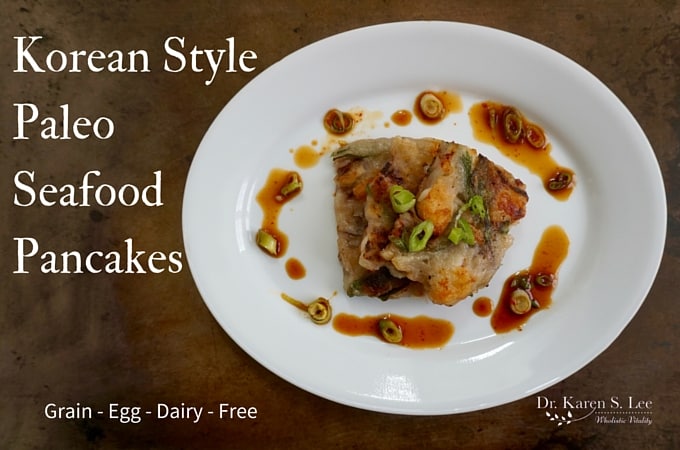 If you have ever been to a Korean restaurant, Scallion Pancakes or Seafood Pancakes - a.k.a. Pajeon - are one of the most popular appetizers, next to Jap Chae. Usually, the pancake is divided into equal pieces, like pizza slices, and they are served with a dipping sauce.
Koreans have been making these savory "pajeon" - 'pa' means scallions and 'jeon' means pancakes - using flours from wheat, beans, lentils, and rice for ages. Savory pancakes may be an interesting concept to some since most American pancakes are sweet and are usually served as breakfast but not Korean pancakes.
Korean Style Pancakes
Korean pancakes are usually reserved for special holidays or for honored guests as appetizers or as a side to alcoholic drinks, like sake or beer. Pancakes are labor intensive to make since so many ingredients are used for different types for certain flavor balances.
Using the right balance of ingredients is the key to the crispy outer layer, which makes it easy to flip without making a mess, and flavorful inside with a right balance of savory ingredients. It's an art, actually.
Making pancakes for a family or a larger crowd takes patience and can be time consuming since you have to make each individual pancakes and serve while they are hot and crispy.
When I make these pancakes, I only make a few at a time so I'm not enslaved to the stove all day. You shouldn't make them ahead of time since they are best served when crispy and fresh. However, you can make the batter in advance, and use it in a few days but reheating already cooked pancakes is not recommended.
Ingredients
Cassava Flour
I recently discovered Cassava flour when making grain-free Pecan Waffles (I still make this every weekend!). Cassava is made from Yuca - a root popular in many South American cultures. The flour's texture is almost like potato flour but it is grain, nut, and gluten free. And you can use the same ratio as wheat flour for baking. And unlike wheat and rice, it has resistant starch, which means, it increases insulin sensitivity, reducing the risk of Diabetes.
Also, since it doesn't breakdown in your body as fast as regular starch, you can regulate your sugar level better. You don't hit highs and lows like regular starchy foods. And it's not absorbed in the stomach or small intestines but "fermented" by good bacteria in the large intestine, producing short chain fatty acids. So I was really glad to discover a wheat flour substitute!
How to use Cassava Flour to Make Crispy Pancakes
I'll be honest, it took a few tries to achieve that crispy texture on the outside. I found out that the trick is cooking when the oil is VERY HOT and eating it while it's still hot. If you stack the pancakes, they will create steam from the heat and they will get soggy and gooey.
I got really excited when I finally came up with the right recipe and kept making them and stacking them to serve to my family all at once. (I hate it when they come by to take them piece by piece so I made them wait.) Well, by the time I served them, the pancakes were all soggy and gooey. I had to make another one just to prove that they were crunchy.
Almond Flour for Keto-Friendly Pancakes
If you want to make keto-friendly pancakes, substitute cassava flour with blanched ultra fine almond flour. Almond flour is keto-friendly and is great for baking.
But if you use almond flour for this Korean style pancakes, the texture WILL be pastry-like fluffy pancake with slightly crispy exterior, which is different than the traditional style. And you will have to add an egg to bind the almond flour together. It's still tasty but it won't be similar to the chewy but crispy texture of the traditional Korean pancake. But if you want savory pancake with vegetables and briny seafood, this recipe will be a hit with your family!
Instructions
Before you skip down to the recipe, read the directions in between the images because those tips will help you achieve the best results.
Julienne zucchini, onions, and scallions in thin strips or strings. Thinner the better. Be careful and don't cut your fingers. If you want to use a Mandoline, be my guest. I'm old school and I did it by hand.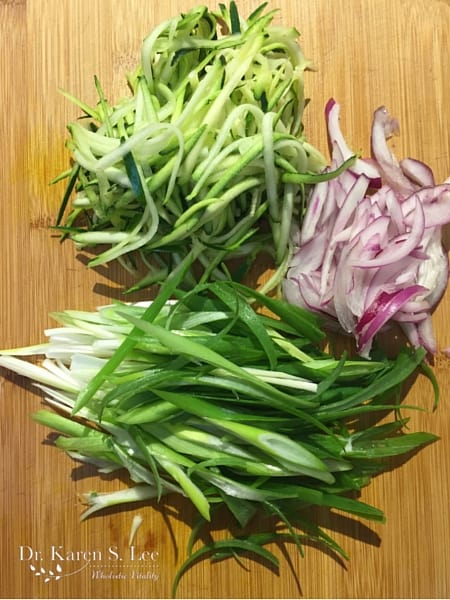 2. Add the veggies to a mixing bowl, sprinkle a pinch of salt to season and to soften the veggies. Gently toss the veggies together to coat them with salt.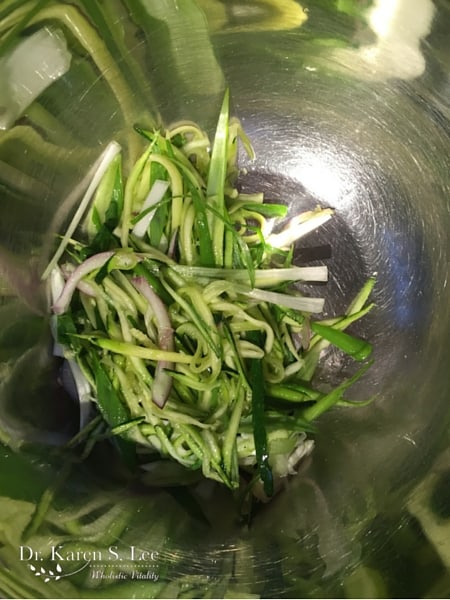 3. Take the seafood medley out of the package and place them in a separate bowl. Don't drain or wash the seafood as you'll add the liquid to the batter later.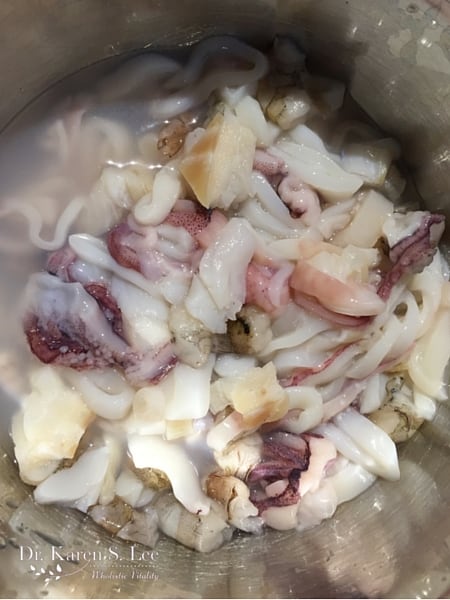 3. Gently mix the veggies, seafood, and its liquid together until the flour is wet and incorporated.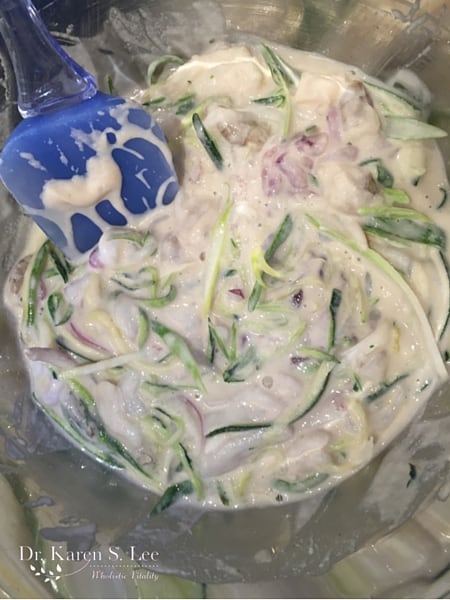 4. Heat stainless steel pan or cast iron pan until it's very hot. How can you tell if it's hot enough? Sprinkle a few drops of water and see if it splatters and sizzles. If it does, it's hot enough. Add high smoke point oil like avocado oil, enough to cover the whole pan. By the way, using this method guarantees your pan to be non-stick. You can make anything, even sunny side up eggs! Do not use a non-stick pan for the obvious reasons but the other reason is because non-stick pans do not brown the batter to make it crispy.
5. Back to the pancake. Wait until the oil smokes a little and then, gently pour one cup of the batter, spreading it out evenly with the back of the ladle or spoon, leaving some room on the edges. Be careful. Oil will splatter. I usually use a splatter guard or loosely cover the pan with a sheet of aluminum foil while cooking. Lower the heat to Medium heat. Cook for about five minutes and lift the edge to see if the bottom is browned and firm. If not, let it cook some more.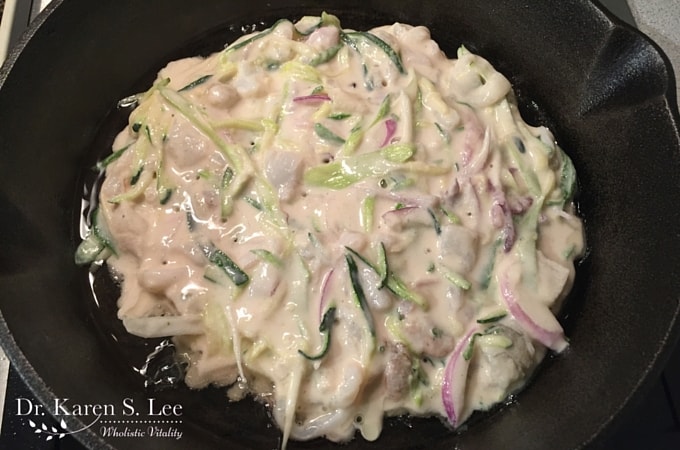 6. Pro tip: when you see holes on the top of the batter and translucent edges, then, it's starting to get ready to be flipped. When it's ready to be flipped, pancake should be firm and easier to handle. Slide the spatula underneath and lift the edge, add more oil to the pan, and flip in one suave move.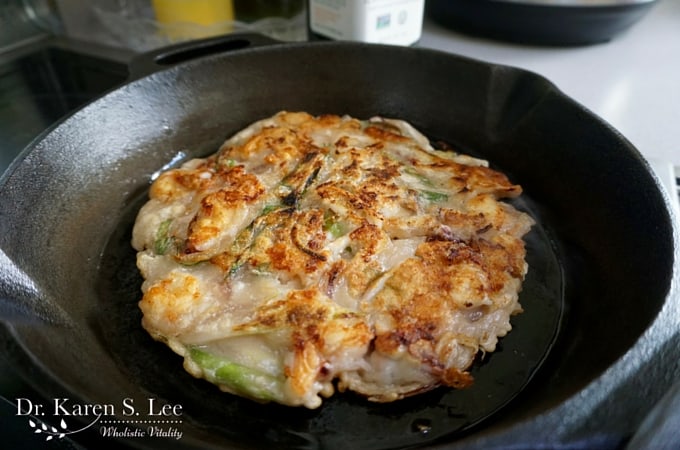 Look how beautiful it is!! Now cook this side for about 3 minutes while adjusting the heat or lifting the pan if it starts to burn. You may need to add more oil around the edges depending on how much oil you used before. Press down gently to make sure the entire surface touches the pan. After 3 minutes, again, slide a metal spatula underneath, and check if it's browned and firm.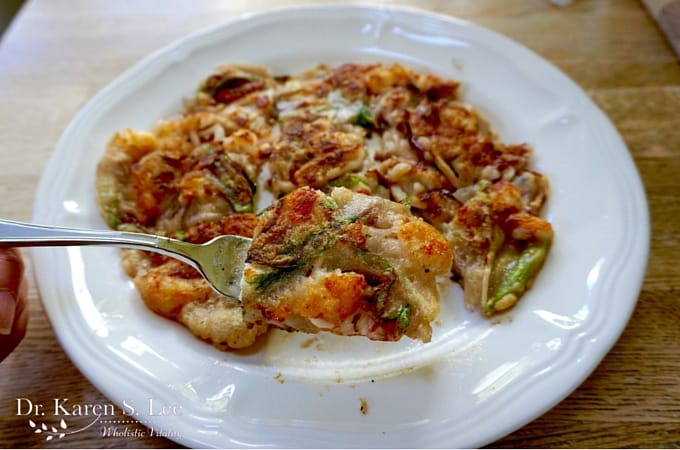 When it's done, slide the pancake onto a plate and wait a minute and cut, using a pizza cutter, which works better than a knife. Eat while it's piping hot and crispy! Here comes a test piece! Because, you know, you have to test at least one piece before calling your tribe to your masterpiece.
What do you think? Wait. Something is missing. Oh, that's right. The dipping sauce. You don't really "need" the dipping sauce, especially if you are avoiding soy, but if you want to, you can make the dipping sauce. The pancakes are already seasoned nicely so you won't miss out if you don't use it.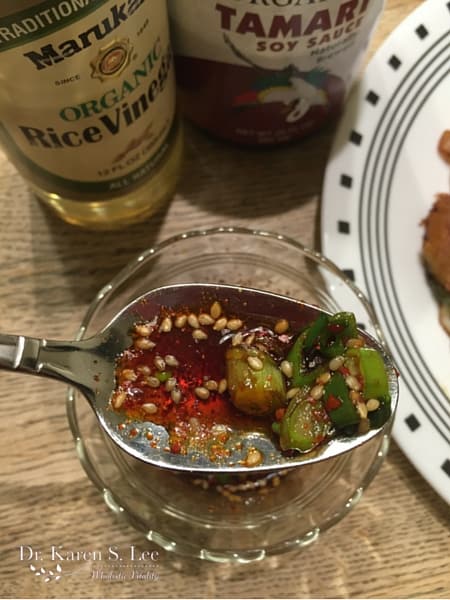 Here it is. Dip the piece and devour in one bite. Remember, eat it while it's hot!

Hope you enjoyed making Korean Style Paleo Seafood Pancakes. If you have egg allergies, this is a special treat since the ingredients only has flour and water. My kids will eat these as a meal! If you are allergic to seafood, try adding just julienned zucchini, Chinese chives, finely chopped kimchi, and lots of scallions. I love any of these combinations!
⭐️ Have you tried this recipe? If you love this recipe, give it "5 star" ⭐️⭐️⭐️⭐️⭐️ rating on the recipe card! We appreciate your feedback!
Recipe
Did you try this recipe? We would love your feedback!
Click on the stars on the recipe card below.
Korean Style Paleo Seafood Pancakes
Crispy and savory Korean style paleo seafood pancakes are popular appetizer with gluten-free flour. Briny seafood flavors will whet your appetite and if your family is like mine, they'd want seconds!
Ingredients
Dipping Sauce (You can make this in advance)
½

C

Soy Sauce

(Tamari or Coconut Amino for Paleo)

¼

Cold water

1

teaspoon

Red chilli pepper

1

teaspoon

Sesame Seeds

1

tablespoon

finely chopped scallions

1

tablespoon

Rice Vinegar
Korean Style Paleo Seafood Pancakes
1

Cup

Cassava flour

1

Cup

+ 2 tablespoon cold water

and any water from the seafood mixture

1

teaspoon

sea salt

1

Cup

Zucchini

julienned

1

Cup

Scallions

julienned

1

Cup

Onion

finely sliced

1

Cup

Wild Shrimp

shelled, deveined and chopped

1

Cup

skinned baby squid

sliced in smallish pieces

3

tbsp

Avocado Oil

as needed for frying
Keto Friendly Flour Option
1

c

Blanched Ultra Fine Almond Flour

1

large

egg

beaten

4

tablespoon

cold water
Other Ingredients Options
Carrots

Sour Kimchi

sliced

Cabbage

Yellow Summer Squash

Spinach

Pork Belly
Instructions
Dipping Sauce
Make the dipping sauce ahead so the flavors are infused together.

Combine all the ingredients and serve with the pancakes.

You can save the leftover in an air tight jar for future use. Or you can double the recipe and keep it in a air tight jar for future.
Korean Style Paleo Seafood Pancakes
Wash and prep all the vegetables as per the ingredients section

Add sea salt to the vegetables and mix.

Slice the baby squid in about ¼ thickness and chop the tentacles in small pieces.

Clean and devein shrimp and chop in small pieces, about ½ inches chunks.

In a medium size bowl, mix all the ingredients together until flour is wet.

Heat pan on high heat until sizzling hot. When a water droplet sizzles on the pan, it's hot enough.

Add enough avocado oil to the pan to cover the whole surface.

When the pan smokes a little, pour about 1 cup of the batter and spread on the pan, leaving some space around the edges.

Lower the heat to Medium and cook for about 5 minutes or until the underside is browned. You'll see little bubbles forming on the top and the edges get translucent when the bottom is almost ready. But still check by sliding the spatula underneath.

When it's ready to be flipped, using a sturdy spatula, lift the edges, add some more oil, and flip the pancake.

Cook for 3 minutes on this side or until the bottom is browned and firm.

Transfer to a plate and serve immediately.
Keto-Friendly Batter
Combine almond flour, beaten egg, and cold water in a mixing bowl.

Add the salted vegetables to the batter and gently mix to coat the vegetables.

Add the seafood and mix gently.
Nutrition
Calories:
242
kcal
|
Carbohydrates:
34
g
|
Protein:
21
g
|
Fat:
1
g
|
Cholesterol:
218
mg
|
Sodium:
2489
mg
|
Potassium:
440
mg
|
Fiber:
2
g
|
Sugar:
4
g
|
Vitamin A:
345
IU
|
Vitamin C:
20.9
mg
|
Calcium:
153
mg
|
Iron:
4.1
mg
Disclosure
This recipe may contain links that pay commission to this site when you purchase from the links, at no extra cost to you. Full disclosure!
➡️ Subscribe to our YouTube Channel for more recipes and tips. And follow @drkarensle on Pinterest, Facebook, Instagram and say "Hello!" 👋
💌 I would love to receive more posts like these in my inbox! SIGN ME UP for FREE newsletters!