This is a really easy way to roast your seaweed for a healthy part of your dinner! Learn how to make roasted nori right on your stove, easy GIM recipe.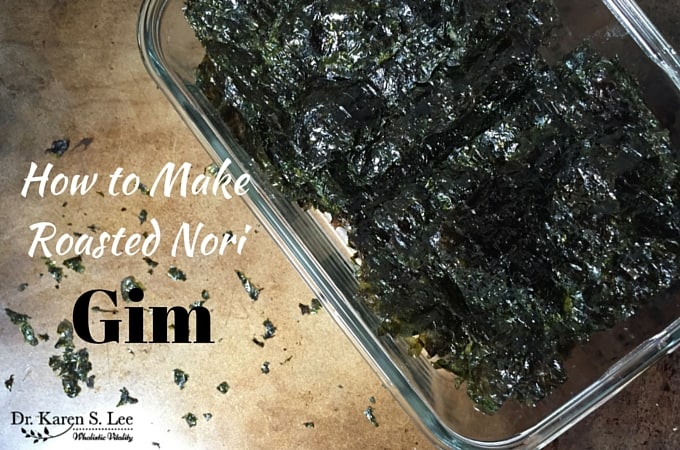 Jump to:
Ok, this recipe/tutorial is almost too embarrassing to post. To me, a Korean mom, making Roasted Nori (GIM is the Korean word and since it's shorter, I'll be using it for this post) is like boiling water. That's how easy it is. So when I saw GIM labeled as "snack" on store shelves for the first time, I laughed. Out loud. I mean, no one buys these pre-made stuff! Well, no one 'used' to anyway when I was growing up.
Disclaimer: All links to Amazon.com are affiliate links. I earn a small commission when you shop through my link at no additional cost to you.
Intro
If this is your first time ever hearing about roasted Nori (or GIM), then let me tell you a little bit more about it.
Seaweed (read my sea veggies primer that explains why they are so good for you) is very common in Korea. In fact, it's almost considered a national veggie. We are sort of seaweed snobs because we eat a lot of it and we are picky about the quality.
The ones you see on this post were shipped from my mom's friend in Korea (shipping probably cost more than the seaweed!) as a gift. But since my Korean seaweed connection can't help you, you'll just have to go to your local Asian grocery store - preferably Korean, like H Mart - and buy a pack of UNSEASONED ones that come in sheets of 50 or 100 or more. Check the date and make sure they are from Korea. You can also find them on Amazon.
Health Benefits of Roasted Nori Seaweed
I grew up eating it, but turns out there are a bunch of health benefits of seaweed too. Just look at the vitamins and minerals in it:
vitamin C
vitamin B
vitamin E
vitamin A
Iron
Iodine
It's also packed with fiber for your gut health and antioxidants that protect your cells.
Pre-Packaged GIM
So how did this once 'unknown' peculiar sea veggie food become so popular that now you can buy pre-made packages in stores? Well, just like any other packaged foods, I guess some smart big food exec thought it would be a great idea to help us save time.
In fact, you can now find exotic flavors like Wasabi, Teriyaki, and even Onion and not just the original flavor of sesame oil and salt.
I mean, I get it. You're busy and who has the time to season and roast them over a fire, right? I admit, I tried the packaged ones too but of course, they don't taste the same as my homemade ones because most of them are made with Canola or vegetable oil. Yuck. Not only are Canola and vegetable oils NOT healthy for you, GIM doesn't taste like the original since we never use them in making GIM.
Is Nori A Snack?
No, GIM (or Nori) is not supposed to be eaten as a snack. I mean, you can if you want, but that's not how I was raised to eat them in Korea.
The other thing about seeing GIM in stores that made me smile, ok, cringe, is that it's marketed as a 'snack.' People, we eat these with rice, as a meal! We don't eat these as snacks or 'waste' them in ways other than having them as part of a nourishing meal. My mom would be horrified if she saw us eating it as snacks.
I mean, GIM contains no carbs, sugar, gluten, dairy or eggs so they are wayyyy better than eating Cheetos but eating a whole package could give you more sodium than a daily allowance. But it's great with piping hot rice! In fact, when my kids were on the elimination diet, they lived on GIM and Rice since they were "safe" to eat. But given the choices, I rather see your kids eating GIM than Potato Chips I guess.
How long does GIM last?
GIM lasts a pretty long time at room temperature if stored in airtight containers, like Glass Lock as pictured above. If air or moisture gets in, GIM will get soft, like wet paper, and will not be crunchy. Properly stored ones will keep for about two weeks before the oil gets rancid, but I doubt they will last that long if your kids have it their way.
So, are you ready to roast some seaweed?
Turn on your favorite Netflix movie or your favorite Korean Drama series and let's make GIM! Grab your kids and let them help you. They'll have fun making their own snack. Don't worry; your part will come later.
Ingredients
To make roasted Nori, gather up your ingredients and supplies.
First, you need a cookie sheet. This is what you will put the seaweed on after you roast it.
Next, you need good quality UNSEASONED Nori. (Amazon Affiliate Link) For making roasted nori, you have to buy UNSEASONED sheets since you'll be seasoning them yourself.
You also need a salt shaker filled with FINE or Extra FINE Himalayan Pink Sea Salt. Pink salt is the only salt I use for seasoning my food since it's rich in minerals. You can actually taste the minerals on the sheet since salt is on the GIM.
Grab a small bowl filled with good quality toasted sesame oil. I've used this brand before and it has a deep toasted sesame seeds flavor. I just wish I can find an organic one from them. I've used this organic sesame oil too but I found the taste to be bland and not nutty at all.
Finally, you need a basting brush. Any pastry brush made with a natural bristle will be good. I like this silicone brush as it's for multi-purpose, like basting hot foods from the oven or on the grill since it can withstand some heat. The brush should be at least 2 inches wide since you'll be brushing large sheets. Just make sure you wash out the oil thoroughly with dishwashing liquid afterward. You don't want rancid oil residue left on the brush.
Instructions
Here's how to make the roasted Nori, including a video showing you how I do it.
This is the part your kids can help you with. If they can paint using a brush and shake a glitter bottle, it'll be easy. And rewarding too since they'll be involved in making their own snack! Let them practice on a few sheets and put them to work so you can sip coffee and watch Korean Drama while they work. Win Win!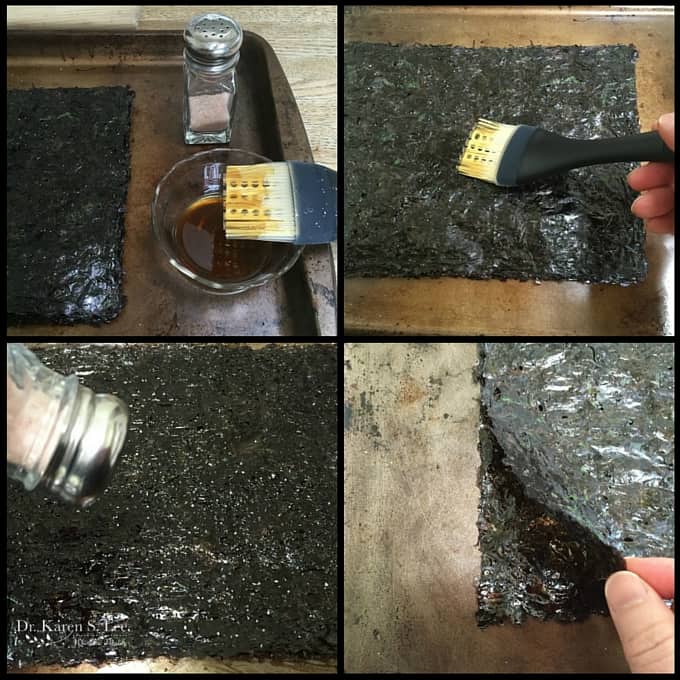 Top Left - Get all the ingredients and equipment ready. Fill the bowl with about ¼ C of sesame oil for about 20 sheets of seaweed. You can add more sesame oil as you go so don't overfill it.
Top Right - Spread one sheet on the cookie sheet. Dip the brush in the bowl gently and dab with a small amount of oil to start. You can always dip for some more so don't saturate the brush or the seaweed with too much oil. Start with a small amount and lightly brush the sheet.
Bottom Left - After you lightly brushed the entire sheet with oil, gently sprinkle the salt all over the seaweed. Do NOT sprinkle too much salt. You'll regret it later. Just shake very gently so you can barely see salt granules come out.
Bottom Right - After you finish brushing with oil and sprinkling the salt on one sheet, add a new one on top. And after you finish with that one, add another fresh layer and so on and so on until you finish all of them.
How To Roast Seaweed - Video
Now from this point on, it's YOUR part. Roasting the sheets....Watch the video below to find out how to roast them.
Now, wasn't that fun? Just make sure you start out with a low flame or low temperature until you get the hang of it. Remember, I've had YEARS of training so I can do this while I videotape (as you saw above) or while talking on the phone (as you heard me in the video) or while texting (ok, maybe not.) Roast them QUICKLY and keep moving the sheet over the flame, otherwise, you will burn down the house. Ok. You'll burn the seaweed to ashes. It happens VERY quickly. Don't ask me how I know.
After all of them are roasted, stack them, and line them up so you can cut them with kitchen shears into sizes you want.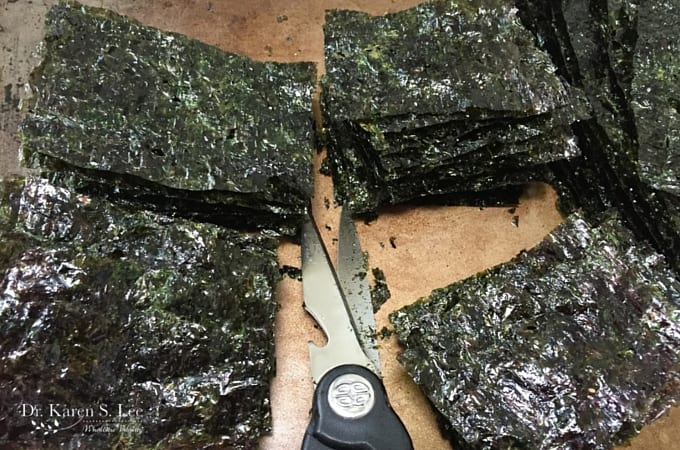 And eat them with your rice. Oh, ok, you can sneak a few as a snack. I won't tell my mom.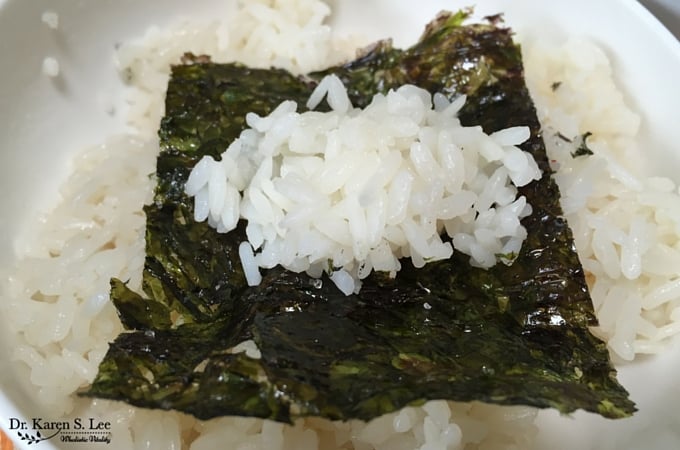 FAQ
Is Nori the same as GIM?
Yes, they are both words that mean "roasted seaweed." In Korean, we call it GIM, and there is also a Japanese version called Nori.
Why is my Nori chewy?
Nori can become chewy when it absorbs too much moisture. If your rice is wet it can make the nori less crispy.
How do you make nori crisp again?
Just follow my steps for roasting the Nori over the stove (or hot plate) and will crisp right up.
Related recipes
Recipe
Did you try this recipe? We would love your feedback!
Click on the stars on the recipe card below.
Roasted Nori - Gim
Make your own roasted Nori seaweed and eat it as a snack or with your dinner.
Equipment
Electric Range Cooking Top

Basting brush
Ingredients
1

package

Unseasoned Nori

4

teaspoon

Extra fine Himalayan pink sea salt

¼

cup

Toasted sesame oil
Instructions
Brush each Nori sheet with sesame oil.

Sprinkle the seaweed with sea salt.

Turn on the electric range to low.

Slowly move the seaweed across the hot burner. Be careful not to let it burn.

Flip it over and do the same thing on the other side.

Place the roasted Nori on a baking sheet.

After all the sheets of Nori are roasted, use kitchen sheers or a knife to cut them into square or rectangular shapes.
Notes
Roast the seaweed very quickly, these have a tendency to burn if you aren't paying attention to them. 
Nutrition
Serving:
2.5
g
|
Calories:
53.6
kcal
|
Carbohydrates:
1.2
g
|
Protein:
0.2
g
|
Fat:
5.5
g
|
Saturated Fat:
0.8
g
|
Sodium:
959.3
mg
|
Potassium:
11.1
mg
|
Fiber:
0.2
g
|
Sugar:
0.1
g
|
Vitamin A:
14.5
IU
|
Vitamin C:
0.4
mg
|
Calcium:
21
mg
|
Iron:
0.4
mg
Disclosure
This recipe may contain links that pay commission to this site when you purchase from the links, at no extra cost to you. Full disclosure!