I've been cooking with seaweed or sea veggies all my life. When I was nursing my newborn son, Seaweed Soup was all I was "allowed" to eat, for nursing, for months. Six months to be exact. No lie. I got so sick of it that when my son weaned, I didn't eat Seaweed Soup for three years … until I had my daughter. And then I had to start all over again.
So what's so great about this slimy, slippery, peculiarly brownish green veggie from the sea that it's all I needed to sustain myself and my newborn son for six months? I mean, he did look like a little Buddha when he was nursing so I assumed he was getting big and healthy, despite my weird diet.
I asked my mom repeatedly, when she kept shoving me the soup to eat at meals, why seaweed? All she can say were,
"It's good for you. For your milk. Just eat." (Insert frown here, like, I dare question her again.)
Geeeez….thanks Mom.
I bet she really didn't know why but she knew enough for her to insist it as being my staple food for the benefit of the nursing baby.
And, ironically, Seaweed Soup is what we eat on birthdays too. Again, I don't know why but I'm guessing moms, as sneaky as they are, want their kids to start the new year right with nutritionally packed foods like Seaweed Soup. Sometimes, it's just easy to follow what your mom says than to argue. Trying to set a good example for my kids here.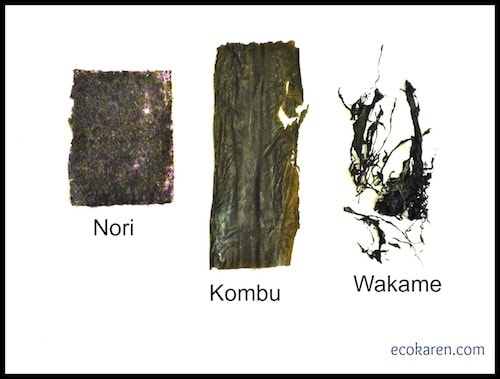 Sea Veggies Primer: Kombu, Dulse, Wakame, and Nori
What are sea veggies?
Sea veggies are chockfull of chlorophyll, mineral, iodine, and dietary fiber. They add salty flavor to foods with a combination of sodium, potassium, calcium, phosphorus, magnesium, iron and many other trace minerals naturally found in the ocean. Keep in mind that when cooked, dried sea veggies will double in size and volume.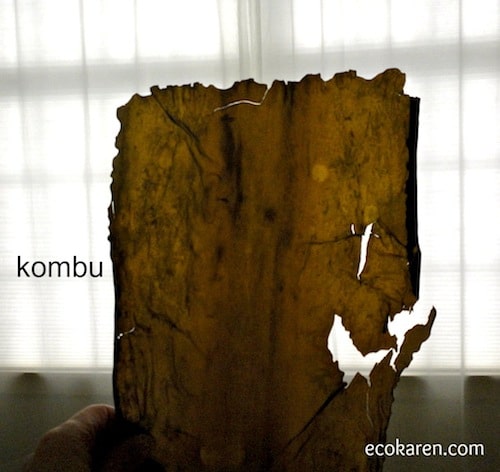 Kombu
Most kombu are harvested from Hokkaidō, Japan but Korea (dashima in Korean), and China (haidai in Chinese) also harvest this mildly salty and a bit sweet vegetable from the sea. (If you are concerned with radiation from Fukushima, Eden Foods, #1 importer of Japanese foods assures us that their kombu is not contaminated. In fact, they inspect all the foods they import from Japan repeatedly along the way to check for radiation.) Known as kelp in English, kombu is harvested from the from coast of Maine as well. Kombu contains glutamic acid which is the basis of monosodium glutamate, or MSG, which enhances flavor and tenderizes proteins. Some people swear by cooking beans with kombu to make beans more digestible.
Dried strips are often covered with a white powdery natural salts. I usually rinse briefly and soak, just to get any debris off of the surface but I don't wash it too long so to keep the nutrition intact. I keep kombu in an airtight container in a cool dark cupboard and it keeps for a very long time. Unfortunately, all the dried sea veggies come in plastic packaging since they travel from Japan or Korea but as soon as I bring them home, I cut them up in sizes I need and store them in large glass jars.
Dulse
I don't have a picture for this as I don't buy it as often as other kinds. But this sea vegetable is reddish brown, full of potassium and protein and available in whole stringy leaves or powdered as a condiment. It's chewy in texture and has a slightly salty taste.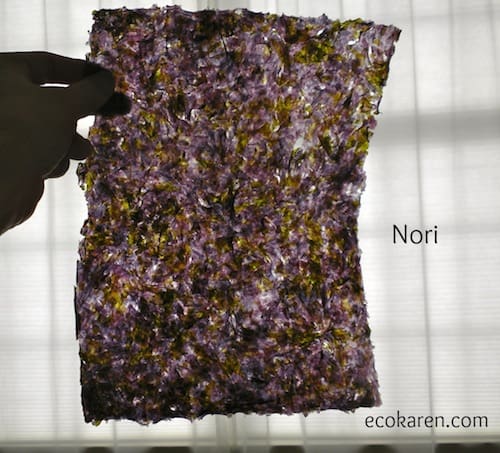 Nori
This popular sea veggie is typically used to make sushi rolls, i.e. California Rolls. This thinly rolled out sea veggie sheet is dark purple, green, and brownish, depending on the type. It's available toasted or plain. Some are seasoned with sesame oil and salt for wrapping in rice or lately, snacking. It contains both iodine and vitamin C  so you can use it as a condiment for rice, soups, salads, casseroles or grains either crushed into flakes or cut into strips. The most common way to use nori is in making sushi rolls. And seasoned seaweed snacks!
Wakame
Pronounced wah-ka-may, this light to dark stringy green veggie is the tenderest of them all. It has potassium and adds fiber to your diet. After soaking it for about 10 minutes in water, wakame expands up to six to eight times its original size. After being soaked then cooked, long strands become really silky and tender. You can eat it raw as a salad or make seaweed soup.
I know. You are saying…
Aha! So that's what sea veggies are good for! <– click to tweet!
Here are some of my favorite ways I use sea vegetables:

Seaweed "Wakame" Soup – New mom's superfood for energy, detoxifying and the nursing baby. It's also a classic birthday meal in Korea, this soup is packed with minerals and vitamins. Easy to make, and a "go-to" soup when you want light and very clean tasting soup.
How to make Wakame Soup [RECIPE]
INGREDIENTS:
a handful of dried Wakame
10 inch Kombu
1 Med onion, sliced
2 Cloves garlic, smashed
Salt and Pepper to taste
Tamari
1 chopped scallion
DIRECTIONS
After washing the wakame, soak in cold water for 30 minutes or until seaweed is soft. Remember seaweed will expand 6-8 times after it's soaked so use about a handful for 2 cups of seaweed.
Boil and simmer 1o inch kombu in 8 cups of water for 20 minutes.
Take out kombu and set aside.
In the boiling kombu broth, add sliced onion, garlic to broth and season with salt and pepper.
Add seaweed and bring to boil.
Once boiled, turn down the heat and simmer for about 10 minutes.
Top with sliced scallions (slice them diagonally like the picture) and pepper flakes.
Serve hot. Season with soy sauce or salt if necessary.
Vegetarian broth – It only takes about 20 minutes to make vegetable broth with kombu. I make light broth for soups like Miso soup, Udon noodle soup, and tofu soup. To make one quart of broth, I use about 4 cups of water and about 6″ strip of kombu. When the broth comes to a boil, boil a few minutes longer, then, take out kombu. I normally just eat kombu as I'm taking it out but you can shred it for salad toppings or use it in soups.
Make Sushi Roll – use nori to make sushi roll or California roll. I use whatever vegetables I have to make this easy sushi rolls for lunch. I even use kimchi inside for extra flavor. You can use long strips of cucumber, pepper, avocado, or whatever strikes your fancy. Season cooked rice with Mirin (rice vinegar) if you want or you can skip it. You can season the rice with salt, sesame oil, and sesame seeds.
Dashi (vegetarian) or Bonito Dashi – I sometimes add bonito flakes – dried fish flakes – to kombu to make a Japanese broth called bonito dashi to make miso soup for extra flavor. I also use it to make Udon, Japanse noodle soup.
Softening beans – I learned about this from Anna from Green Talk. She said she uses kombu when she cooks beans. I never heard that before but supposedly the amino acids in kombu help soften beans and make them more digestible. Easily digested beans mean less gas. I'll try that next time.
Wakame Salad – here is my favorite summer salad that always fills me up. Easy to make and cold and refreshing.
On salads – as mentioned above, you can shred cooked kombu after you make your broth and top your green salad for extra flavor and nutrition.
As a condiment. You can roast Nori in a dry skillet over medium heat until crisp. Crumble or grind it into a powder and use it as a salt substitute. Sprinkle it over rice, tofu, and vegetables. We use this on top of raw tofu season with soy sauce. You can eat cold tofu or steam before adding nori flakes.
Biofuel – I don't recommend you try this in your kitchen but seaweed is used to make biofuel when combined with genetically engineered E Coli. E. Coli digests seaweed and releases ethanol to make fuel. How awesome!
So, try eating any of these incredible sea veggies. If it's great to be used as a body wrap, you know it'll be better eaten, just like any other foods they tend to use on bodies these days. You can buy them at any Asian stores. Or, you can order from Amazon.
Tell me, have you ever had any of these sea veggies? How do you eat them?