Shrimp fra Diavolo over Penne is a popular pasta dish everyone loves. But when it's made with frozen shrimp with penne in the Instant Pot®, the rich flavors get infused even better. Furthermore, there are less pots and pans to wash than making it on the stove top. I call that "Win Win!"
Instant Pot® Shrimp fra Diavolo over Penne
I tend to sprinkle crushed red pepper flakes on everything and anything, like pizza, salads, soups and even pasta. Hence, spicy and rich Shrimp fra Diavolo is one of my favorite Italian dishes and that's why I included it in my latest cookbook, No Thaw Paleo Cooking in your Instant Pot.
I know you might think it's easy to make it on the stove top so why bother with the Instant Pot?
I'm glad you asked.
The beauty of making any pasta sauces in the Instant Pot is that the flavors get so much richer than using the stove top. Also, cooking pasta  in the Instant Pot with sauce is very convenient since you don't have to cook the pasta in a separate pot and drain in a strainer. You only have to wash the inner pot and not a bazillion pots and pans afterward.
And for this version of Shrimp fra Diavolo, you don't even have to defrost the shrimp! No messy stovetop and fewer pots and pans to wash afterward. This recipe is truly a "dump and cook" recipe.
The recipe uses only 1 cup of penne since the main focus is the shrimp and not the pasta. Also because there is no risk of getting the "Burn" message with more liquid. But of course, you can add more penne if you'd like. Or save the extra sauce and add the pasta for a leftover makeover later.
No Thaw Paleo Cooking in your Instant Pot
When I was working, there were many rushed mornings when I would forget to take the meat out of the freezer before running out the door. And sadly, dinner time came and we'd order out for pizza or Chinese takeouts. I know you know what I'm talking about.
So to help busy moms like you, I published a cookbook (my 3rd!!) filled with 75 Paleo recipes that you can cook without defrosting the meat to make on "one of those" weeknights.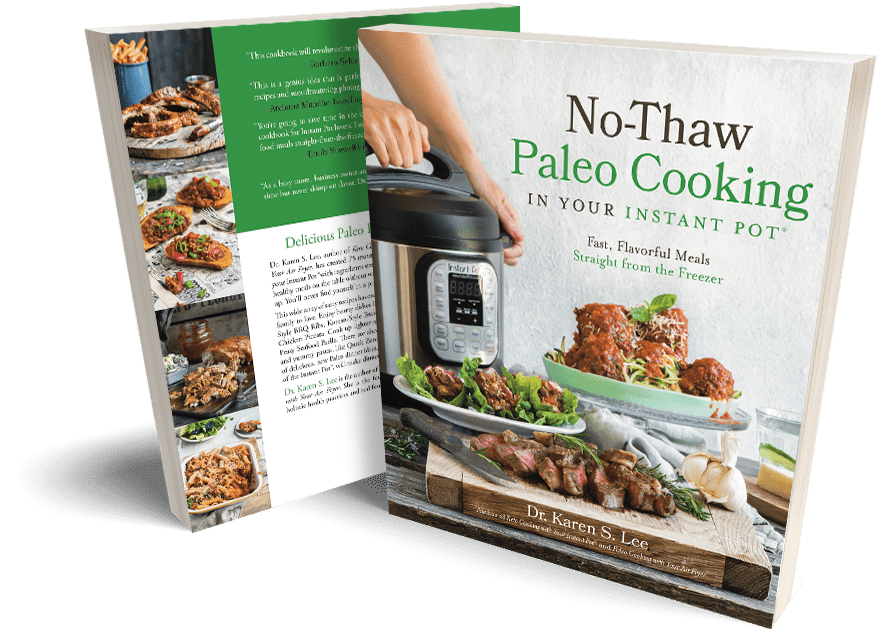 Here is the list of recipes from the book.
Q & A
Are the texture and taste the same when you cook frozen meats?
Yes!! After many rounds of recipe testing, I discovered how easy it is to cook frozen meats without sacrificing flavor and texture. If you follow the tips and methods in this book, your family won't even know you used frozen meat!
Shrimp is quick to cook on the stovetop, so why use the Instant Pot?
Glad you asked. Even though it takes very little time to cook shrimp on the stovetop, you still have to defrost the shrimp. Besides, in my opinion, cooking frozen shrimp in the Instant Pot under pressure keeps the flavors infused so much deeper.
I'm not fond of overcooked shrimp. How is the shrimp texture when you cook in the Instant Pot?
I tried many different settings before finding the best setting for shrimp. But realize that the size of the shrimp matter greatly. So make sure you use Large shrimp for this recipe. Also, follow the directions precisely with sautéing and depressurizing. Otherwise, shrimp will be overcooked.
How long do I cook fresh shrimp?
Fresh shrimp takes only a couple of minutes to cook so sauté shrimp for for about a minute and set the time on the pressure cooker for 3 minutes. If shrimp size is smaller than Large, use less time.
♥Have you tried this recipe? If you love this recipe, give it "5 star" rating below in the recipe card and share on your social media! Thank you so much!
Shrimp fra Diavolo over Penne
Shrimp fra Diavolo over Penne
Shrimp fra Diavolo with Penne is a popular seafood pasta dish everyone loves. But when it's made with frozen shrimp and fresh tomatoes in the Instant Pot® for a quick meal, the rich flavors get infused better than cooking it on the stovetop.
Print
Rate
Ingredients
1

lb.

frozen peeled and deveined large shrimp

3

tbsps

olive oil

1

medium

onion

sliced

3

cloves

garlic

pressed for finely minced

2

cups

diced tomatoes

1

tbsp

tomato paste

1

cup

white chardonnay or pinot grigio

1

tbsp

Italian seasoning

1

tsp

salt

2

tsp

or more red pepper flakes

¼

cup

fresh basil

chopped

¼

cup

chopped fresh parsley

reserve 1 tbsp for garnish

1

cup

water

1

cup

brown rice penne

or you can use any of your favorite gluten-free pasta.
Instructions
Rinse the frozen shrimp under the running cold water to rid of any debris. Set aside.

Turn on the Instant Pot by pressing "SAUTÉ" and set to "MORE." Insert the inner pot and wait until the panel says "HOT."

Add 1 tbsp of EVOO to the inner pot. When the oil is hot, add the onions and garlic and sauté for one minute or until onion is soft. Add the shrimp and sauté for one minute. Add the diced tomatoes, tomato paste, wine, Italian seasoning, salt, red pepper flakes, bails, parsley and stir. Add the water and place the ziti on top but no mix. Make sure the pasta is submerged in liquid.

Press "CANCEL." Close the lid tightly and move the steam release handle to "SEALING."

Press "PRESSURE COOKER/MANUAL" button and set the timer for 5 minutes on LOW pressure.

When the timer ends and the Instant Pot beeps, carefully turn the steam release handle to "VENTING," press "CANCEL", and allow the Instant Pot to depressurize quickly until the float valve drops down. Open the lid carefully. Mix the pasta and shrimp. If the pasta is cooked, ladle the pasta and shrimp into 4 bowls, garnish with remaining parsley and serve immediately. If the pasta is undercooked, leave the lid open and press "SAUTÉ" and simmer. Stir occasionally until it's cooked al dente. Garnish with remaining parsley and serve immediately.
Equipment Needed
Notes
You can use any of your favorite gluten-free pasta. If you're using vegetables, be aware that they will produce a lot more liquid so adjust the amount accordingly. 
This dish is on the saucy side. You can use more than 1 cup of penne if you'd like or save the sauce for leftover makeover later. 
If you want to use spaghetti squash as pasta, you can cook the spaghetti pasta separately as it takes longer to cook than shrimp. 
If you want to use spiralized zoodles, add them to the shrimp after the pot depressurizes, stir and close the lid for a few minutes. Serve immediately when zoodles are a little soft. 
You can tolerate cheese, grate pecorino romano cheese on top before serving. 
Disclosure Policy
This post and recipe contain affiliate links for products or services that pay this site small commissions if purchases were made via those links at no additional cost to you. Read full disclosure here.
Recipes you might also like
Quick Instant Pot Seafood Paella Recipe
Quick Instant Pot Seafood Paella is an easy dinner for a weeknight, especially if you use frozen seafood mix!
Check out this recipe
You can pin the recipe by clicking the Red Pinterest share button below and save it for later. And if you'd like to receive more recipes like these, sign up for FREE newsletter below!