Instant Pot is one of the most popular kitchen appliances. But before you buy it, read this to learn what it does and how you can optimize its usage.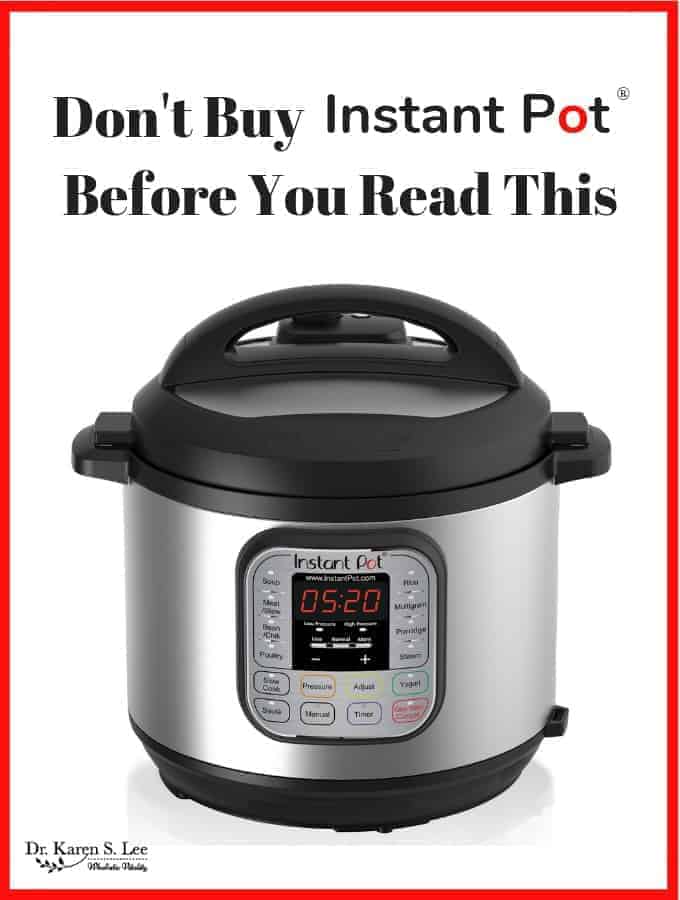 Unless you've been living under a rock, I'm sure you've read about Instant Pot® a kitchen appliance/gadget/device/mother of all mothers of what you need in the kitchen. "Great." You mumble and ask yourself, "Do I really need another 'thing' in my life/kitchen?" You hardly cook as is because it takes too much time. And on one ambitious late-night Amazon Prime shopping spree, you bought a slow cooker, thinking, you'll plan ahead and let a slow cooker do the cooking while you're away. But as expected, it's just sitting there, collecting dust so do I really need the Instant Pot?
Amazon keeps taunting you with "Deal of the Day" emails that say Instant Pot on Sale! (Amazon Affiliate Link) You keep seeing people's amazing mouth-watering foods they cooked in the Instant Pot (IP for short) (Cheesecake anyone?) But you still ask yourself, "Who cares if 215,000 Instant Pots were sold on Amazon Prime Day in 2016 or that it is always on the top ten best-selling Kitchen & Dining Items list (Amazon Affiliate Link) Who cares if NY Times, BBC, USAToday and more news outlets keep writing about this magical appliance?" And you probably don't care that I wrote the wildly popular post on 10 Things You Need to Know About Instant Pot® and a cookbook called Keto Cooking with your Instant Pot. (Amazon Affiliate Link)
I get it. I completely understand your conundrum. I, too, didn't want another thing sitting on my small kitchen counter collecting dust. I mean, I already have a stop top pressure cooker that I NEVER use so why would I want an electric one? I admit, unlike you, I did use a Crock Pot for simmering bone broth 24/7 but IP has a slow cooker function too?
Hmmm.......
Why Instant Pot?
Well, one day, my twelve-year-old rice cooker died - a very expensive one with "proprietary" non-stick material, probably Perfluorooctanoic Acid (PFOA), a toxic chemical used in Teflon pans. I needed to replace it with a safer rice cooker. After many weeks of research and even trying a (delicate) clay pot, I decided on the Instant Pot. because the inner pot is made of solid food grade 304 (18/8) stainless steel. And I haven't looked back ever since. I admit there was a little bit of a learning curve because I had to convert many of my old recipes. But it was a cinch to learn what each function button does and it was wayyy easier than programming a DVR. If you can program a phone number into a flip phone, you can use the IP with no problem. And once you start using it, you will be addicted. IP won't collect dust as your other appliances and you will donate your crockpot since you won't need it any more unless you're simmering herbs for aromatherapy.
Using the IP for almost two years dispelled all the doubts I had in my mind so I wanted to share a few of those with you. I also asked the very active IP Facebook Community what they wished they knew before they bought the IP. Here are my/their answers.
Don't Buy the Instant Pot Before You Read This
Is it safe?
In short, heck yea. I don't know if you are one of those people who are afraid of "exploding" pressure cookers but, let me tell you, I've been using IP for almost two years and I have NEVER experienced anything remotely close to an explosion. IP is absolutely safe to operate as long as you follow the directions properly. The founders of IP, Robert Wang, and Yi Qin are engineers who studied everything there is to know about pressure and how it can be used to cook food SAFELY. There are ten safe mechanisms in place to prevent scorching, burning, overflowing and exploding. These include:
The microprocessor (did I mention the founders have Ph. D. in Computer Science??) in the control panel monitors temperature, pressure, heat intensity and time duration to prevent any accidents and to cook food perfectly.
Each function button is designed to use correct temperature, heat intensity, duration, and pressure to cook those foods just right so you don't have to guess.
The electrical and temperature fuse will cut the power when either will get too hot.
The pressure regulators automatically adjust the pressure and pressure release valve will allow excess pressure to escape during cooking so there's never too much pressure build up.
The lid detection system will alert you if not locked properly before you try to cook. It will beep if it's not clocked properly.
There is an anti-blocking shield on the underside of the lid to prevent food from clogging the vent holes.
So you see, there are monitors and regulators in place to detect changes and adjust according to the chosen function and even for the Manual function too. If you follow the directions properly, you don't have to worry about the pot exploding or catching fire.
Does food stick to the stainless steel pot?
This is an important question because people may use online recipes and convert it for IP without thinking how it can be used 'specifically' for IP. Let me explain why this is important. IP is unique in that it has pre-programmed buttons for cooking certain types of foods, like Meat/Stew, Bean/Chili, Multigrain, Soup, Rice, etc. These settings were researched and programmed specifically to be used to make sure foods are cooked perfectly based on proper temperature, pressure, and heat intensity. For example, Rice function is programmed to be cooked under LOW pressure. Multigrain is programmed with gradual heat intensity to allow grains to be soaked before cooking. If you follow recipes that use these programmed buttons for IP, you never have to worry about uncooked or burnt food. But if you use just any pressure cooker recipes and use the 'Manual' button (on older models) or the "Pressure Cooker" button (on DUO-60 Plus) to cook recipes for other electric pressure cookers, there is a chance that food may not be properly cooked and get stuck to the bottom of the pot.
There are several factors that can contribute to food burning that include:
an improper layering of foods  - don't put pasta in first before adding sauce
the amount of liquid - use at LEAST ½ -1 Cup
the amount of fats - it goes without saying that you need oil to sauté
timekeeping rice in the "Warm" setting too long will make rice stick to the pot
However, in normal use, this dishwasher safe, 3 ply bottom, food grade 304 (18/8) stainless steel inner pot will not make food stick. But if there's food stuck to the bottom, you can soak the pot in vinegar and water overnight, scrape off the loose food particles and throw it in the dishwasher. Food will come off very easily. That's the beauty of stainless steel. I never had problems with food permanently staying on the inner pot. One more thing. I know many people get freaked out about the shiny inner pot discoloring but personally, I care less about if the pot is scratched up or discolored. To me, it just means, it's getting good use. I rather not use toxic chemicals to keep the pot spotless. I'm not that Type A. I use the pot every other day so I don't' have time to fuss with keeping it mirror-like clean as long as the finish is intact and nothing is leaching out of the pot, which has happened.
Does it really cook INSTANTLY as the name suggests?
This is a tricky question and my answer is yes and no. I wouldn't say it cooks everything instantly but a lot faster than the "usual" methods. It's common sense that certain foods, like frozen foods or a big chunk of meat, would take a good amount of time. But still,  IP cooks them considerably quicker than the conventional method, like in ½ or ⅓ of the time. Not only that, the texture is so much tender and juicier. But don't expect to throw in a frozen whole chicken with some herbs and be ready for a fancy gourmet meal in 30 minutes! Not only is cooking a frozen chunk of meat not as tasty as fresh meat (to me, anyway), even in a pressure cooker, it does not get cooked in an "instant". Frozen foods usually take twice as long so if a recipe calls for 30 minutes for a chicken, use 60 minutes to be 100% sure that it's thoroughly cooked. It's still better and quicker than defrosting it and then cooking it but don't expect miracles.
Regular meat dishes does cook much MUCH faster, like Pot Roast, Meat Loaf, BBQ Ribs, Beef Stew, Whole Chicken, Soups, Bone Broth, and the texture is so much more tender and juicier. They are also more nutritious because pressure cooking seals in moisture and nutrition.
How about veggies? It depends on how you look at it. I prefer steaming the veggies in IP, even if it takes a similar amount of time from start to finish as the stove because pressure cooker doesn't evaporate the liquid and it seals in the nutrients. I add one cup of water, put the veggies in the steamer basket, set it at "0" minutes (YES, there's such setting!) & forget it, and release pressure manually. I don't have to watch to see if all the water evaporated from the pot and I don't have to check to see if the veggies are done. It also frees up my stove top if I'm cooking something else. You have to experiment with different types of veggies for the perfect texture you prefer but in general, veggies take almost no time to cook perfectly. Start with "0" for time and you'll never have mushy veggies. I won't cook delicate greens like spinach or arugula but cruciferous and root veggies are great in IP.
But how about those recipes that say, "Make whole chicken in less than 30 minutes!"
Most of the recipes you see that state the time are actual cooking time under pressure. In other words, they don't mention the time it takes to pressurize before it starts to cook and depressurize after food is cooked. Many factors depend on how much time it takes to pressurize and depressurize. So total time could be 20-60 minutes longer than the actual cooking time. And to be fair, you don't ever see recipes for baking that tells you exactly how long it'll take to preheat the oven to proper temperature. Usually, recipes will say, "Preheat oven to 350 degrees" and  "Bake for 45 minutes." or "Roast for 2 hours." So when you see any recipes for IP, assume the cooking time does not include prep time, time to pressure and depressurize time. The number of minutes or hours just mean the actual cooking time under pressure. So the chicken in less than 30 minutes recipe actually can mean Chicken in less than 60 minutes if you add an extra 20 minutes of before and after cooking time is done.
Can I "can" food in the Instant Pot like other electric pressure canners?
Since the invention of the Instant Pot, none of them were designed to can. And the reason is that the internal pressure and temperature were not the appropriate levels for canning. But alas! In 2018, the company released the IP-MAX (Amazon Affiliate Link) model which reaches and sustains the necessary 15 psi.
What type of IP should I buy?
There are basically three models: IP LUX, IP DUO, and IP SMART. IP LUX is the basic model and are the most economical with less pre-programmed function buttons but it's made of the same materials as others and cooks the same as others. IP DUO has two more functions than IP LUX and comes in three different sizes. IP recently introduced PLUS model that has even more functions. IP SMART is the top of the line model that is Bluetooth enabled and has even more capabilities.
Instant Pot® IP-LUX 6-in-1 Multi-Functional Pressure Cooker
IP Lux 50 or 60 are older models that lack certain pre-set functions like yogurt, cake, egg, etc.
IP Lux V3 (Amazon Affiliate Link) is the newer 6-in-1 Multi-Functional Cooker (Pressure Cooker, Saute/Browning, Slow Cooker, Rice Cooker, Steamer & Warmer.)

Features 10 Smart Built-In Programs – Soup/Broth, Meat/Stew, Cake, Egg, Sauté, Rice, Multigrain, Porridge, Steam and Slow Cook. 

Built with the latest 3rd generation microprocessor technology, up to 240 minutes pressure-cooking up to 24 hours delay start, automatic Keep Warm up to 10 hours, 3 temperatures in Sauté & Slow Cook
Instant Pot IP-LUX60 V3 Programmable Electric Pressure Cooker, 6 Qt
The IP-LUX60 V3 has cake and egg cooking pre-programmed functions but do not have Bean/Chili, Poultry, and Yogurt settings, as well as an option to cook at low pressure. It also comes without some of the accessories found on other models, like a condensation collector and rack.
Instant Pot IP-DUO 7-in-1 Multi-Functional Pressure Cooker, (3 Qt, 6 Qt, 8 qt)
The most popular model of the Instant Pot®, the IP-DUO, (Amazon Affiliate Link) is everything the IP-LUX (described above) is, PLUS, a yogurt maker so, it's a 7-1 multifunctional model. Also, you can choose High or Low pressure, depending on what type of food you're cooking. This model comes in three different sizes, 3 Qt (Amazon Affiliate Link), 6 Qt, and 8Qt. (Amazon Affiliate Link) For my family of four, 6 Qt is big enough for a meal without leftover. I have the 8Qt (Amazon Affiliate Link) for making bone broth and large batches of soups. If you have a big family, I'd highly recommend the 8Qt.
IP- DUO 60 PLUS
Instant Pot® IP-DUO60 PLUS Programmable Electric Pressure Cooker, 6 Qt
This is an upgrade from the model IP-DUO 60 and  (Amazon Affiliate Link)it is the best seller on Amazon. It has 9-in-1 functions with pre-programmed features for Soup/Broth, Meat/Stew, Cake, Egg, Sauté, Rice, Multigrain, Porridge, Yogurt, Steam, Slow Cook,  Sterilizer, and Warm. The LCD screen is bigger with icons that indicate what setting it's on.
IP-ULTRA 10-1
The ULTRA (Amazon Affiliate Link), 10-1 multi-functional cooker with 10 pre-programmed features include altitude adjustment and sterilizes for yogurt making and for sterilizing baby milk bottles. The best feature, in my opinion, is the steam release reset button for safer handling. You never have to worry about sealing the vent and manual pressure release is as easy as pressing a button. It also has 11 safety features, which gives new owners a peace of mind. This model is Amazon's #1 Choice.
IP-MAX 
The MAX(Amazon Affiliate Link), released in 2018, has the most features so far amongst all Instant Pot models. It has a touch screen and simplified pre-programmed functions screen but has unlimited programmable options. The biggest feature - that many people wanted - is the canning feature because it can sustain 15 psi. It can also do sous-vide and has a steam release button on the touch screen. Furthermore, the 'boiling' motion during pressure cooking breaks down the bones, making broth and soups more nutritional. This just might be my favorite IP and my next IP purchase!
IP-Smart Wi-Fi
The IP Smart (Amazon Affiliate Link) is the state of the art, 6-quart Bluetooth enabled model that can be synced using the Instant Pot® Smart Cooker app on your iPhone for programming all your favorite recipes and for monitoring cooking from afar. You can also cook using the Sous Vide method since you can control the temperature. People who have it love the advanced functions and the ability to control different settings they can store in their app.
Finally...
Here is a quick comparison table for all models.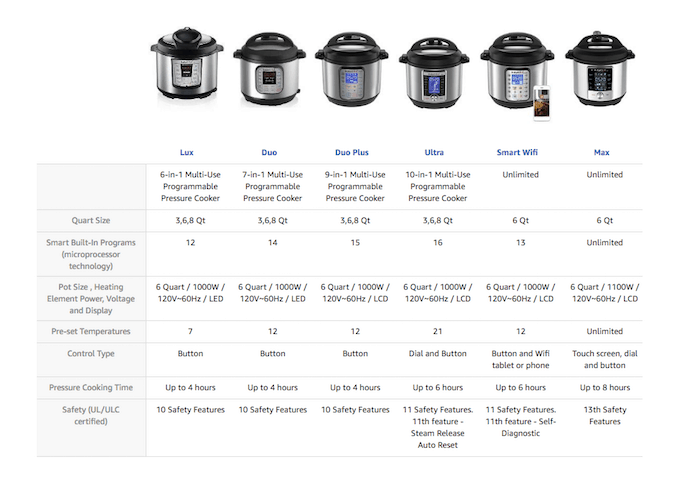 The prices are a bit ... pricey...unless they are on sale.
Here is the thing. You can find cheap crock pots for about $30 on Amazon or at Costco but it only has one function. Slow cooking. And it takes too long to cook! Why cook slow when you can speed up the cooking process with equally if not better result? You can also find electric or stove top pressure cookers for as little as $50. However, none of them come with safe, durable stainless steel inner pot and the "smart", easy to use pre-programmed functionalities as IP. And honestly, can you put a price tag on an easy, and healthy way to serve nutritious food fast to your family? I don't think so and so does Instant Pot® because the company regularly puts their appliances on great sales throughout the year on Amazon. I always buy a few to give as gifts and they're always a hit.
I discovered pressure cooking before learning about IP but it wasn't until I started using IP that I really got into cooking with it regularly. It's so much faster than conventional stovetop cooking. In addition, the flavors are richer, the texture is more tender, and most importantly, it is more nutritious to cook in a pressure cooker.  So what are you waiting for? You can purchase them on Amazon via my affiliate links above. P.S. You pay the same price but I'd make a few dimes as commission.