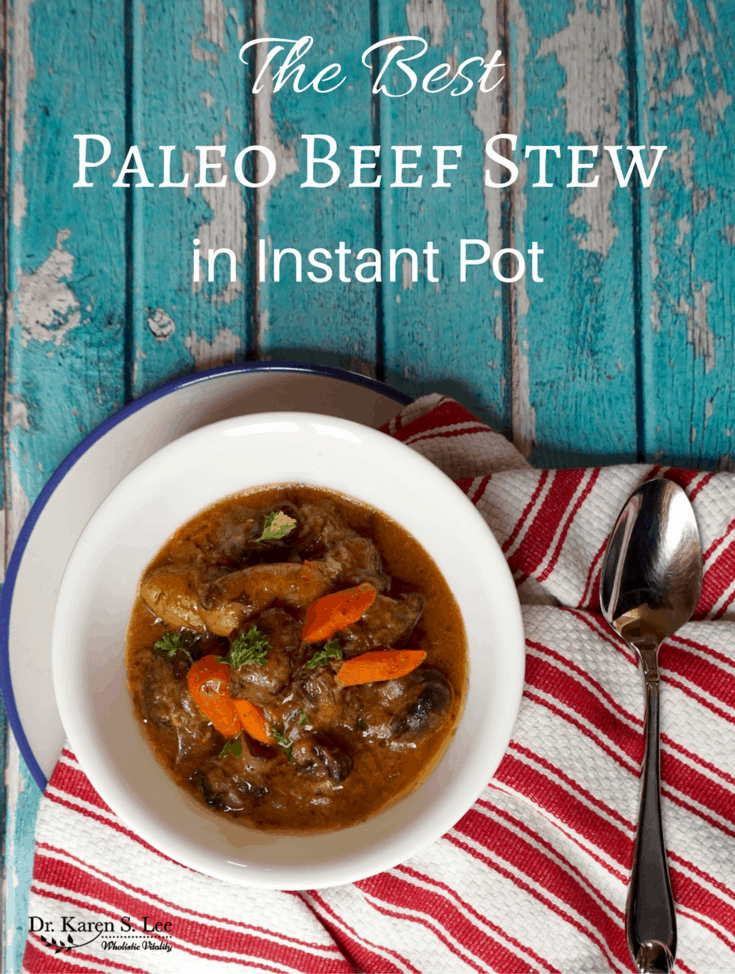 Beef Stew is the quintessential comfort food. And while you can use the slow cooker to cook for hours, you only need about an hour from beginning to the end when you use the pressure cooker, without worrying whether it's undercooked or overcooked. And you know the Instant Pot (Amazon Affiliate Link) is my favorite because it has a stainless steel liner pot and it has never failed me. So I wanted to share this recipe for the best paleo beef stew in Instant Pot.
There are no real tricks or secrets involved with cooking beef stew. But you can make mistakes. Believe me, I've ruined Beef Stew in the past because I cooked it on too high heat or cooked it too fast. Or cooked the wrong type of meat. But since I've been making it in Instant Pot, I. Have. Never. Ruined. Beef. Stew. Even with the wrong cut of beef, using this method in the Instant Pot never failed me.
Obviously, you should use quality meat (See A Complete Meat Buying Guide for Your Health to see which types of meat you should buy) but regardless, it should have some marbled fat in it, like a chuck roast. Bottom round works too as long as the cut is fatty. You can't go wrong with good meat but if you are conscious of your budget, you can buy just about any inexpensive cut of meat and you're good to go. Just make sure it's grassfed beef, at least. Add some veggies, and braise it or slowly simmer for hours to achieve the fork tender meat and soft flavorful veggies.
So let's put some pressure on!
The Best Paleo Beef Stew in Instant Pot
First, brown the meat. You need this step because not only does it seal the meat to keep the meat from crumbling apart, you want the those browned bits to add to the nice deep meaty flavor to the stew. Dust the meat with gluten free flour or arrowroot flour if you're avoiding grain. Not all sides have to be perfectly browned. No, I'm not perfect either. Just enough so that meat juice is sealed in while the outside is browned.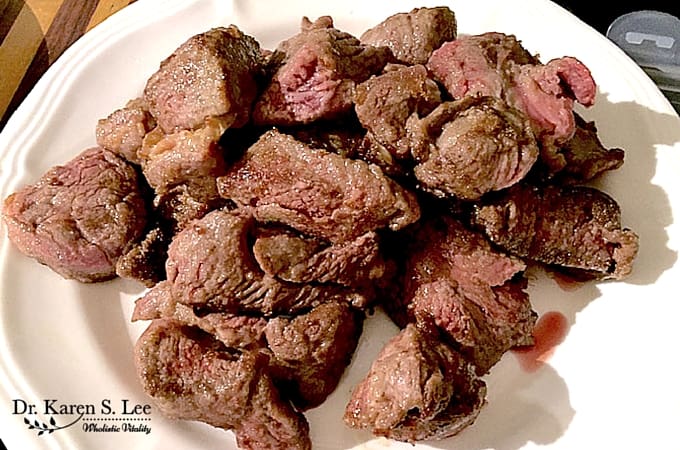 Then, take out the meat and sauté onions and garlic in the pot until translucent. Oh, the smell…..don't you just love how onions and garlic smell when you sauté them? The smell always makes me feel like a great chef.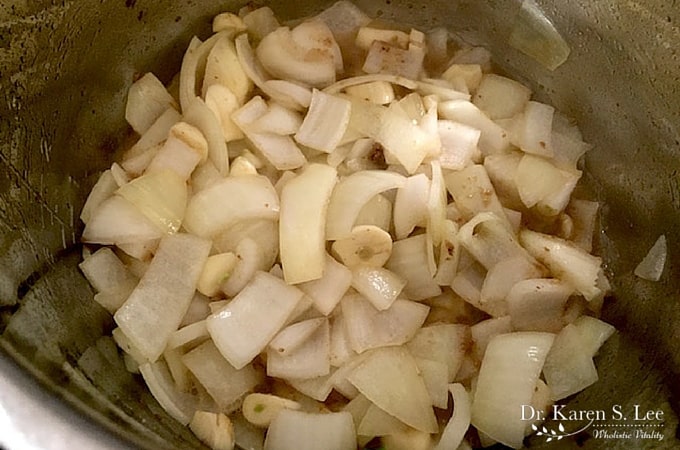 Now, the veggies. If you don't want soft veggies, you can add all the ingredients in the pot at once. If you want little firmer veggies, you can add them at the end. Regardless, the marriage of these hearty veggies and the fatty meat is such a wonderful union. This is a "must" dish to make in Instant Pot with all the goodness of the grass-fed beef, vegetables, spices, and herbs all sealed in for that deep hearty flavor.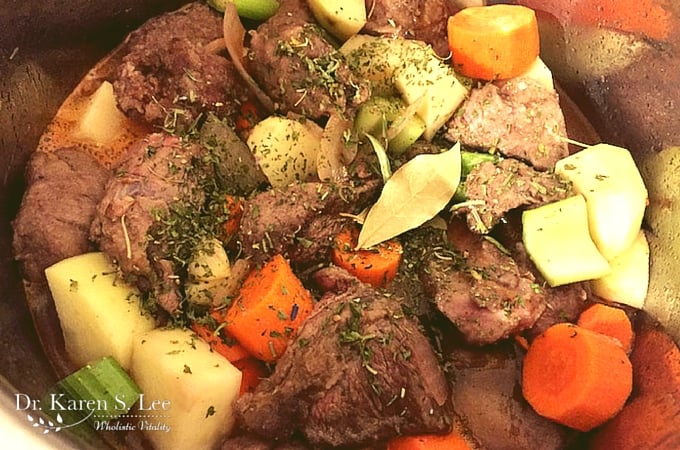 And voilá! Instant Beef Stew. Well, instant, meaning, it's made in the Instant Pot. But relatively speaking, it's much quicker than simmering for hours in the crockpot or on the stove top. Add some chopped parsley on top, you're ready for a hearty meal.
The Best Paleo Beef Stew in Instant Pot®
The Best Paleo Beef Stew in Instant Pot
This is a two steps method to keep the vegetables slightly firm. But if you like soft vegetables, you can cook everything together all at once.
Print
Total Time:
1
hour
25
minutes
Ingredients
2

lbs

chuck roast

cut into 1" chunks

1

tsp

sea salt

1

tsp

black pepper

2

tbsp

arrowroot flour

divided

2

tbsp

avocado oil

1

med

onion

coarsely chopped

4

cloves

garlic

crushed

2

tbsp

tomato paste

4

small

tomatoes

roughly cubed

3/4

cup

red wine

Cabernet Sauvignon is the best but you can use what you have

1

cups

beef broth

1

carrot

peeled and cut in 1" chunks

2

celery stalks

cut in 1" chunks

1

cup

white mushrooms

quartered

1

lbs

potatoes

or yucca if avoiding potatoes or radish if keto

3

3"

sprigs fresh thyme

or 1/2 tsp dried thyme

2

large

bay leaves

1

small

handful parsley

chopped, reserve 1 tbsp to garnish
Instructions
Coat the meat with salt, pepper, and 1 tbsp arrowroot flour. Toss gently and set aside.

Set Instant Pot on "Sauté" and insert the liner pot.

When the screen displays "Hot", add 1 tbsp. avocado oil.

Brown the meat in small portions, not crowding the surface of the pot.

When all sides are browned, take them out, and add a new batch.

Repeat this until all the meat are browned. This shouldn't take more than 15 minutes.

Add remaining avocado oil and sauté onions.

When they are translucent, add garlic.

Add tomato paste, wine, broth and herbs and simmer for about 5 minutes while scraping the bottom and sides.

Then, add the meat and stir well together.

Set the Instant Pot on HIGH Pressure and set the timer for 20 minutes.

When the timer goes off, turn the vent handle to "Venting" and release the pressure manually (QR), watching for sputtering liquid. There shouldn't be any but just be careful, just in case..

When the float valve drops down, open the lid, add the vegetables, herbs, and mix well.

Close the lid tightly, and turn the vent handle to "SEALING".

Press the "PRESSURE COOKER" or "MANUAL" button (HIGH pressure) and set the timer for 10 minutes.

When the timer goes off, let the pressure release naturally. (NPR)

When the pressure is completely released, and the float valve drops, open the lid carefully.

Take out about a cup of the liquid from the pot and add 1 cup of cold water.

Add arrowroot flour to the liquid and whisk vigorously to make the slurry.

Add the slurry to the pot stir well, and simmer until it thickens.

Garnish with remaining parsley and serve immediately.
Nutrition
Calories:
327
kcal
|
Carbohydrates:
8
g
|
Protein:
23
g
|
Fat:
20
g
|
Saturated Fat:
6
g
|
Cholesterol:
78
mg
|
Sodium:
634
mg
|
Potassium:
734
mg
|
Fiber:
1
g
|
Sugar:
3
g
|
Vitamin A:
1415
IU
|
Vitamin C:
15.3
mg
|
Calcium:
55
mg
|
Iron:
3.1
mg
Disclosure Policy
This post and recipe contain affiliate links for products or services that pay this site small commissions if purchases were made via those links at no additional cost to you. Read full disclosure here.