Korean BBQ Beef Kalbi or Galbi recipe is one of the most popular Korean dishes. The smoky, sweet, and briny marinade is great for any meats! It's great for vegetables too!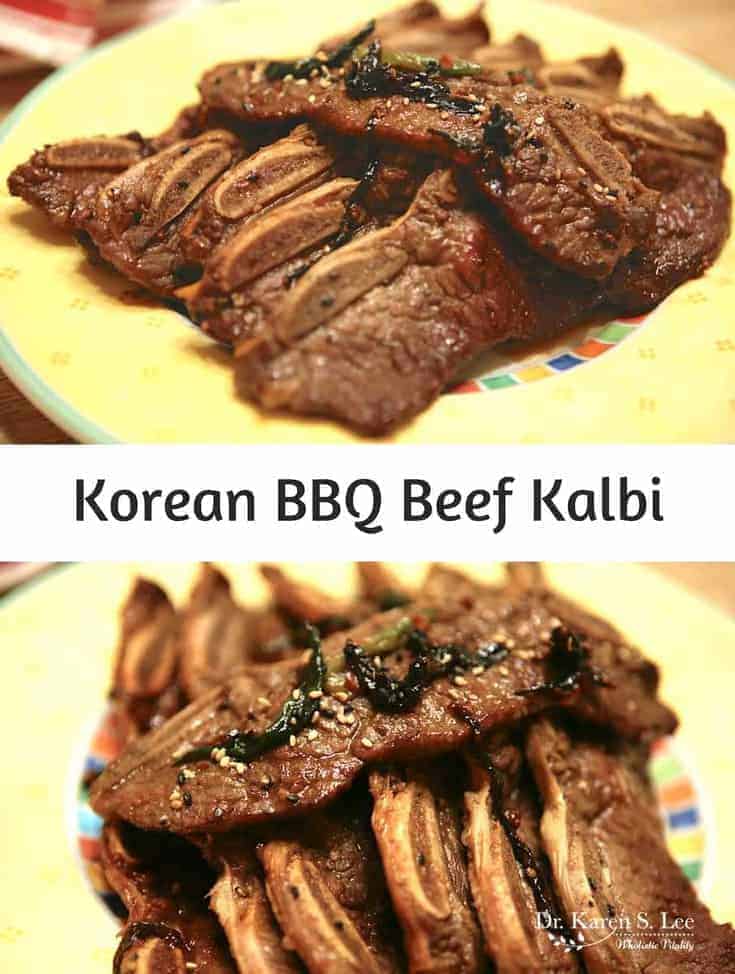 Kalbi is literally "rib bone" when translated into English. The fatty cut around the ribs is perfect for grilling or braising and the meat always turns out tender. This unique cut of beef is thinly cut across section (a.k.a. LA Kalbi) as shown in the picture vs a long boned cut that is used in braised short ribs called Kalbi Jjim.
The marinade for Korean BBQ Kalbi is perfect for a various dishes, including vegetables, chicken, pork and even seafood. Traditionally, refined white and brown sugar are used to sweeten and tenderize the meat but to make it healthier, I omitted the refined sugars. Instead, I use fruit pureé and molasses for the deep caramelized flavor that is in brown sugar.
The meat is marinated for a few hours and it is traditionally grilled over a charcoal brisket BBQ flame. But you can pan fry the meat over the high flame if a grill is not available.
The best way to eat Kalbi is in a lettuce leaf with miso paste called, doenjang on top and hot rice.

Korean BBQ Beef- Kalbi
Recipe
Did you try this recipe? We would love your feedback!
Click on the stars on the recipe card below.
Korean BBQ Beef Kalbi
Kalbi is a quintessential beef dish that everyone loves. This Paleo friendly recipe is nutritionally dense and is perfect for parties and pot luck!
Ingredients
5

cloves

garlic

finely minced

1

c

apple sauce or Asian pear pureé

1

small

onion

finely diced

½

c

soy sauce

¼

c

water

¼

c

mirin

¼

c

honey

¼

c

scallions

finely chopped

2

tablespoon

toasted sesame seeds

1

teaspoon

sesame oil

1

tablespoon

Black pepper

2

LB

short rib beef cut across about ½ " thick or flank steak

skirt steak, or London Broil
Instructions
In a large bowl, combine the garlic, fruit pureé, onions, soy sauce, water, mirin, honey, chopped scallions, sesame seeds, sesame oil, and black pepper. Mix well. 

Add the short ribs and coat them well and marinate at least 1 hour or overnight.

Heat the BBQ grill until hot. Grill each ribs pieces until the outside is brown but not burnt. Serve with lettuce and doenjang - Korean miso paste.
Marinade Times:
Beef: 1- 2 hours and baste while grilling. The best type of meat to make Kalbi with are sliced short ribs with a little bit of marbleized fat.

Chicken: 30 minutes
Notes
The marinade can be used with about 2 lbs. of meat - chicken, short ribs, flank steak or London broil or any other cut of meat that is good for grilling or broiling. It can also be used with vegetables. 
While grilling on a BBQ grill is the best, you can also pan fry. If you pan fry, use about 1 teaspoon of oil to start. The oil from the beef will be plenty to cook the meat. You can use a little bit of olive oil when you cook vegetables.
Boil the leftover marinade after I marinade the meat. You cannot re-use the leftover marinade but you can bring it to boil and use it as an extra sauce. Refrigerate any unused marinade in a glass jar for up to a week.
Nutrition
Calories:
383
kcal
|
Carbohydrates:
13
g
|
Protein:
36
g
|
Fat:
20
g
|
Saturated Fat:
7
g
|
Cholesterol:
97
mg
|
Sodium:
1732
mg
|
Potassium:
796
mg
|
Fiber:
2
g
|
Sugar:
7
g
|
Vitamin A:
80
IU
|
Vitamin C:
4.3
mg
|
Calcium:
85
mg
|
Iron:
5.4
mg
Disclosure
This recipe may contain links that pay commission to this site when you purchase from the links, at no extra cost to you. Full disclosure!
First Photo: Karen
Second Photo: joyosity