Chilly weather always makes me think of comfort foods that warm my inside. And when it comes to Korean food, Kalbi Jjim always makes the list since it's so nourishing. (If you want to skip to the recipe, click here.)
Most people know Korean BBQ beef, Kalbi, (also spelled 'Galbi') – a grilled meat dish that made Korean cuisine make its way into mainstream, way before kimchi became trendy.
It's kinda weird since beef is really REALLY expensive in Korea and only the "rich" can afford to eat meat. Most of us "common" folks eat 'meat of the earth', fermented soybean paste, Doenjang, as if it's the best food on the planet. And it is 'the best food on the planet' in many ways but let's face it; it's not meat. It wasn't until I came to the U.S. when I started eating Kalbi; maybe once a month. If at that.
Anyway, when I eat Kalbi, it's usually in the summer when outdoor grilling is easy. The smokey and savory aroma of grilling kalbi wafting through the neighborhood always makes my neighbors wonder why their steaks don't smell the same. Tee he he…
But when the weather gets colder, we take the same flavors "inside" because we need to nourish our bodies with good fats and protein. And I thank my Korean ancestors for coming up with this way to enjoy short ribs in the winter….even if I had to wait until I came to America to enjoy it. Oh the irony.
Isn't it called, "Braised" Korean Short Ribs?
I see a lot of recipes with titles that say "Braised Korean Short Ribs" and it's misleading because technically, it's not 'braised' since you don't brown the meat before cooking. It's simply simmered (definition of 'jjim') for hours to break down the protein to tenderize the meat and to lock in all the flavors until they are happy together. It's kinda how I make my fighting children make peace. Keep them in the same room until they work out their differences. It makes me a monster mom but it works. It's the same with Kalbijjim….being in the same pot for hours, the meat and spices have no choice but to get along REALLY well together.
The downside of making Kabijjim is the HOURS it takes to simmer on the stovetop. You can't leave the house and you go bonkers smelling the deliciousness for hours while your stomach growls.
Enter the pressure cooker.
Now I use a pressure cooker to simmer for less than an hour. And of course, making it in my new Instant Pot (I received an Instant Pot as compensation for using in my recipes. While they did give the pressure cooker, the opinions are my own and absolutely endorse this product! Click here to read the site disclosures.) is even better since it's stainless steel and unlike my old stovetop pressure cooker, I don't have to babysit it. It is a game changer.
Some people just throw in the frozen ribs with the veggies and spices but I take an extra step to get rid of the scum, tiny bones, blood, and whatever else to start it with clean tasting meat. It's my mother's teaching.
Well, now that you heard the story, here is how to make my tried and true, authentic (I am Korean, after all) Kalbijjim in the Instant Pot or your pressure cooker of choice.
Kalbi Jjim (Galbi Jjim) – Simmered Korean Short Ribs
One note on the meat. You can use this sauce for any type of meat but make sure it has some fat on it. If it's too lean, meat gets too dried and chewy even in the pressure cooker. That's why short ribs work really well for this recipe. Some people cut out the bony part of Prime Rib and save them to make this. I think it's brilliant!
If you don't have a pressure cooker, you can simmer for at least 2 1/2 hours in a heavy bottom pot. But seriously, you need to get a pressure cooker. You'll be a changed cook! Instant Pot is offering my readers special discount so check out the discount code at the end of the post. Now there is the recipe.
Print Recipe
Kalbijjim - Simmered Korean Short Ribs
This may be a lot of meat but if you're going to 'go for it', you might as well make enough to last a couple of meals. If you want to make less, just adjust the ingredient portions.
Ingredients
4-5

lbs

of Grassfed Short Ribs
Sauce
1

C

Bone Broth

preferably homemade or water

1

Large onions roughly sliced

8

Large cloves of garlic

smashed

1

Med to Large Apple

cored and quartered

1/2

C

White Wine or Rice Wine

1

Tbsp

Molasses

1/4

C

Tamari

Coconut Aminos if Paleo or regular soy sauce if you don't have gluten issues

1

inch

Ginger

skinned and roughly chopped
Vegetables to Add
4

Carrots

roughly sliced into chunks

1

C

Radish or daikon

in approx 2"x2"x2" cubes or chunks

1

C

Raw peeled chestnuts

optional

1

C

Scallions cut in 1" length

1

Tbsp

Sesame oil
To garnish
1

Tbsp

Sesame seeds

1

Tbsp

finely chopped scallions
Instructions
Prep the meat
Slice the meat in between the bones as pictured.

In a large pot, place all the ribs pieces and cover with cold water and let them soak for at an hour.

Drain the water and fill the pot, just above the meat.

On high heat, bring the water to boil.

Discard the water with all the brown scum and wipe down the side of the pot.

Repeat until the water is relatively clear and set it aside.
Sauce
Blend all the ingredients listed under 'Sauce' until smooth in a blender or a food processor.
For Instant Pot
Add the meat and the sauce in the Instant Pot.

Make sure the silicone ring is in placed properly and the pressure release valve is closed.

Close the lid tightly.

Choose Beef/Stew setting and increase the time to 40 minutes.

When the timer stops, use Quick Release (QR) and open the vent.

When the venting stops, open the lid carefully.

Add the vegetables and sesame oil.

Close the lid tightly, make sure the release valve is CLOSED.

Click on MANUAL and timer for 15 minutes.

When the timer goes off, use Natural Pressure Release (NPR).

When it stops, open the lid, and plate the ribs with sesame seeds and finely chopped scallions as garnish.

Serve immediately with rice.
For Stove Top Pressure Cookers
Prep the meat and make the sauce as per directions above.

Put the meat and sauce in the pressure cooker and put it on the stove top on HIGH heat until the pressure release valve starts to move. It should take about 10-15 minutes.

Lower the heat to medium heat.

Cook for about 15 minutes.

Release the pressure valve and open the vent.

Open the pot when the pressure is completely released.

Add the vegetables.

Close the lid and put the pressure cooker back on the stovetop on HIGH for 10 minutes after the vent valve starts to move.

Turn off the heat until the pressure is released naturally.

Plate the meat and garnish with sesame seeds and scallions.

Serve immediately with rice.
Nutrition
Calories:
770
kcal
|
Carbohydrates:
20
g
|
Protein:
27
g
|
Fat:
62
g
|
Saturated Fat:
26
g
|
Cholesterol:
125
mg
|
Sodium:
532
mg
|
Potassium:
760
mg
|
Fiber:
2
g
|
Sugar:
7
g
|
Vitamin A:
104.8
%
|
Vitamin C:
20.2
%
|
Calcium:
7
%
|
Iron:
20.3
%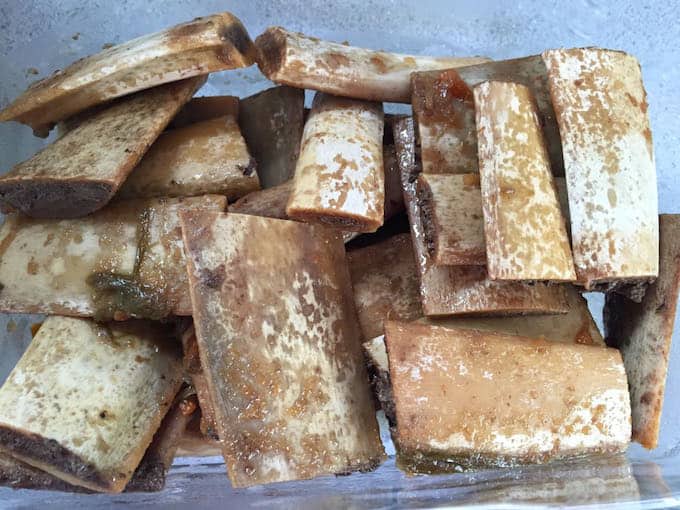 After you've cleaned out the meat, save the bones to make bone broth! I freeze them until there's enough bones to add to the joint bones to make broth. No wasting food around my kitchen!
Pin this post to share!