This blender marinade for Korean Kalbi or Galbi is easy to make without cutting or mincing or dicing. Just place all the ingredients in your favorite blender and pureé! The easy peasy marinade is great on short ribs, like Kalbi or Galbi, or chicken or even vegetables!
I am a Blendtec ambassador but Blendtec did not pay me or gave me the blender to write this post. All opinions are entirely my own.
I have recipes for Cubed Kalbi recipe and LA Galbi and are two of our favorites. There are some variations for the marinade depending on the cut of the meat you are using it for and this recipe is perfect for marinating butterflied or thinly cut short ribs meat. (Watch the video below how I butterfly the short ribs meat.)
In general, Kalbi marinade is easy to make but chopping and dicing aromatics can be a hassle. So I came up with this blender marinade for Korean Kalbi or Galbi that you can just dump the ingredients in a blender and hit "pureé" so you don't have to spend more time in the kitchen than necessary. In fact, some of the best Kalbi I had in restaurants were marinated in 'secret' sauce without any aromatics like garlic or onions.
The best part about this blender marinade? It can be used on chicken, lamb, and even vegetables!
Soy Sauce or Tamari or Coconut Aminos?
If you are ok with soy, you can use regular soy sauce but if you're on the Paleo diet and have to avoid gluten but tolerates soy, Tamari is a perfect substitution. I usually use this organic Tamari or the original wheat-free soy sauce made in Korea.
If you're on the Whole30 diet, substitute Tamari with Coconut Aminos. Make sure to read the labels for Sodium content since different brands have different sodium levels. Bragg, for example, has 130 mg of Sodium while Coconut Secret has only 90 mg of Sodium. In general, coconut aminos has less sodium content than Tamari (has up to 700 mg) so you may have to adjust the amount of coconut aminos or supplement with sea salt to adjust the sodium level for this recipe. Bland marinade will NOT taste good.
What kind of blender do I use?
I used to have another blender years ago. But it broke several times during the time I had it and I had to send it back to get it fixed and pay for shipping!! And you know how heavy a blender is. So annoying. The last straw was when it broke as soon as the warranty expired.I threw out the old one and bought the Blendtec Professional series. I wanted a quiet blender so I bought the "Cadillac" of all blenders, Blendtec Professional 800 model. And I didn't mind paying la little extra since I use it weekly. I needed a workhorse that's a little bit quiet since even my dog barked when I used my old one.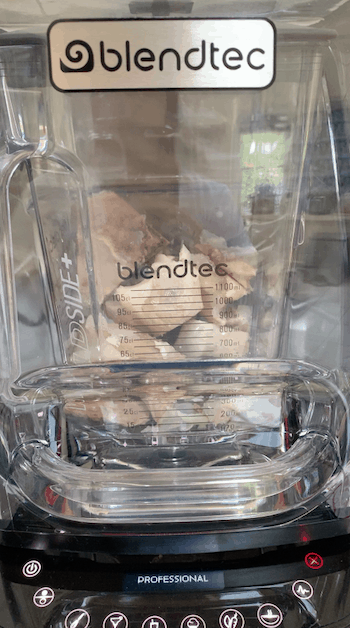 Anyway, I am so happy with Blendtec because it basically blends everrrrything. Did you see the Will it Blend series on You Tube? It's crazy, isn't it? While I won't blend phones or marbles, I love how powerful it is for blending any ingredients. I even blended cooked bones to freeze to give to my dog! I am not kidding!

But my favorite part about Blendtec?? ... the dull blades. Whaaaaaa? That's right. Blendtec's blades are dull. While the motor is powerful enough to blend anything, the blades are not sharp. They are perfect for eager dishwashers like me.
With my old blender, I used to cut my fingers while cleaning no matter how careful I was! I'd blend soap and water in the pitcher to clean, like I was supposed to, but I still needed to swish the soapy water with a sponge in my hands. And I would get tiny nicks all the time. With Blendtec, I NEVER cut my fingers! I just love how it's built.
Anyway, for this recipe, I literally dump everything in the pitcher, I used the "Smoothie" button for a few seconds and the marinade is done. You can use any blender you have, of course, but I love how my Blendtec pureés everything so smoothly.
Disclaimer - when I told the company how much I love their blender but the pitcher I have can be too big for sauces and making nut butters. So they sent me two pitchers to try. And let me tell you; they are perfect for blending small batches of herbs for sauces, making nut butters, and smoothies for one. They even gave me a discount code so my readers can get 20% off when you use "drkarenslee". I love being a Blendtec ambassador!
Lucky me. Good things do happen to nice people. Right?
Off from my soapbox and onto the recipe.
Blender Marinade for Korean Kalbi or Galbi
Recipe
Did you try this recipe? We would love your feedback!
Click on the stars on the recipe card below.
Blender Marinade for Korean Kalbi
This paleo and whole30-friendly blender marinade for Korean Kalbi or Galbi is easy to make without cutting or mincing or dicing. Just place all the ingredients in your favorite blender and pureé! The easy peasy marinade is great on short ribs, like Kalbi or Galbi, or chicken or even vegetables!
Ingredients
1

c

Tamari or Coconut Aminos (See notes below)

½

c

white wine

½

c

cold water

¼

c

mirin

optional

1

tablespoon

fish sauce

1

teaspoon

toasted sesame oil

⅛

c

rice syrup or honey

10-12

cloves

garlic

peeled

½

medium

onion

peeled and quartered

1

large

apple

peeled, cored, and quartered

1

inch

ginger

peeled

½

teaspoon

black pepper

1

lb

short ribs

meat butterflied

2

scallions

chopped for garnish

1

teaspoon

toasted sesame seeds

for garnish
Instructions
Combine all the ingredients in the blender and pureeé until the marinade is smooth

Butter fly the short ribs meat to make thin long strips, like the video

In a non-porous container, like GlassLock, combine the meat and the marinade. Cover and marinate overnight.

Cook the meat either on the grill or on a pan until the meat is cooked to your preference.

Garnish the meat with toasted sesame seeds and chopped scallion before serving.
Notes
How to butterfly the short ribs meat - watch the video for the instruction on how to make the meat into thin strips. This is a trick we use for making real short ribs (Kalbi) at home. 
Tamari or coconut aminos - if you don't have any problem using soy you can use Tamari but if you can't tolerate soy, use coconut aminos. However, coconut aminos does not have high sodium content so you might have to use more coconut aminos or add sea salt to taste. 
Cooking Kalbi - you can grill kalbi or you can fry the meat on the pan. Either way, the caramelized sugar will brown the meat very nicely. If you want to use the oven, you can broil it but be very careful you don't burn the meat. The sugar will burn very easily in the broiler. 
Disclosure
This recipe may contain links that pay commission to this site when you purchase from the links, at no extra cost to you. Full disclosure!