Korean Bulgogi (BBQ beef) is a salty and sweet dish everyone loves. This paleo and keto-friendly recipe is our favorite!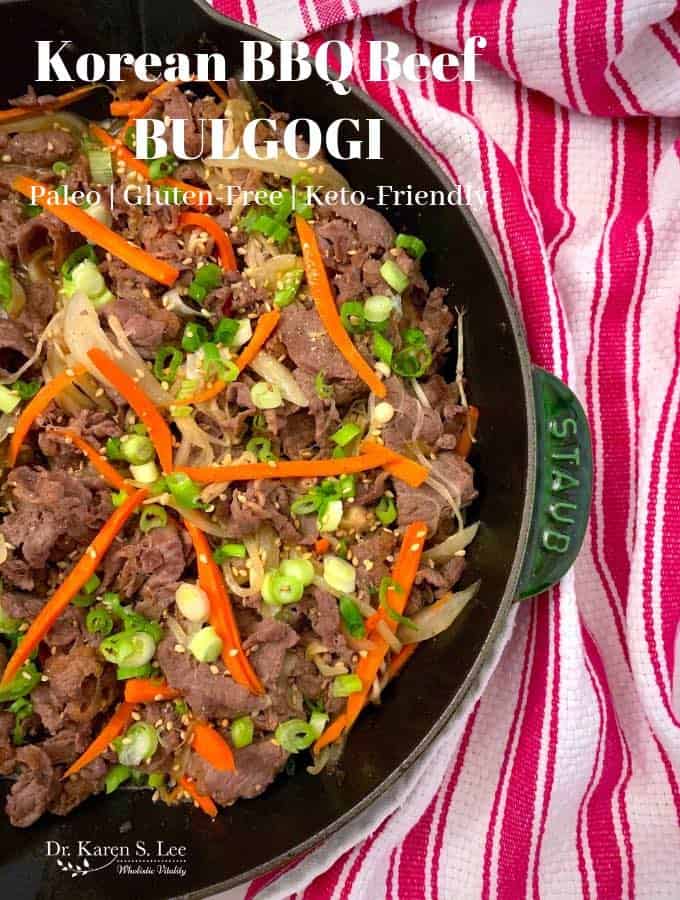 Jump to:
Intro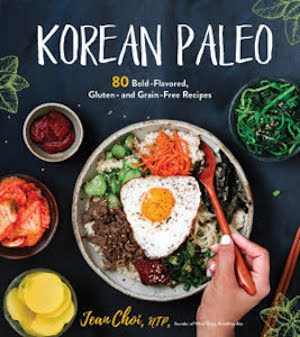 If I were to write a Korean Paleo cookbook, it would be very similar to Jean Choi's recently published "Korean Paleo: 80 bold flavored gluten and grain-free recipes" cookbook. In fact, most of the recipes in this lovingly crafted collection of authentic Korean recipes that have been paleofied are dishes we eat on a weekly basis. These are recipes I grew up with and my family requests very often.
And what's a Korean cookbook without mentioning JapChae - sweet potato noodles with mixed vegetables and beef - especially if you're following a paleo diet since these noodles are grain-free.
I also have a recipe for Japchae as it is also one of the most popular Korean recipes everyone loves. Jean uses maple syrup and there's nothing wrong with using it if you are not watching carbs.
Jean was generous enough to allow me to share her recipe so scroll below for the full recipe and her meat tenderizing tip.
What Is Korean Bulgogi?
Korean BBQ Beef called "Bulgogi" is a quintessential salty and sweet meat dish everyone loves. This paleo and keto-friendly version is our favorite meat recipe and it will be your family's too.
Korean BBQ Beef, "Bulgogi",  is a special dish that we used to eat on special occasions like holidays, birthday, and celebrations of some kind. Bulgogi is full of umami from soy sauce and pureed fruits like apples and Asian pear. The fruit puree tenderizes the meat and adds sweet flavors while deep salty soy sauce envelop the meat. We used to mix the salty-sweet meat dripping from the dish with hot rice to sop up every drop of the flavors.
How To Make Bulgogi Keto-Friendly
Since we've been on 'lazy keto', I try not to add fruit puree to Bulgogi but if you are not following a keto diet, adding fruit puree adds another depth to this popular dish.
Ingredients
If you want all the exact ingredient amounts, scroll down to the printable recipe card. In this section, I'll share information about the ingredients, along with any substitutions you can make.
Steak
I used sirloin steak since it is the most tender cut of steak. Look for a steak that is well-marbled.
Marinade
Here's what I used in my marinade:
Coconut Aminos - If you aren't following Whole30, Paleo, or Low-Carb, you can substitute Soy Sauce.
Pear - The best kind to use is an Asian pear. Use a fresh pear, not canned.
Sesame Oil
Fresh Ginger - If you don't have fresh ginger, you can use ground ginger, it just won't have the same bold flavor.
Garlic
Apple Cider Vinegar - You can substitute coconut vinegar for ACV if you have it.
Sea Salt
Black Pepper
Onion - Any type of onion will work. You can also use frozen chopped onions too.
Green Onions
Carrot
Cooking Oil - Any kind works. If you are on a strict diet, use coconut oil or olive oil.
Toasted Sesame Seeds
FAQ
What do you serve with Bulgogi?
Serve this with a seasoned Spinach Salad. You can also serve it with kimchi, sautéed eggplant, or softened beansprouts.
What cut of beef is best for Korean BBQ?
I prefer sirloin steak for it. This cut is the most tender and honestly tastes the best. If you don't want to use sirloin, at least pick out something that has lots of marbeling.
What does bulgogi mean?
Bulgogi (불고기; /bʊlˈɡoʊɡiː/ bool-GOH-gee; from Korean bul-gogi), literally "fire meat." It's a way of serving BBQ beef in Korea.
Related recipes
My Favorite Korean Cookbook
There are so many more recipes that I could mention, like Kimchi, Chicken Stews, Dumplings, Soups, Stews, Pancakes, Sauces, and even desserts! But I'd have to write over 1000 words and I rather you go buy Jean's book. "Korean Paleo" to try all the recipes yourself.
If you already tried Korean food, you will be addicted to her recipes and if you haven't tried Korean cuisine, you will love it. She even has Korean "Fusion" recipes to convert your favorite dishes like pizza, tacos, fries, burgers, and more with bold Korean flavors!
Now here is the Bulgogi recipe from Korean Paleo cookbook.
Korean BBQ Beef Bulgogi
Recipe
Did you try this recipe? We would love your feedback!
Click on the stars on the recipe card below.
Korean Bulgogi (BBQ Beef)
This recipe for Bulgogi is a Korean BBQ beef recipe that is also paleo and keto-friendly.
Ingredients
1

lb

beef sirloin

or any other tender cuts that are well marbled
Marinade
6

tablespoon

coconut aminos

½

medium

pear, preferably Asian pear

cut into chunks

2

teaspoon

sesame oil

1

inch

fresh ginger

3

cloves

garlic

peeled

2

tablespoon

apple cider vinegar or coconut vinegar

½

teaspoon

sea salt

¼

teaspoon

ground black pepper

1

medium

onion

sliced

2

green onions

sliced in 1" pieces

1

carrot

sliced

1

tablespoon

cooking oil

1

tablespoon

toasted sesame seeds

for serving
Instructions
Place the beef in the freezer for 30 minutes, then take it out and slice it thinly, about 1/16 to ⅛ inch thick.

Place the coconut aminos, pear, sesame oil, ginger, garlic, vinegar, sea salt, and black pepper in a high-powered blender. Blend well until liquified.

Combine the sliced beef and the marinade in a large bowl. Toss and massage together with your hand until all the beef slices are covered in the marinade. Cover and marinade in the refrigerator for 1 hour to overnight.

When you are ready to cook the beef, remove it from the marinade, shaking off the excess. Slice the onion, green onions and carrot, and combine the vegetables with the meat.

Heat the cooking oil over high heat in a large skillet. Working in batches so you don't overcrowd the pan, add the beef and vegetables and stir fry together until the meat is browned and cooked through, about 5 to 7 minutes.

Sprinkle with toasted sesame seeds before serving. You can eat Bulgogi on its own or in a lettuce wrap served with Ssamjang (Page 178)
Notes
To make the recipe keto-friendly, leave out the Asian pear and serve over cauli-rice or over zoodles or lettuce wrap. 
Nutrition
Serving:
1
cup
|
Calories:
263.1
kcal
|
Carbohydrates:
14.1
g
|
Protein:
25.5
g
|
Fat:
10.8
g
|
Saturated Fat:
2.1
g
|
Cholesterol:
62.4
mg
|
Sodium:
879
mg
|
Potassium:
533
mg
|
Fiber:
2
g
|
Sugar:
4.3
g
|
Vitamin A:
2607.5
IU
|
Vitamin C:
5.7
mg
|
Calcium:
64.4
mg
|
Iron:
2.5
mg
Disclosure
This recipe may contain links that pay commission to this site when you purchase from the links, at no extra cost to you. Full disclosure!
Related recipes
➡️ Subscribe to our YouTube Channel for more recipes and tips. And follow @drkarensle on Pinterest, Facebook, Instagram and say "Hello!" 👋