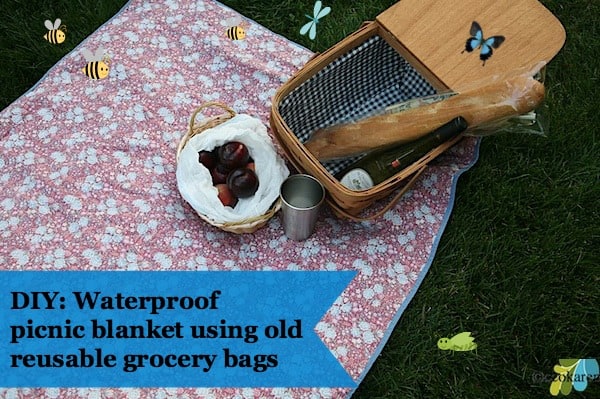 July 4th is this Thursday and I'm in the mood for a nice relaxing picnic since it's been a crazy few weeks in ecokaren's world in June. It'd be nice to just relax and do n.o.t.h.i.n.g. for a day, enjoying nature. And celebrate America's 237th birthday!
So, to prepare for my "nothing" day, I made this great water proof picnic blanket with an old OLD blanket (this is at least 20 years old!) and with some old, torn, dilapidated well-used, reusable grocery bags. Some of them have torn seams and broken handles. Yes, I collected these too, in addition to dog food bags...remember my last tutorial for making dog food/water bowl out of dog food bags? One of my commenters asked where do I keep my 'collections'? LOL....I hide them in a closet - away from my hubby because he'll recycle them (hence, his title "accidental recycler") and leave me nothing to upcycle. Remember my coupon wallet that I upcycled from one of these reusable bags? If I didn't make it out of the old grocery bag I saved, he would have recycled it!
Anyway, here is a simple way of making this fabulous waterproof picnic blanket --- because no matter how dry the grass is, my butt always gets wet and I hate getting my butt wet after sitting on a picnic blanket! I bet you do too.
Oh, I almost forgot. You have to check out this awesome Banana Leaf Bowl (see picture at the end of the post) tutorial by my friend Myra from Herban Luxe (she makes great vegan mascara!) on Eco Etsy's blog. I was chatting with her on Facebook, trying to answer a readers's question on whether disposable dishes are better than using the dishwasher. And Myra and I were half joking, saying, that banana leaf or corn husk would make great dishes! You don't have to wash them and they are completely compostable! But all kidding aside, she said she used to eat food out of banana leaves in her homeland, Puerto Rico! And why not? Bananas are indigenous there and are cheap, environmentally safe, and they make great bowls! So check out her tutorial on how to make these fun Banana Leaf Compostable bowls and where to buy banana leaves. You can make them for your next picnic! And this waterproof blanket!
Waterproof Picnic Blanket
You'll Need: 
Old Reusable Grocery Bags
Old blanket or a bed sheet (another way to reuse old bed sheets. Remember my ways to reuse old bed fitted sheets here and  here?)
Sewing machine
Instructions:
Make sure to wash or wipe the insides of the grocery bags before handling them, just in case, you didn't wash them for awhile. It's always a great idea to wash them when using them to avoid contamination.
Measure the blanket you want to use and approximate how many bags you'll need to cut to line the underside of the blanket. It doesn't have to be exactly perfect as you will see later. But you want them to line up most of the blanket. I got lucky with this blanket since it had a binding all around. But you don't really need it.
Gather all the bags and cut out the seams and handles. 
Overlap the edges of the cut up bags by ¼" and using the zigzag setting, sew all the edges together, with the same sides facing the same direction. Sewing the plastic pieces is a bit tricky since plastic is not flexible. So sewing in tight spaces might be a bit challenging. Clear the back of the sewing machine, roll the right side of the plastic and tuck it under. Make sure to move the whole piece back with your left hand as you sew. 
When you are done joining all the plastic pieces together, you'll end up with a large piece like this. Open it up and smooth over the piece so you can sew it to the backside of the blanket.
Sew the two plastic piece and the blanket together. If you can, put the sewing machine down on the floor or on a large table. After struggling a bit when I sewed the plastic sheet, I put the sewing machine down on the floor and it made my life so much easier. I needed help getting off the floor but that's just a small price to pay.
If the plastic piece does not go all the way to the edge, don't worry about it. Mine didn't and I'm perfectly happy with it. I wouldn't waste another bag, just to make it fit perfectly. After all, it's about upcycling the old and useless bags. It wouldn't make sense to destroy a fine bag just to make the plastic side to fit the blanket perfectly. I just won't sit that close to the edge!
And now I'm ready for a picnic!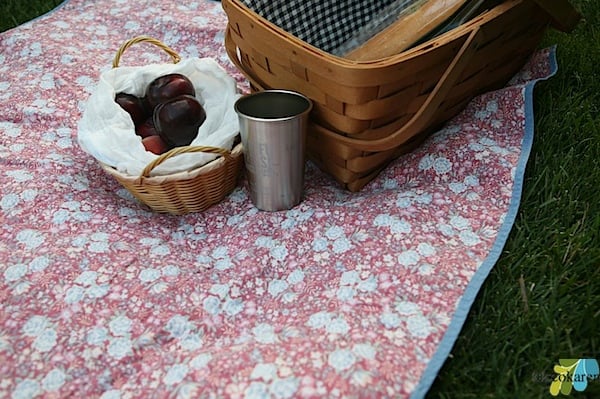 And remember to check out the awesome compostable banana leaf dish tutorial from Myra! Now that's taking the environmental-ness to a whole 'nother level!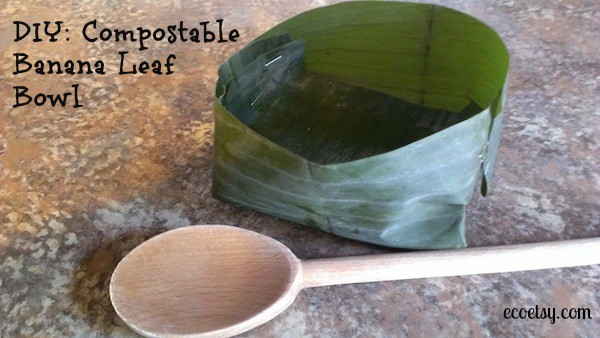 Happy
Birthday
America!