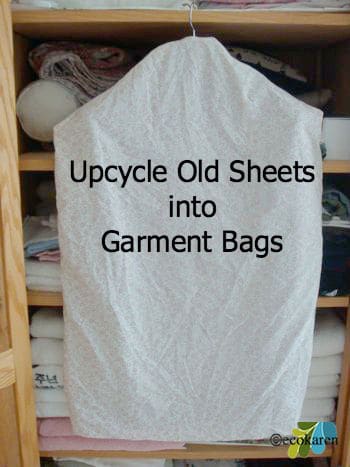 I just cleaned out my linen closet and came up with a few old fitted sheets with worn out elastic, faded colors or prints, and some that are just tired looking. I think many of them are considered 'vintage' by some standards. Since I didn't want to throw them out but can't donate them (who would want to use someone else's old sheets?) or can't make anything that I can go out of the house with, I decided to make something really functional and practical.
Garment Bags!
Why garment bags? Despite my efforts of trying to keep the closets clean, the shoulders of suits and dresses get dusty. And I don't have cloth or canvas garment bags because, frankly, they are expensive. They are priced $10 and up and if I had to buy them for every dress and suits I have, the garment bags would cost more than the clothes I have in my closet. So, I thought covering my seldomly worn dresses and my husband's suits with nifty cloth garment bags would be a great way to use up the old sheets.
The tutorial requires sewing but if you don't want to sew, you can use iron-on hemming tapes or safety pins to pin the edges. Since you are just covering your clothes in them and storing them - not carrying them around - you don't have to worry about the pins opening up and poking you. I don't have pictures with pins but you'll know where to pin them when you see these pictures.
You'll Need:
Old Fitted Sheet - any size
Sewing machine
scissors
cloth hanger
thread
measuring tape
Instructions: **Please excuse the wrinkled sheet. I was in a rush to post this.**
1. Trim the elastics.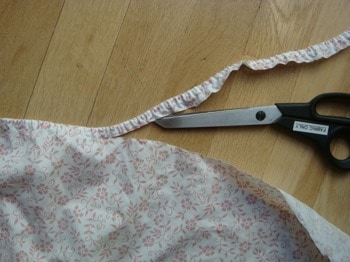 2. Cut the corner seams.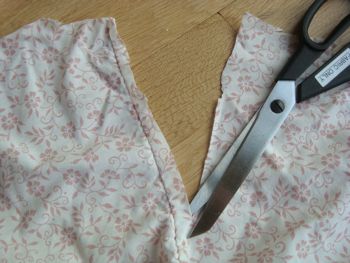 3. Fold the sheet, right sides together, so that unopened seam makes one side of the garment bag. You can use two separate panels if you don't have enough fabric to fold it down this way. I am using a Queen Size sheet here and I was able to get two bags out of them. I can probably get one more panel out of the sheet and combine with another panel from another sheet and get a full bag out of it. The key is to salvage as much fabric from the sheet as you can.
4. Place the hanger you'll be using for your suit of dress and place it on top of the sheet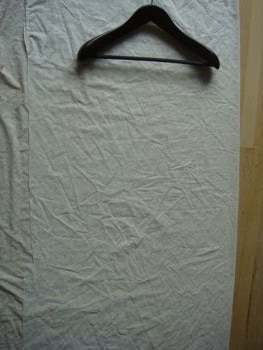 5. Cut around the hanger's curvature with 1" seam allowance. Cut the bag 24" across and 37" in length. I measured my husband's suit in its hanger and came up with that measurement. You can tailor this measurement to what ever size you need.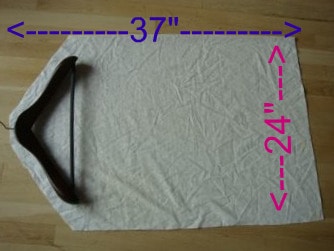 6. Mark the hole where the hanger handle will poke through. I marked the hole to be about 2" in the middle but this is totally up to you.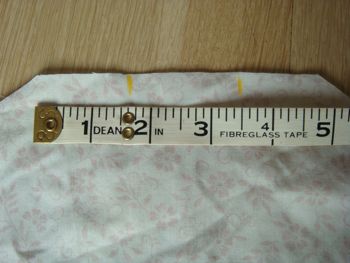 7. Sew the three sides, except for the hole where the hanger handle will poke through.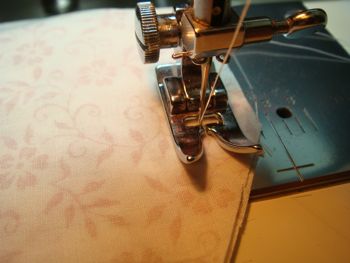 8. Sew the top of edge where the bag will drape over the hanger but not the hole. Spread the seams, and pin the seams down. Sew across the edges of the holes a few times.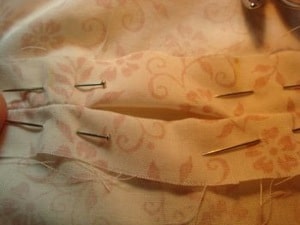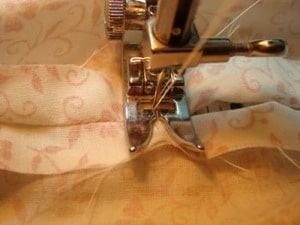 You can either sew the bottom edge or you can leave it raw. It's going to hang in the closet so who cares if the edge is not finished. But if you like it to be neat and clean, you can fold up the edge and sew the seam .
That's it! Voila!
I was lazy and didn't trace the hanger for this one and just stitched it straight across. It's not bad but it doesn't look neat even in my lazy standards.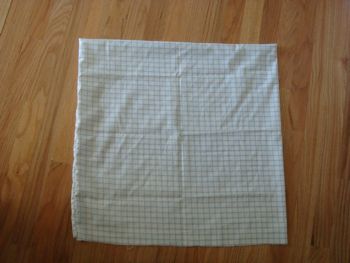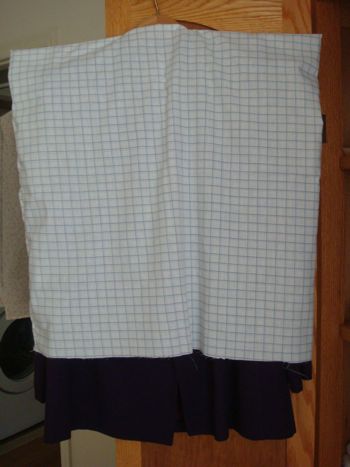 I like using sheets to make these because they are light in weight. The only drawback to these are that you can't see the clothes inside through a window that commercial garment bags have but I can live without the inconvenience when I am reusing unusable sheets to make them. And they are free!!
On my next post, I'll show you how to make reusable grocery bags with old sheets. It's so simple that it's another "Why didn't I think of that?" type of a project.
Have a great weekend!