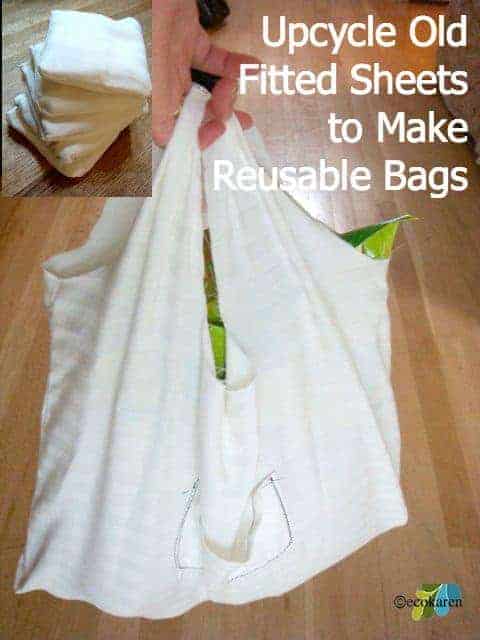 Some of my friends left comments on facebook after reading my last post, "What to do with old fitted sheets". Some recommended donating old sheets to local shelters or to a vet. I donate blankets and old towels to a local animal shelter but I would be embarrassed to donate some of my 'vintage', old worn out ones. If they are not so worn out, may be. But trust me, no one would want these. The one you see in this tutorial was actually ripped right in the middle…from being so old. But that is a great idea. Local shelters would appreciate linens and bedding as long as they are not torn or are unusable.
Anyway, this is my #2 tutorial on what to do with unusable fitted sheets that you'd be too embarrassed to donate.
Reusable Grocery Bags
Many cities are banning plastic bags these days. And maybe once we are 'forced' to carrying reusable bags, we won't forget them but how many times have you gone to the supermarket and realize that you left your reusable bag at home? Lots of times I bet. Me too.
So I started carrying a little pocket size reusable grocery bag that I made from an old fitted sheet awhile ago. Since then, I am never caught without a reusable bag at the supermarket. In fact, I keep a few in my glove compartment too, just in case.
This is just like a plastic grocery bag, except it is much greener. Also, you can fold the entire bag into a small pocket size for you to tuck into your purse. That's the cool part.
The tote is really easy to make and you can make about five bags from a full size sheet…with these dimensions. Again, just like the garment bag tutorial I posted the other day, the measurements for the bags are totally up to you. You can make them whatever size you want or need.
You'll need:
Old fitted sheet – I used a full size for this tutorial to make five bags
Sewing machine
Thread  – I am using a dark colored thread in the tutorial for you to see but use a coordinating thread color as your sheet.
Scissors
Instruction:
1. Cut out the elastic pieces from the fitted sheet and open up the corner seams to flatten out the sheet.
2. Fold the sheet in half in any direction and cut two layers of this "Tank Top" shape in approximately these dimensions. Again, the dimensions are up to how big you want the bags to be.
**Note**It is best to use the folded edge of the sheet as the bottom of the grocery bag. But if you have to sew the two pieces at the bottom, double stitch the seam for strength.
You see the little cut out above the bag? You will need that so don't throw it out.
3. Take the cut out piece and hem the top (straight edge) by folding the raw edge under.
4. Center the cut out piece on the RIGHT SIDE of the bag and pin the sides.
5. Sew three sides, leaving the top edge open. I use small zigzag stitches to prevent the edges from fraying.
6. With the RIGHT SIDES together, sew around the sides of the bag, reinforcing with double stitches. I used zigzag for the second time around to prevent the edges from fraying.
7. While the bag is turned inside out, fold the two sides inward about two inches. Line up the handles to match. As you can see, the shape of the bag is not exactly square or rectangle. Pin down the folded edges and sew the handles and bottom, as indicated.
8. Turn it inside out and voila! You have a reusable grocery bag! A.K.A. T-Shirt Bag!
9. Now, how to you get it to a small compact size that you can fit into your purse? This is the part I wish I video taped but that didn't happen. But I think you can follow the pictures and see how easy it is.
Now you have a pocket size reusable grocery bags!
Some more ideas on what to do with old fitted sheets…
Produce Bags (I actually have a few of these too)
White sheets would make easy ghost costume
Pillow cases
Drawstring laundry bags
Pajama pants
Why I don't use flat sheets to make these totes and the garment bag
…because flat sheets can be used as new fabric. Right after I graduated from college, with no two nickles to rub together, I used to go down to Macy's during the White Sale, and scour the Clearance section for the cheapest and prettiest flat sheets to use as fabric. And what's better is that I can buy the bedding – fitted sheets and pillow cases – and coordinate the rest of the room with flat sheets. I made matching window curtains, cushion covers, and even duvet covers. I also made shower curtains and even a matching skirt for the old sink to hide the pipes. Decorating on a dime!
I still use flat sheets as fabric  because my family tend to hate using flat sheets so I usually have a pile in my fabric stash collection. So, when I have old fitted sheets that I can upcycle to make these totes and garment bags, why would I want to use flat sheets?
What do you make with your old fitted sheets? I still have some that I can upcyle and I'd love some more ideas.