Make your own borax-free laundry detergent for sensitive skin. Save money and use only safe, non-toxic ingredients. Keep reading and discover how easy it is.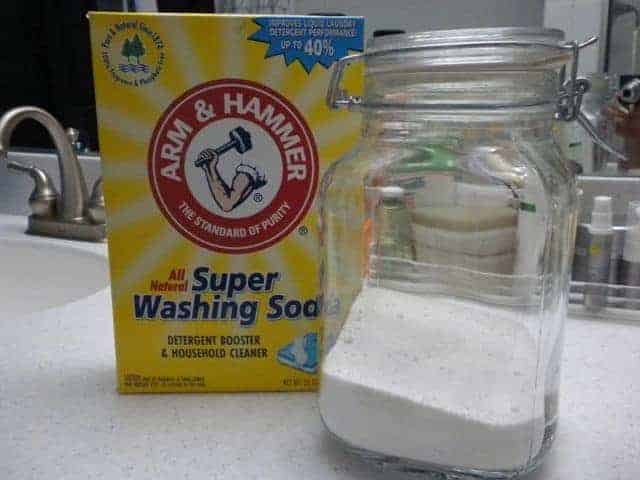 DIY Laundry Detergent For Sensitive Skin
Do you have sensitive skin? My kids do. When their Eczema flares up, I go into a battle mode and start taking stock on what could have possibly triggered it 'this time'.
So when their skin became red and inflamed a couple of weeks ago, I wondered if it was my "natural" homemade laundry detergent with Borax. Granted that Borax is safer than toxic chemicals like 1,4-dioxane in Tide's Free and Gentle®, but if you have sensitive skin even natural substances will irritate your skin, like Borax.
So I tested some recipes for a laundry detergent that don't include Borax for my front loader, a High Efficiency (HE) washer. (Do you know how to wash your Front Loading Washing Machine? Yup. You have to 'wash' your washing machine. Who knew?)
Anyway, here is the recipe that worked the best for me.
Borax-Free Laundry Detergent Test
I was hesitant to just switch without testing it out. I wanted to make sure it would still clean our clothes without the Borax. Here's how my test went.
I wrote the words with a sharpie pen, smeared ketchup, mustard, and strawberry jam on white cotton t-shirt jersey. I let them dry over night and washed them with whites the next day. The formula with Borax has one tablespoon of Borax added to the formula below.
As you can clearly see, both cleaned the stains relatively equally. If anything, the one without Borax washed slightly better on the strawberry jam. So why am I using Borax if it doesn't really add more cleaning power? I guess I can leave it out! Yay!
My belief is less is better when it comes to ingredients in anything.
DIY Borax-Free Laundry Detergent Recipe
Here's how to make your own homemade laundry detergent for sensitive skin.
Ingredients
1 tablespoon Washing Soda (you can make your own, did you know that?)
1 tablespoon Baking Soda
1 tablespoon Grated Castile Soap (see alternative option below)
1 C Distilled White Vinegar in the Fabric Softener Compartment
1 tablespoon Citrus Enzyme Cleaner or Citric Acid
Tips
I scoop the powder separately without mixing them since I want to make sure I am getting the right amount for each.
If you have extra stains, like the ones I tested, I'd spot clean it with peroxide/water mixture or Oxyclean first, before throwing the garment in the washer with the rest of the laundry, like you would with other types of detergent.
Oh and if you don't want to grate castile soap every time, you can substitute with 1 tablespoon of liquid castile soap.
If you are NOT sensitive to Borax, you can check out my homemade laundry recipe that uses Borax here.