Make your own DIY dishwasher tablets right in your kitchen. They are so easy to make and they really do work!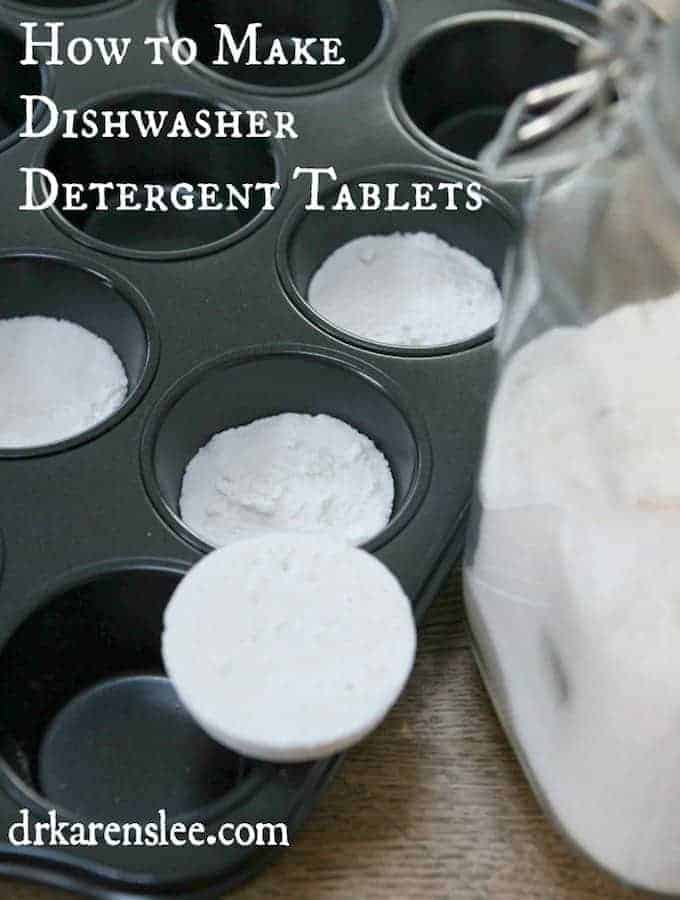 DIY Dishwasher Tablets
It seems that I am the only one in my family who knows how to use the laundry detergent and dishwasher detergent. Whenever my family tries to run the dishwasher, they'd yell, "How many scoops of this white powder and how many cups of the vinegar? And where do I put them in again?"
And I'd mumble under the breadth, something like, "If I have to tell you how to do it a thousand times, I'll do it myself!"
Sound familiar?
Well, truth be told, this is partly my fault since I don't make it that easier for them to figure out how to use my crazy concoctions. "1 tablespoon of Washing Soda (No, the jar that's in front of the baking soda), 1 tablespoon of kosher salt (Yes, the blue box that says Kosher....and yes, pour the vinegar IN the covered....") By this time, I march into the kitchen and take over. *sigh*
Finally, I came up with an ingenius way for them to feel "successful". Ok, so that I don't have to repeat myself a thousand times. Now, they have no excuse for not being able to run the dishwasher because all they have to do is to drop a tablet (a hockey puck, as my hubby calls it.) in the machine! Yes, I'm that evil. *Snicker*
Here is my Non-Toxic Dishwasher Detergent Tablets formula so that your family too can use the dishwasher without bugging you.
Jump to:
Intro
What are DIY Dishwasher Tablets?
These tablets are perfectly-measured packs of dishwasher detergent that you can use when you wash your dishes. If you are trying to live in a toxin-free home, these are perfect! They are made with completely safe ingredients.
I'll share the entire tutorial in a printable recipe card at the bottom of this post. First, I have some helpful tips and information I wanted to share.
How To Use Homemade Dishwasher Tablets
Use one tablet for each load. Then, add vinegar to the second compartment with a door and close it. This way, vinegar will be released when the second washing cycle starts and will act as a rinse.
Don't add vinegar to the bottom of the machine at the beginning of the wash, as some other posts suggest. Washing soda and vinegar will neutralize each other and it will not act like a detergent. This goes for adding vinegar to any soap making recipes.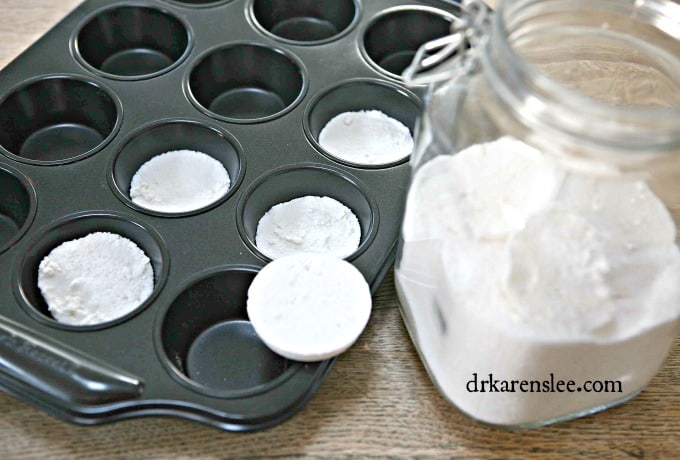 Ingredients
Washing Soda
If you don't to buy any, you can make your own washing soda out of baking soda.
Salt
You can use any kind of salt that you want, as long as it is Kosher. Save the pricy sea salt for cooking.
Low-Sud Dishwashing Liquid Soap
If you buy commercial dish soap, make sure it's SLS-free.
Muffin Pan
I used a metal muffin pan. You can use a silicone muffin pan - this makes it easier to pop them out. You can also use ice cube trays. Since this formula is for washing dishes, you can just rinse them afterward and continue using them for food.
FAQ
How many tablets does this recipe make?
This recipe will make about 12 tablets.
Why are my homemade dishwasher tablets still too wet?
You might have to leave your muffin tin or mold out in room temperature air for longer. I always leave mine overnight. The longer you leave it, the drier it will become.
How do you store DIY dishwasher tablets?
Store them at room temperature in an airtight container. You can store them in a zippered plastic bag or a large glass jar with a lid.
Is this safe to eat?
While this formula is safe for washing dishes, it's not SAFE for ingestion. Keep all cleaning products away from children. This formula is definitely safer than commercial detergents but still, keep the tabs in fido jars like pictured above since kids can't get into them. Also, the jar keeps the moisture out.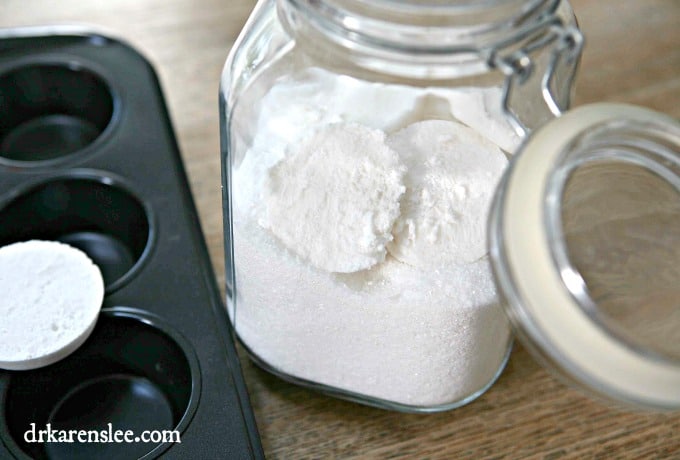 Related recipes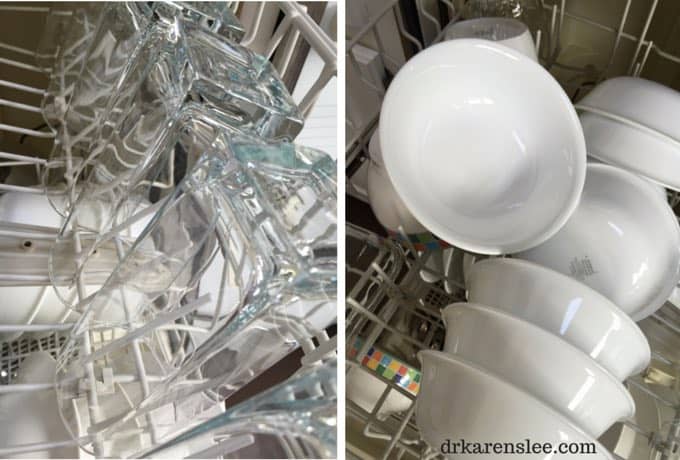 Ok, I'll admit. I like these tablets too. It's pretty darn easy to pop a tablet into the dishwasher instead of measuring different things. But I'll still dedicate this DIY to my kids and hubby who now have no excuse for not loading the dishes!
⭐️ Have you tried this recipe? If you love this recipe, give it "5 star" ⭐️⭐️⭐️⭐️⭐️ rating on the recipe card! We appreciate your feedback!
Did you try this recipe? We would love your feedback!
Click on the stars on the recipe card below.
DIY Dishwasher Tablets
Make your own DIY dishwasher tablets. They are really easy and completley non-toxic.
Ingredients
1

cup

washing soda

1

cup

Kosher salt

6

teaspoon

low-sud dishwashign liquid soap

½

cup

warm water
Instructions
Mix the washing soda and kosher salt in a mixing bowl.

Scoop out about 2 tablespoon into the each muffin mold. You should have enough to fill the entire muffin evenly.

Sprinkle about ½ teaspoon of Dishwashing Liquid Soap to each cup.

Add about 1-2 teaspoon of water to each cup.

Mix the dishwashing liquid soap, water and the powder. The powder should just get wet, not liquidy or runny.

Leave the muffin pan to dry for at least 3-5 hrs or overnight. The longer it stays, the drier it will get.

When it's time to take them out, gently, drop the muffin on a hard surface, to give it a good (but gentle) jolt. If you use the silicone mold, you can pop them out easily. Same with the ice cube tray.

Store them in an air-tight container.
Notes
You can buy any brand of salt, as long as it's Kosher. Save the expensive sea salt for cooking. 
If you buy commercial dish soap, make sure it's SLS-free.
To form the tablets, you can use a silicone muffin pan which makes it easier to pop them out. You can also use ice cube trays. 
Disclosure
This recipe may contain links that pay commission to this site when you purchase from the links, at no extra cost to you. Full disclosure!
💌 I would love to receive more posts like these in my inbox! SIGN ME UP for FREE newsletters!
➡️ Subscribe to our YouTube Channel for more recipes and tips. And follow @drkarensle on Pinterest, Facebook, Instagram and say "Hello!" 👋