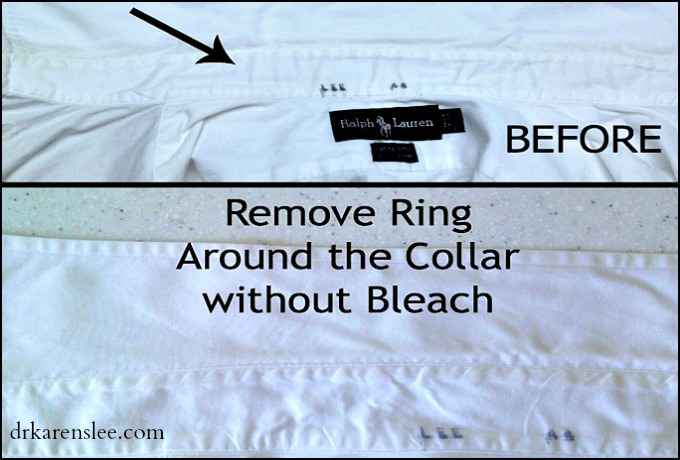 I was mortified to find my hubby's white shirt with a proverbial, 'ring around the collar' last week. Remember the funny 70's commercial? Google it!
Actually, it was more like a 'ringworm around the collar' to me. And hubby was embarrassed as if it made him look like he doesn't take showers. So I put on my ringworm-buster uniform on and went to work on exterminating this ringworm.
I pride myself on being a good, no, great, launderer and to see that icky brownish stain on the collar made my skin crawl. He showers every day so how does it get that dirty? Actually, maybe a more appropriate question is, is my laundry skill failing him?
The answer is neither. It's the oils, the sweat, and the air. It's not his dirty skin or my laundry skills. Ring around the collar is just one of those inevitable stains that just stays on if not treated separately.
So I went on the "attack the ringworm around the collar" mode and this is what I found to be most effective in removing this pesky stain without using toxic bleach or toxic laundry detergent.
How to remove "Ring Around the Collar" Without Bleach
You'll Need:
Shirt with dirty collar (no brainer)
1 tablespoon Super Washing Soda (don't have one? make it using my recipe)
1 tablespoon Hydrogen Peroxide (you can buy here )
1 tablespoon Liquid Non-Toxic Laundry Detergent (I have a jug of liquid Ecos Laundry Liquid for hand washing or for emergencies like this)
Old Toothbrush
Directions
Combine the ingredients and make a paste. It may be watery, depending on the consistency of your detergent. You'll be spreading it across the collar so make sure the shirt is on a flat surface that will be ok if the solution leaks through. Leave the paste on the collar for at least 4 hours, longer the better since hydrogen peroxide works better with time. Remember my whitening socks method? FYI - I left this paste on the collar overnight.

After it's been on the collar for a few hours, you can either rub the collar together or brush the neckline with an old toothbrush. Then, fill a bucket with lukewarm water and soak the shirt for another few hours. The reason you have to soak the entire shirt is so that the entire shirt gets whitened and not just the collar. There might be a line of whitened area and the rest of the shirt might look dingy.
After a few hours, rinse the shirt a few times until the water is clear. Ring our the water as much as you can and line dry. Iron as you normally do.
And voilá! No more ringworm around the collar!


This is before.


See the difference?
Hubby was once again a proud man with a clean collar.