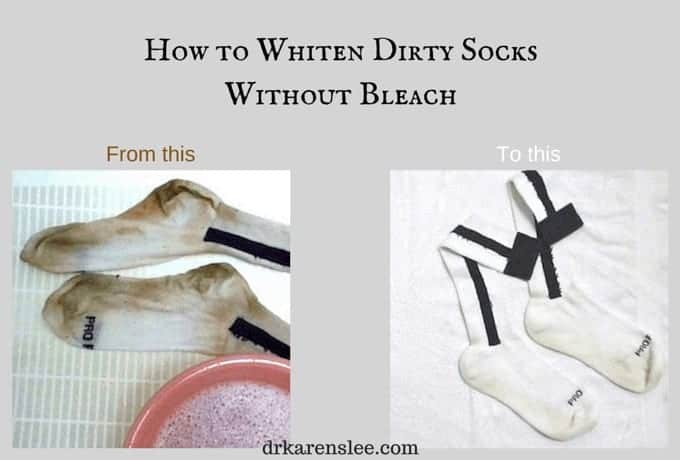 My daughter's softball season is ending. And if your kids play sports, you know how grateful I will be, with all the extra time I'm about to have, not having to do laundry daily, especially the dirty socks.
These dirty socks, pictured above, came home in a separate bag, after she 'slid' to second base. Thank goodness she slid with her feet first and not her head. I'd have bigger problems then.
Since I no longer use bleach, I had to figure out how 'on earth' I was going to wash these so she can go out there, and do it all over again. Lucky me.
I remember one of you, emailing and asking me how to clean your kids dirty socks and I told you, 'I'm going to post about it, when I have some dirty socks to wash." Well, finally, you'll get your answer. Lucky you.
How to whiten dirty socks without bleach
You'll need:
½ gal of luke warm water
1 tablespoon of Liquid Laundry Detergent (I keep a small plant based Ecōs detergent for cases like this.)
1 tablespoon Washing Soda
1 tablespoon Hydrogen Peroxide (3%) (This affiliate link to Amazon will give you a page of all types of HP. I use 3% and the prices vary. But since I use so much of it, I buy them by cases. It's so much cheaper.)
Juice from one lemon
A wash basin or bucket
Directions:
Shake off the dirt from the socks as much as you can. It works best if wash immediately after the socks were soiled.
Wash the socks in plain water to wash away the dirt as much as you can.
In a bucket or basin, pour about gallon of luke warm water.
Add all the ingredients and mix to dissolve the powder ingredients well.
Immerse the socks in the solution, making sure it's completely submerged.
Soak the socks overnight. I left these socks for two days (I forgot about them.) Hydrogen peroxide work with time so longer it has to work on the stain, the better.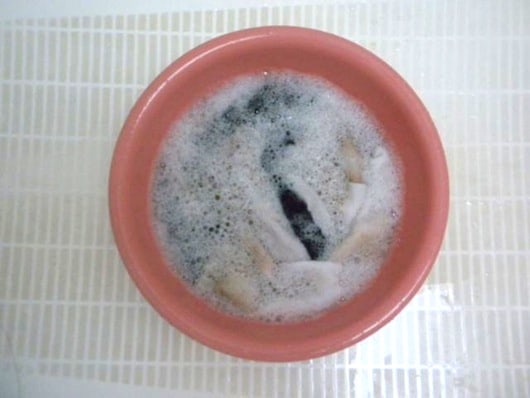 This is how it looked after one day. So I left the socks back in the detergent solution one more night. See all that dirt that washed away from the socks? And heyyyy, how did those anklets sneak in??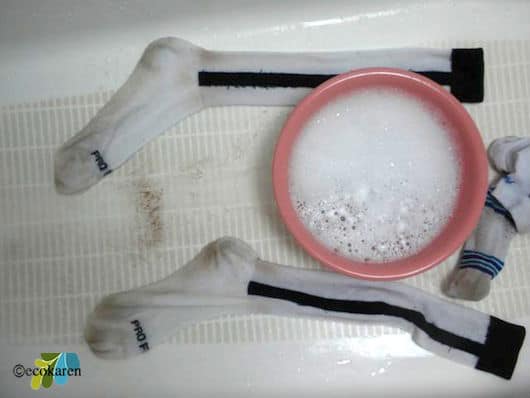 And after two nights in the soak, voilá! Not 100% out-of-the-package white-y whites but I think it's heck of a lot whiter than before sliding to second base, don't you think?

If I dried them outside, under the sun, they would be much whiter. Something about lemon and sunshine - they are a great duo for whitening laundry.
I am also going to use this method for my dingy white towels. I will have to tweak the formula a bit to be able to use for a large load but you get the idea for the ingredients.
If you don't want to use bleach, hydrogen peroxide is your go-to whitener. Just be careful when you are handling it as it will whiten your dark clothes.
Related recipes