Many cities and states are starting to ban disposable plastic grocery bags. Stores offer reusable bags but most of them are made with either nylon or plastic lining and hard to wash them in hot water to sanitize. But these cotton cloth bags can be washed in hot water to keep them clean and they can be made with old cotton linen sheets.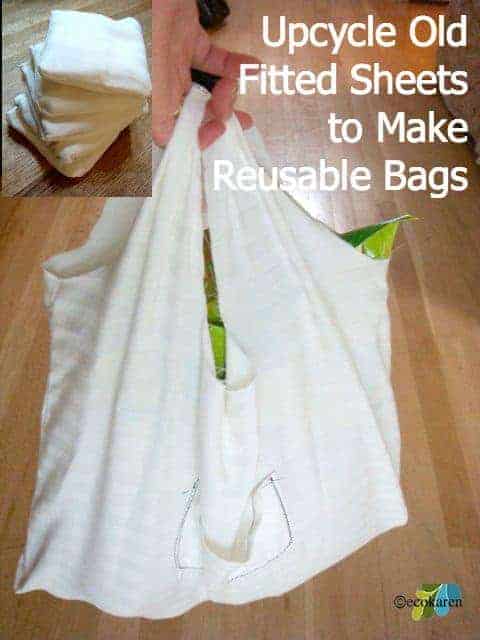 As states ban disposable plastic bags, we have to use our own reusable bags. But if you're like me, you may forget to take them out of the car. Maybe once we become custom to carrying our own bags, we won't forget them. And if the bags are small and foldable, we can keep them in our glove compartment or in our bags so they are readily available.
While you can buy heavy canvas bags for heavy groceries, these small bags are easy to make using old linen sheets. Furthermore, you can tuck them in your purse so you always have one handy.
The tote is really easy to make and you can make about five bags from a full size sheet if you use these dimensions. Again, just like the garment bag tutorial , the measurements for the bags are totally up to you. You can make them whatever size you want or need. These dimensions are just a guideline.
Make Reusable Bags with Old Cotton Sheets
You'll need:
Full size old fitted sheet – I used a full size for this tutorial to make five bags
Sewing machine
Thread  – I am using a dark colored thread for the tutorial for easy viewing but when you make your own bags, use a coordinating thread color as your sheet.
Scissors
Measuring tape
To make this washable cotton reusable grocery bag, see the steps below.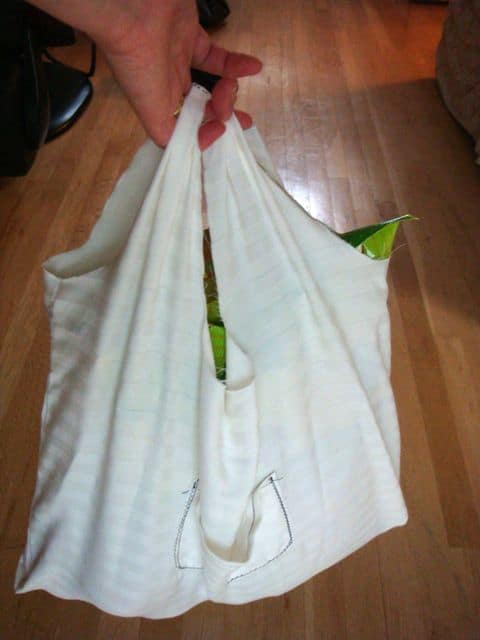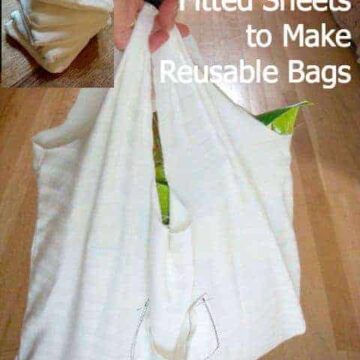 Reusable Grocery Bags
Many states are banning disposable plastic grocery bags. Make these easy reusable grocery bags out of old cotton linen sheets and you'll be able to wash them to keep them clean!
Print
Pin Recipe
Ingredients
Full size old fitted sheet

I used a full size for this tutorial to make five bags

Sewing machine

Thread

I am using a dark colored thread for the tutorial for easy viewing but when you make your own bags, use a coordinating thread color as your sheet.

Scissors

Measuring tape
Instructions
Cut the elastic around the fitted sheet and fold the sheet in half in any direction . Cut the two layers of this "Tank Top" pattern in approximately these dimensions. These dimensions from disposable plastic bags but they can be smaller or bigger, depending on your needs.

It is best to use the folded edge of the sheet as the bottom of the grocery bag. But if you have to sew the two pieces at the bottom, double stitch the seam for strength.

Take the cut out piece from the panel, and hem the top (straight edge) by folding the raw edge under.

Center the cut out piece on the RIGHT SIDE of the bag and pin the sides.

Sew three sides, leaving the top edge open. I use small zigzag stitches to prevent the edges from fraying.

With the RIGHT SIDES together, sew around the sides of the bag, reinforcing with double stitches. I used zigzag for the second time around to prevent the edges from fraying.

While the bag is turned inside out, fold the two sides inward about two inches. Line up the handles to match. As you can see, the shape of the bag is not exactly square or rectangle. Pin down the folded edges and sew the handles and bottom, as indicated.

Turn it inside out and voila! You have a reusable grocery bag! A.K.A. T-Shirt Bag!
How to fold the reusable bag into the pouch
Fold the sides of the grocery bag inward until the edges meet in the middle.

Fold the bottom of the bag up under and tuck it in.

Tuck in the top under the bag.

Tuck in the rest of the handles under.

Place your hand inside the pouch while holding the rest of the bag, turn the pouch inside out.

Voilà! Neatly tucked reusable grocery bag in a pouch.

You can make 5 reusable grocery bags with a full size fitted sheets.
Notes
You should use cotton sheets so that you can use hot water to sanitize after a few uses. If you need to brighten them, you can use Oxyclean or if it's contaminated, you can use 1 tsp bleach to 1 cup hot water. 
Disclosure
This recipe may contain affiliate links to products that pay this site small commissions if purchases were made via those links at no additional cost to you. Read full disclosure.
If you like this tutorial, check out these DIY.