This is the second article of a two part series written by my fifteen years old daughter "E". She wrote in her first article how she learned to "choose" make-up. In this article, she goes to the Mall to actually "buy" her first make-up.
How to buy make-up for a teenager Part 2
On my birthday, my mom and I went to Sephora at a local mall. Make up was going to be my birthday present and I was enthusiastic about being old enough put on make up for the first time. Normally I wouldn't go into a glamorous store like that. But today, I was thrilled.
I walked straight to the Natural make up aisle. I was so astonished at how many different brands there were. I thought that since I did the research, I would know what I want to buy. But once we got to Sephora, I was more confused. As I walked, aimlessly, through the aisles trying to find more selection, my mom suggested going to Origins - a store that sells natural and organic beauty products that she likes. She told me she was sure I'd find something there I liked. But I didn't want to go there because I didn't like the way some of the products smelled. So I stubbornly continued my search in Sephora.

Finally I found two eye shadows from Josie Maran, mascara from Bare Escentuals, an eyelash curler, and a double-sided eye brush. I felt like I was becoming a girlie girl.
Karen: Although it was a quick twenty minutes of trying on testers and swiping various color eye shadows on both of her hands and arms, it felt like eternity. She was not sure of any colors or brands. She kept asking me "which one do YOU like?" but I did not tell her. I wanted HER to make the decision. It wasn't going to be a life changing decision but nevertheless, she had to make the decision based on what she liked and not what I liked. I didn't want to hear her say, "I didn't like this but you made me buy it"... when we got home. But in the end, I ended up giving her my general broad view on eye shadow colors - i.e. with her brown eyes, green eye shadow would not look good on her. She agreed. And honestly, I don't blame her for not being able to decide. You would think, with increased demand for natural and organic products, there would  be a larger selection of natural and organic products than just enough to fit in one aisle. But the selection was very limited. Because I sensed her less than 100% satisfaction with what she bought at Sephora,  I had a plan to divert her to the store I trusted – Origins,  just in case she might see something else she might like.

After walking out of Sephora, my mom brought up the idea of going to Origins again. I liked the eye shadows I bought but they were shimmery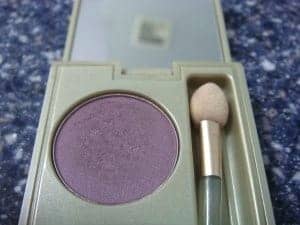 and I wanted more of matted colors. So I agreed. I wanted to see what their selection was like. I started looking at the eye shadows when we got there. I asked a lady who works at Origins to show me some matted color eye shadows. She took out a very pretty purple eye shadow, used a primer and put the purple eye shadow on the back of her hand. I loved it! It was the first color she showed me and it was perfect. It didn't sparkle excessively like the ones I saw at Sephora and it wasn't too dark either. I thought it would go well with all my blue colored tops (Blue is my one of my favorite colors). Seeing me nod in approval, my mom asked her if she could show me how to put on the eye shadow. I knew how to put it on from watching Youtube but I let her put it on me. Honestly, she did it darker than I would have liked but she put it on so easily! I secretly wished I came here first! I should have listened to my mom when she first suggested it.
Then, I heard my mom asking the sale person if Origins do facials. The lady told us that they do and she set up two appointments for us for a Saturday afternoon. My mom said, it's important to keep my skin clean and I should learn how to clean it properly especially if I am going to wear make up. Right now, I use olive oil and lavender oil mixture as make up remover. And it works really well but I guess learning how to clean my face daily would be a good thing.
So here I am during the facial, acting all grown up...using grown-up stuff.
On the facial day, Kali, the lady who had shown my mom and I the purple eye shadow, did my facial. I have to warn you; she put a lot of stuff on me. If she didn't give me a piece of paper with all the things she used written on it, I wouldn't have remembered what she used.
But here is what she did. My mom helped me remember the sequence.
She started the facial by putting warm water on my face. Nothing special there.
After that, she put a face scrub called Modern Friction for exfoliating dead cells. My skin felt so cleaned afterwards but she wasn't done cleaning.
Next, she used a foamy face wash called Checks and Balance Foaming Facewash. I didn't know my skin was that dirty!
Then, after the face wash, she put a charcoal clay mask on my "t-zone" to help take out dirt from the pores and shrink the size of the pores. After allowing it to dry - it was pulling my skin when it was dried - she washed it off with warm water again.
Then,  she wiped the my face with this thing called a toner. By now, I was really confused why I needed so many products just to wash my face!! I thought I did a good job in cleaning my face every day with water and a cleanser that my mom gave me (it's from Origin too!) but I guess not.
Then, she finally put a gel like serum that she didn't wipe off.
The last product she put on my face was a lotion that smelled like lavender. And she was finally done!
Although my face felt so smooth and moist, I couldn't wash my face like that everyday. I'd be late for school! But my face did look very silky and smooth afterwards. I do have sensitive skin with Eczema and it's important for me to keep it moist. But honestly, I don't think I can do all these steps daily. But we bought the organic lotion since I have the cleanser and the exfoliant already.
The three products she used were organic and they were very light and smelled nice, unlike the smell I remembered from the store before. (I later found out that the smell I didn't like was the Andrew Weill line with mushrooms. Not my type.) But she told me that all the products from Origins are made without:
Parabens
Phthalates
Propylene Glycol
Mineral Oil
PABA
Petrolatum
Paraffin
DEA
Animal Ingredients (except cruelty-free honey and beeswax)
and are made with 100% essential oils. I don't know what any of these chemicals are and I can pronounce them if I read slow. But I know they are bad for me. So I am so glad that my mom suggested Origins. Oh, one cool thing they do is that you can bring in any empty plastic cosmetic bottles to any Origins stores. They will take other company's bottles too and recycle them. That would save the landfills. I thought that was awesome.
Anyway, I hope you enjoyed reading about my experience of buying my first make up. I hope I can teach my friends about natural make up and how commercial make up is bad for them. At first, I was a little disappointed that there weren't too many selections at Sephora. But now that I know there are other stores like Origins, that carry natural make up and skin care products, I will be a smarter shopper next time. I don't know about buying online because I like to try the colors on my hand so buying online can be harder for me right now.
May be when I know more... in the future.
Karen: E's question whether she can use make up or not was not even an issue with me. I knew she was growing up and wanting to wear make up was only matter of time. And I had no problem with her wanting to start at fifteen. What I did have a problem with was her wanting to buy any make up at any drug store or at a beauty store like Sephora. Especially with her dry skin with Eczema flare ups and the normal age related acne breakouts, I wanted to make sure that the ingredients she's putting on her face was going to be as natural as possible. So buying safe make up was non-negotiable and to my relief, she eventually agreed that she doesn't want to put any toxic chemicals on her skin either. And how timely is Annie Leonard's video, "The Story of Cosmetics"? E watched it yesterday and was convinced that she did the right thing by buying all natural and organic.....even if they are not glitzy and are not advertised in hip teen magazines. How did I raise such a sensible kid? I certainly wasn't this smart. I also didn't have Youtube or Annie Leonard, growing up, to help me understand.