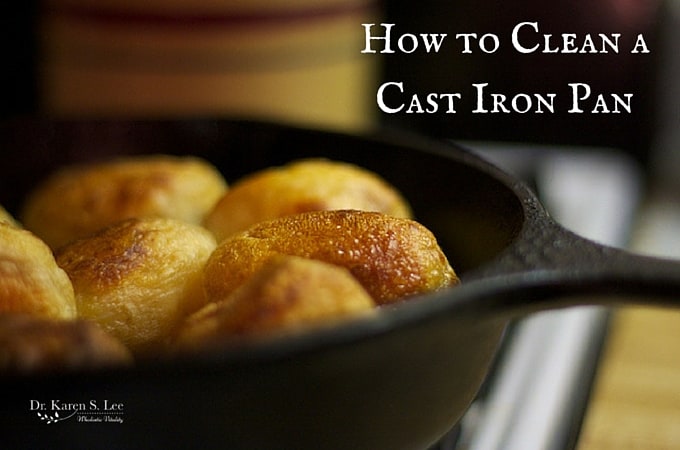 CC Image by missmeng
Yes, I love my cast iron pan. And yes, it is heavy and I have to use both hands to carry it off the stove. I always wonder how grandmothers used to use these heavy pans? They must have had some serious muscles! Or did they get strong
because
they used these???
Anyway, I hesitated to use the one cast iron pan I have in the past. And it's not because it's heavy, although, it is hard to flip my pancakes with it.
It's cleaning the darn thing.
It seemed so complicated to prevent rust from setting in.
But, not anymore. Thanks to Pinterest - yes, most people use Pinterest to find pretty things; I use it to find tips on cleaning pots and pans. I'm pathetic. I admit.
But, see how greasy and yucky the pan is? I'll show you how I cleaned it.
Apparently, all you need is some Kosher or coarse salt. I used Morton's Kosher salt because that's what I have but you can use any coarse salt. Just don't waste expensive sea salt or a Himalayan salt on cleaning. That would be one expensive way to clean a pan!
Add some water and scrub with dishwashing cloth or sponge. Salt will act as a scrubber and de-greaser so give it a good scrub.
See how all the grease just disappeared and water is beading on the surface? More importantly, look how clean the washcloth is? Initially, it was brown but once I rinse the pan with it, the brown coloring disappeared from the wash cloth too.
Let the water evaporate on med to high heat on the stove.
Add about 1 teaspoon of oil - I use olive oil - and coat the pan evenly.
That's it! This method will keep your cast iron pan protected from rust and is ready to be used again! This pan will outlive me....along with my LED lightbulbs.