Got moldy shower curtain? Put away the bleach and let me show you how to clean a moldy shower curtain without bleach!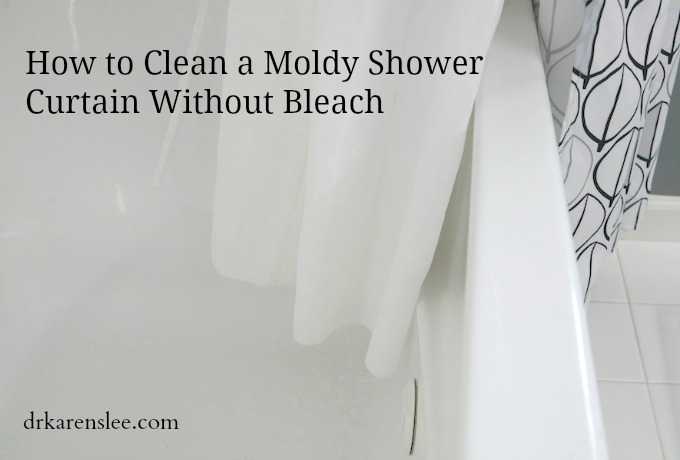 Does your shower curtain get moldy like mine? Am I the only lazy slouch who waits until it looks disgusting and then try frantically to make it clean again? Granted it's made of nylon, not PVC vinyl so I don't have to worry about pthalates or other toxins but mold is just as dangerous, according to CDC. And so is bleach that most people use to get rid of mold in the bathroom. But you know bleach doesn't kill mold, right? Did you read my "Front Loading Washer Maintenance" post where I talk about killing mold in my washing machine without bleach?
Yea. Mold is not good.
How does my mom prevent a moldy bathroom?
Just like the washing machine, dampness and warmth make a perfect breeding ground for mold in a bathroom, no matter how powerful the vent is. When the wet curtain gets stuck to the wet bathtub wall for hours until it's dried, it's an open brothel season for molds.
And how about those dank corners where the tiled wall meets the bathtub. The ugly pink and sometimes black mold (EEEK!) sets in if you don't dry it regularly. But honestly, who has the time to wipe the walls down to dry the tiles after rushing in for a quick 5 minute shower?
Except, of course, my mom.
My mom boasts that's exactly what she does - wipe down the tiles and sides of the bathtub after showering - to prevent mold from the grout, bathtub and shower stalls. And she strongly suggests I do it too, every time I take a shower to prevent mold. She also recommended cutting off the seam at the bottom of the shower curtain to prevent water getting collected there.
So, like a good little daughter, I cut off the bottom hem of my curtain annnnnd .... I think she is right. It does take a bit longer before I start seeing the yuck on the shower curtain hem. I take no responsibility if you decide to chop off the ends of your shower curtain and the it starts to unravel.
But wiping down the walls every time? Not so easy to do. But I try.
So when I get lazy and don't wash the curtain, and it looks like this - yes, you can judge me - I get to work to battle the mold.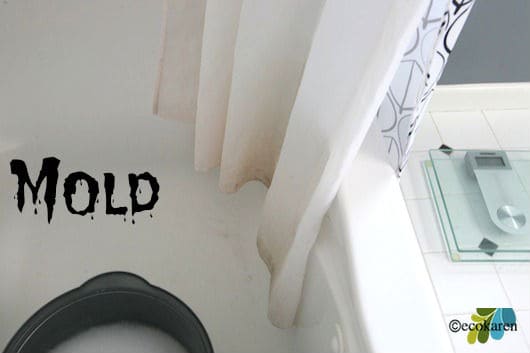 And after frustratingly trying all different kinds of solutions to wash and kill mold naturally, without bleach, I think I succeeded in coming up with a formula that's non-toxic and effective.
So gather all the shower curtains in your house and let's kill those scumbags (the original definition really does come from the bathroom) and molds.
How to Clean A Moldy Shower Curtain Without Bleach
You'll Need:
1 tablespoon Your favorite laundry detergent - plant based, non-toxic, of course
1 tablespoon Washing Soda
1 tablespoon Baking Soda
½ Cup of Hydrogen Peroxide
White Distilled Vinegar for Rinse Compartment in the Washing Machine
about 5 gallon of HOT water in a bucket
Direction
Mix the ingredients in the bucket and add HOT HOT water. Mix well until the solids are dissolved. Add your curtain, end part first, to the bucket and carefully submerge the entire curtain. Make sure the moldy part is completely submerged. Go out and have a delicious lunch with your girlfriends, get a mani-pedi, clean the rest of the house, take a nap. Or whatever.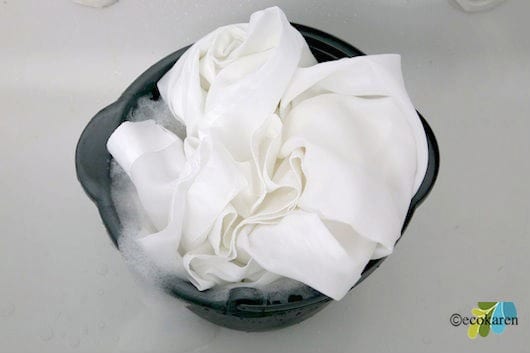 Depending how bad the damage it is, after soaking the curtain for about 2 hours, it should be visually clean. Take the hem and rub the ends together with your hands vigorously. And if you still see mold, soak it longer. When you don't see mold, dump the solution from the bucket, rinse with HOT water once.
Then, wash the curtain in the washing machine with NEW detergent in HOT water setting with white distilled vinegar in the rinse compartment.
Line dry in hot sun, if you can. That would be the BEST drying method since sunlight kills mold. But if you can't, dry it in the dryer, in HOT temperature setting for about 10 minutes.
Hang it in the bathroom and enjoy your clean, mold free, bleach-free shower curtain...for a while, at least.
And next time, I promise to wash the shower curtain before it gets moldy.
Ok, I'll try.