We've been eating more buckwheat noodles since we've eliminated wheat from our diet.
Buckwheat, despite the 'wheat' part of its name, it's not related to wheat, which is grass. It's the grain-like buckwheat seeds that are used for food. The cultivation of buckwheat reduced significantly in U.S. in the 20th century since the usage of nitrogen fertilizer for growing corn and wheat. Contrarily, buckwheat does not yield well in nitrogen soil.
Buckwheat is gluten free, low on glycemic index (has 7-37% resistant starch in groats, depending how it's processed), high in amino acid, zinc, iron, and selenium. It's been used in Asia for centuries, especially in China, Japan, and Korea.
Image 1. Buckwheat Flower
You might have seen or heard of using buckwheat hulls for pillows and this is what the dried empty hulls look like. I used to sleep on buckwheat hull filled pillows in Korea and it became popular in the U.S. due to its hypoallergenic properties.
Image 2. Dried Buckwheat hull
One of my favorite Korean noodle dishes is Cold Buckwheat Noodles in beef broth with veggies, usually served in the summer called, Mul Naeng Myeon, pictured below. Nothing like downing a big bowl of this cold noodle dish on a sweltering summer's heat.
Image 3. Mul Naeng Myeon
Japanese uses buckwheat to make "Soba" noodles for ramen, and udon. But their signature soba is eaten cold, dipped in special sauce with wasabi.
Buckwheat Noodles Texture and Taste
I have to admit the color of buckwheat noodles is not appetizing – ashen gray or dark brownish- and the texture can be chewy for commercial ones if cooked al dente or mushy if you make them at home. But while it is nothing like the wheat noodles, it satiates our appetite for noodle dishes.
Not only that, it's really hard to find 100% buckwheat noodles in stores. Some amount of wheat flour is always mixed in for most brands and I only found one brand that was completely 100% buckwheat. If you are going for flavor and 'right' texture, combination of wheat and buckwheat will be ok but if you are trying to avoid wheat, then, you'll have to learn to love the new texture and taste.
We started buying  King Soba Gluten Free & Organic 100% Buckwheat Noodles and while it is not cheap, we have them only when we are craving for ramen or in need of quick noodle soups anyway so I can rationalize the price.
Then, I got brave. I wanted to try making my own buckwheat noodles so I bought Arrowhead Mills Organic Buckwheat Flour. You can buy any brand as long as it's NOT stone ground as stone ground flour is great for baked goods but it seemed too grainy for noodles.
How to Make Buckwheat Noodles + Udon Recipe
Buckwheat noodles are easy to make but tricky to handle. The result will be very different from the store-bought noodles. But still, it's great for making gluten free udon. I like to add sweet rice flour to make the consistency more elastic. I buy Blue Star Mochiko Sweet Rice Flour brand. This is what I use for mochi too! I'll post the recipe for Mochi sometime.
Again, while homemade noodles are a lot different than store bought ones, we learned to like this new texture and taste just as much. It just takes a bit of work to get the consistency of the dough just right. But so is making homemade pasta, right? It's all about love and elbow grease that make homemade foods taste so much better.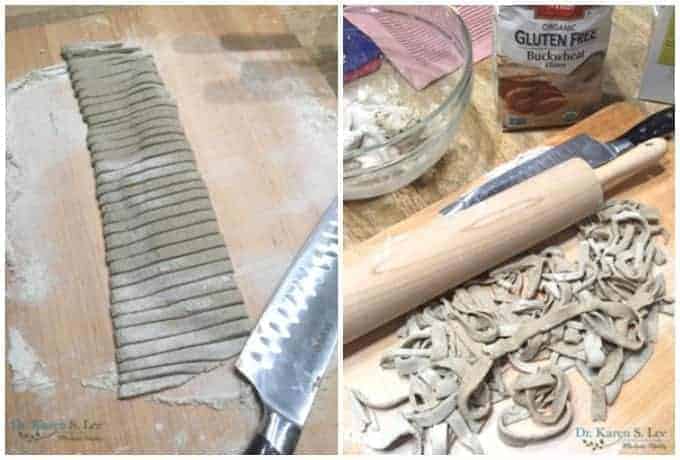 One Tip: Cook small batches at a time to prevent getting all mushy. You can also adjust the amount of sweet rice and water to the consistency of your liking. I never froze buckwheat noodles to use for later but you can try. It may get even more fragile when defrosted so I'd put them in boiling water immediately before using it in dishes.
Did you try this recipe? We would love your feedback!
Click on the stars on the recipe card below.
How to Make Buckwheat Noodles
Buckwheat is a pseu-do grain and some people who are sensitive to wheat can tolerate it. Here's an easy way to make your own buckwheat noodles that are popular in Korea and Japan.
Print Recipe
Pin Recipe
Ingredients
1

Cup

+ about 5 tbsp Organic Buckwheat Flour

2

Tbsp

Sweet Rice Flour for elasticity

1

Cup

or more Water
Instructions
Fill a large stock pot with water and bring to boil.

In a large bowl, add buckwheat flour, sweet rice flour and one cup of water. Mix thoroughly.

Knead the dough until all the water is incorporated. Check the texture. It should be like pizza dough but not quite as elastic. Add more water if needed.

Dust the cutting board with buckwheat flour

Cut the dough in quarters and roll out the dough with a rolling pin until the thickness is about 1/8"

Fold the rolled out dough in thirds and slice it in 1/4" widths. Slicing them smaller may break the noodles so be careful.

Cook the noodles in boiling water for about 2-3 minutes or until cooked. Drain well and save to use.
Nutrition
Calories:
114
kcal
|
Carbohydrates:
24
g
|
Protein:
4
g
|
Sodium:
6
mg
|
Potassium:
173
mg
|
Fiber:
3
g
|
Calcium:
12
mg
|
Iron:
1.2
mg
Buckwheat Udon Recipe
I use  Seaweed or Kombu broth in udon. But you can use chicken or beef broth or stock too. There is no written rule as to which type of broth you should use so use what you have on hand.
Did you try this recipe? We would love your feedback!
Click on the stars on the recipe card below.
How to Make Buckwheat Udon Recipe
Buckwheat is a pseudo wheat that makes great noodles. Some people can tolerate Buckwheat even if they can't tolerate wheat so it's a good alternative. Make this noodles from scratch and make this Udon Noodle Soup when you crave noodles!
Print Recipe
Pin Recipe
Ingredients
1

c

Kombu Broth

You can also use chicken or beef broth

1

Tbsp

Soy Sauce

or Tamari or Coconut Amino

1

Tsp

Sesame Seed Oil

1

Medium Onion

sliced

1

Cup

Enoki Mushrooms

2

Cups

Chopped Greens of your choice

Bok Choy or Spinach or Watercress

1/4

Red Bell Pepper - sliced

1/4

Cup

Napa Cabbage

green cabbage will work too

1/2

Cup

Scallions

chopped

Tbsp

Toasted Sesame Seeds

1/4

Cup

chopped Cilantro

2

Large eggs

(optional)
Instructions
Add all the ingredients except for toasted sesame seeds, chopped scallions, and cilantro, if using.

Bring to boil, watching to make sure it doesn't overflow.

Add the eggs and stir very gently without breaking the egg yolk

Put the buckwheat noodles in a soup bowl, add the broth and vegetables.

Garnish with sesame seeds, chopped scallions, and cilantro.
Nutrition
Calories:
161
kcal
|
Carbohydrates:
14
g
|
Protein:
11
g
|
Fat:
7
g
|
Saturated Fat:
1
g
|
Cholesterol:
163
mg
|
Sodium:
620
mg
|
Potassium:
568
mg
|
Fiber:
2
g
|
Sugar:
4
g
|
Vitamin A:
1570
IU
|
Vitamin C:
40.2
mg
|
Calcium:
68
mg
|
Iron:
2.3
mg
Images:
1. "Japanese Buckwheat Flower" by STRONGlk7 – Own work. Licensed under CC BY-SA 3.0 via Wikimedia Commons.
2. Korean.noodles-Mul.naengmyeon-01" by by avlxyz – http://flickr.com/photos/avlxyz/2050045628/. Licensed under CC BY-SA 2.0 via Wikimedia Commons
3. "Buckwheat hulls" by Indigostock.com – Licensed under CC BY-SA 3.0 via Wikimedia Commons.