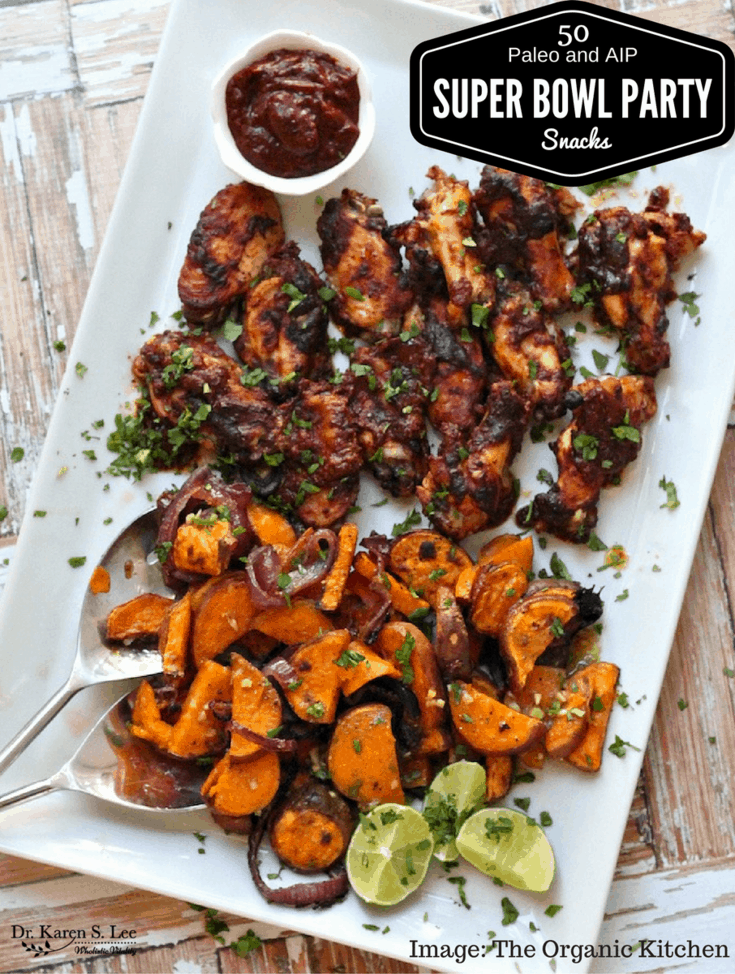 February is around the corner and you know what that means. Superbowl Sunday! It is an annual event marked by much preparation and excitement when the two of the best national football teams compete for the title of the Super Bowl World Champion. While many people travel to watch these organizations battle it out in person, many others are at home watching the event unfold on the big screen surrounded by friends and family. Of course, that type of situation lends itself to delicious snacks and drinks. But who's to say they need to be junk food? Take these finger licking gluten free Chicken Wings! If you don't have Instant Pot (Amazon Affiliate Link) to make my chicken wings, you can bake them in the oven. And who can forget the chips, right? Make them healthier with these dairy free 'Sour Cream' Kale Chips. And one of my favorites,  Cubed Korean Kalbi! You can marinade several pounds of grass fed beef the night before, and broil it right before the crowd arrives. The sweet smell of broiled kalbi wafting through the house will make any guest hungry. Now, here are some moe Paleo and AIP Super Bowl Party Snacks that will keep your guests coming back for more. And let the game begin! 
Snacks
1.] Cauliflower Wings [Dr. Karen Lee]
2.] AIP / Paleo Zucchini "Cheese" with Fresh Parsley [A Squirrel in the Kitchen]
3.] Tropical Guacamole [African Bites]
4.] Low Carb Pizza Crackers [A Girl Worth Saving]
5.] Kale Chips [Garlic and Zest]
6.] Zesty Nacho Kale Chips [Delicious Obsessions]
7.] Paleo Plantain Chips [Paleo Flourish Magazine]
8.] Baked Zucchini Chips [Oh Snap, Let's Eat]
9.] Mini Papas Rellenas [Predominantly Paleo] 
10.] Grain-free Paleo Baked Onion Rings [Healy Eats Real]
Appetizers
11.] Korean Style Seafood Pancakes [Dr. Karen Lee]
12.] Sweet and Sour Glazed Meatballs [Beyond the Bite 4 Life]
13.] Paleo Mushroom Herb Baked Meatballs [Strictly Delicious]
14.] Party Meatballs [Enjoying This Journey]
15.] Mini Hamburger Bites [Paleo Leap]
16.] Chipotle Roasted Chicken Wings with Sweet Potatoes and Salsa Verde [The Organic Kitchen]
17.] AIP Buttermilk Popcorn Chicken [Strictly Delicious]
18.] Smoky Ranch Chicken Bites [Worth Cooking]
19.] Paleo Coconut Shrimp with Sweet & Sour Sauce [Paleo Cupboard]
20.] Spicy Spiralized Shoe String Jicama Fries [Inspiralized]
21.] Pigs in a Pillow [He Won't Know it Isn't Paleo]
22.] Prosciutto e Melone [Primal Palate]
23.] Easy Baked Paleo Parsnip Fries [Unbound Wellness]
Dips
24.] Creamy Artichoke Dip [Gusty By Nature]
25.] Paleo Kale Dip [Rubies and Radishes]
26.] Babaganoush [And Here We Are]
27.] Garlic Artichoke Hummus [Meatified]
28.] Creamy Avocado Ranch [One Lovely Life]
29.] Sweet Potato and Pumpkin Dip [The Big Man's World]
Other Party Favorites
30.] Guacamole Rolls [Jar O Honey]
31.] Brussels Sprout & Kale Slaw [The Sophisticated Caveman]
32.] Pork Stuffed Mushrooms [Stupid Easy Paleo]
33.] Prosciutto Cheese Stuffed Mushrooms [What Great Grandma Ate]
34.] Roasted Brussels Sprouts with Garlic Bacon Aioli [The Real Food RD's]
35.] Honey Garlic Chicken Wings [Savory Simple]
36.] Orange Chocolate Chili Chicken Wings [The Primal Desire]
37.] New and Improved Bacon Wrapped Jalapeño Poppers [Chelsea's Cravings]
38.] Bacon Wrapped Meatloaf Stuffed Mini Bell Peppers [GAPS Diet Journey]
39.] Sweet Potato Avocado Toast with Cilantro Mayo [Grassfed Salsa]
40.] Bone Marrow Poutine [Salixisme]
41.] AIP Pulled Pork Burrito Bowl with Carrot and Radish Salad [Comfort Bites]
42.] Paleo Beef Chili [Oh Snap, Let's Eat]
43.] Easy Chili Faux Mac Skillet [Beauty and the Foodie]
44.] Thyme and Lemon Roast Chicken Legs [Eighty 20 Nutrition]
45.] Slow Cooker Kalua Pig [Nom Nom Paleo]
46.] Chile Relleno [Code to Wellness]
Desserts
47.] Bacon Wrapped Cinnamon Apples [Autoimmune Wellness]
48.] Healthy Chocolate Covered Bacon [My Cultured Palate]
49.] Honey Apple Tartlets [Predominantly Paleo]
50.] Super Bowl Snacks - Fast and Delicious [Civilized Caveman Cooking]
There you have it! I hope some of these delicious recipes make it to your party table and help you create wonderful memories around the greatest annual celebration of American football.