Instant Pot Chicken Wings that are Low Carb, Gluten & Dairy Free can be made in less than 30 minutes without the mess from deep frying!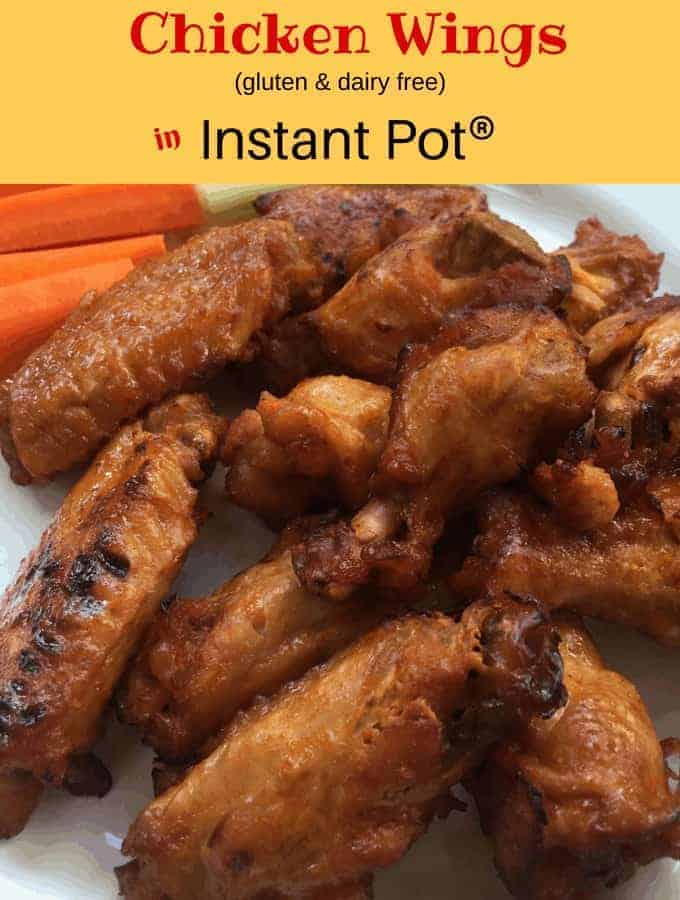 The first time I heard of Chicken Wings was on the first day of my College Freshman year in Upstate NY. I was busy unpacking when my suitemates wanted to order "Wings" and asked me if I wanted 'Mild,' 'Medium Hot,' 'Hot,' or 'Extra Hot.'
"Wings? Wings of what?" I was bewildered. But it was a great icebreaker.
Now, mind you, I grew up eating spicy foods, so I was a little cocky and was dismissive when they said, "You should get Medium Hot." Yea, right. That would be an insult to my heritage, I thought. So I ordered "Hot" while trying to imagine how wings would taste. I was tempted to get "Extra Hot", thinking, "What do Caucasians know about spicy food?" but I stayed with my initial order, trying not to be a jerk.
Well, it turned out they know a lot! My "Hot" wings turned out to be, four-alarm-GI-tract-numbing-open-the-fire-hydrant-right-into-my-mouth, HOT. And the vinegar vapor made the spicy wings a hundred times spicier. I think I drank about a gallon of soda that night while trying to keep my cool and not cry in front of them.
That's how I met my suitemates in my Freshman year in college. Over a bucket of "Wings." And I will never forget the original Chicken Wings taste from Upstate NY.
I tried to duplicate the recipe many times since then, but the problem was the time it takes - not to mention the greasy mess - to deep fry batches of flour-drenched wings in spicy buttery oil and finish them in hot sauce. Twice. Sadly, I never perfected it because my family has special diet needs. So, I made this gluten and dairy free wings in the Instant Pot recently, and they were very close to the ones I remembered, without the mess, and without gluten and dairy.
Instant Pot Chicken wings
Chicken Wings usually take over an hour, start to finish. To get the true flavors of the infused spicy sauce and the crispy texture, you have to fry them twice. And if you want to bake them in the oven (to avoid the mess), it takes longer than an hour from the time you marinate them to when you take them out of the oven.
But who has time for that?
Not me. And probably you too.
So I developed this method of putting all the marinade ingredients in the Instant Pot to do its magic!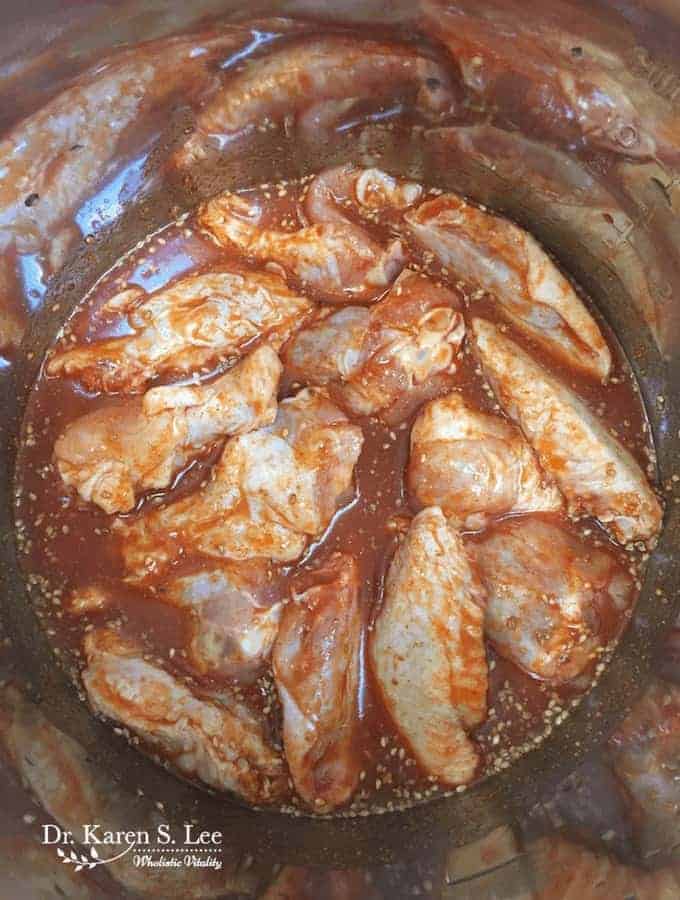 And when the wings are done, put them under the broiler to caramelize the outside! You'll get this spicy, sticky, tangy, dripping with spicy sauce wings in less than 30 minutes!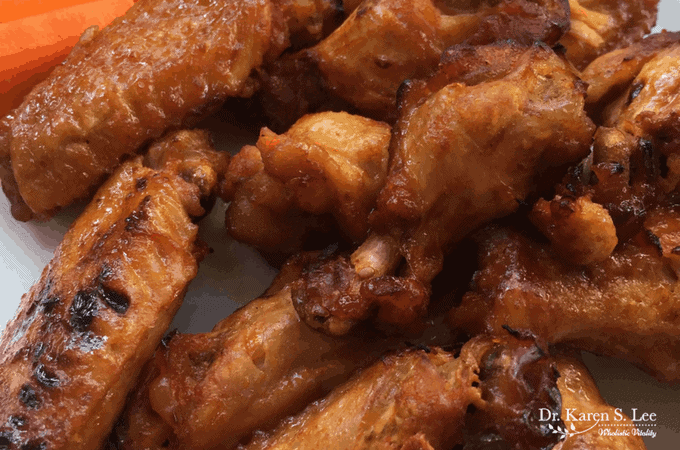 No joke. It's that simple.
If you want more flavor, you can marinate them overnight in the fridge. But the beauty of using the Instant Pot is that it seals in the flavors while cooking, so you don't have to wait 24 hours for the flavor to infuse.
And you can vary the spiciness by brushing more sauce on the wings before putting them in the broiler to caramelize. Of course, you can use extra spicy hot sauce or make your own!
P.S. Reuse the sauce after making Chicken Wings by adding about 2 lbs of chicken thighs, 1 teaspoon of sea salt, and chopped onions on "POULTRY" setting (or 15 minutes on HIGH for those of you with more updated models) and you'll have another meal!
Here is how to use the Instant Pot to make this spicy and finger licking goooood Chicken Wings.
Recipe
Did you try this recipe? We would love your feedback!
Click on the stars on the recipe card below.
Instant Pot Chicken Wings in Less Than 30 Minutes!
Instant Pot Chicken Wings that are Low Carb, Gluten & Dairy Free can be made in less than 30 minutes without the mess from deep frying!
Ingredients
5

lbs.

Chicken Wings

1

C

Hot sauce of your choice

Frank's OR my Korean Chicken Wing Sauce

¼

C

Apple Cider Vinegar

Omit if using Korean Hot Sauce

1

tablespoon

Cayenne Pepper

Optional if you want milder taste

1

tablespoon

Ghee

1

teaspoon

Black Pepper

1

teaspoon

Sea Salt
Extra Sauce for Coating
½

C

Hot Sauce

3

tablespoon

Ghee
Instructions
Combine hot sauce, vinegar, cayenne pepper, ghee, black pepper, sea salt in a medium and whisk. Reserve about ¼ C of the sauce for basting and coating later.

Remove wing tips from the main drummettes, and separate the flats.

In the inner pot of the Instant Pot, combine the chicken wings and sauce.

Mix the wings and sauce well together.

If you want to, you can make up to step 4 a day ahead and marinate the wings in the sauce and refrigerate overnight.

When ready to make the wings, turn on the Instant Pot.

Place the inner pot with the chicken wings inside the pot, close the lid and turn the vent valve to "Closed" position.

Press "Manual" or "Pressure Cooker" function and set the timer to 7 Minutes.

Meanwhile, turn on the oven to "Broil" and line a sheet pan with parchment paper.

When the timer goes off, let the pressure release naturally (NPR) and open the lid at 10 minutes.

Take out the chicken wings, and place them on the sheet pan in a single layer.

Baste the chicken wings with the rest of the reserved hot sauce.

Broil for about five minutes or until browned, without burning the skin.

Meanwhile, make the extra sauce for coating and serving.

When the wings are brown, turn the pieces over to broil the other side for a minute or until the skin is brown.

When the wings are done, take out the wings to a serving platter, and drizzle with extra sauce.

Serve immediately with carrots and celery sticks.
Notes
Broil - broiling the wings won't make them "crispy" like deep frying but they will make the exterior dry. But be very careful as the wings will burn very quickly. 
BBQ Grill - you can also grill the wings on the BBQ grill until crispy. I think it's much easier since they brown very quickly. 
Korean Chicken Wing Sauce - this sauce was made for Air Fryer chicken wings but you can make the sauce in advance and baste the wings with the sauce before broiling them. 
Nutrition
Calories:
939
kcal
|
Carbohydrates:
1
g
|
Protein:
69
g
|
Fat:
70
g
|
Saturated Fat:
23
g
|
Cholesterol:
316
mg
|
Sodium:
2250
mg
|
Potassium:
701
mg
|
Vitamin A:
1020
IU
|
Vitamin C:
48.2
mg
|
Calcium:
49
mg
|
Iron:
4
mg
Disclosure
This recipe may contain links that pay commission to this site when you purchase from the links, at no extra cost to you. Full disclosure!