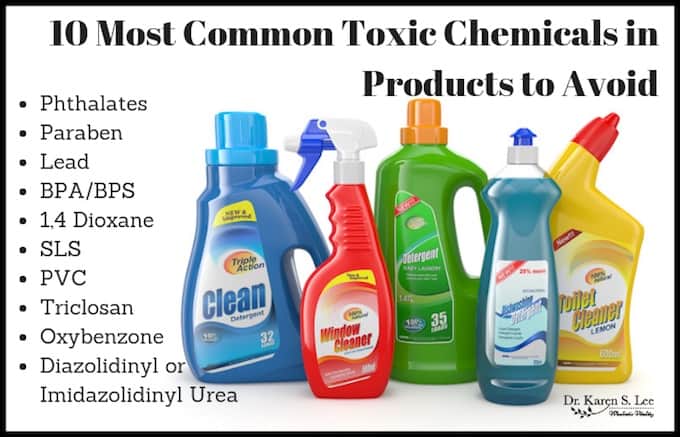 This is Part 1 of 3 part series on 10 Common Toxic Chemicals to Avoid.
In an attempt to 'clean up' the environment, along with the Clean Air Act and others, Toxic Substances Reform Act (TSCA) passed in 1976. At the time, there were about 60,000 chemicals but only 200 were tested for safety and only 5 of them were restricted.
Currently, we come in contact with over 80,000 chemicals and still, only a handful of them were tested for safety for human and environment and 20 percent are kept as trade 'secret'. 
What's more unsettling about this antiquated law is that EPA has no power to regulate toxic chemicals but nearly everybody tested by Center for Disease Control has some form of toxic chemicals in them. How do we get these toxic chemicals in our bodies? From products that are laden with them. Clearly, we can't trust an antiquated law like TSCA for us to feel safe when it comes to chemicals we come in contact with daily.
Although I took Chemistry and Organic Chemistry before attending Chiropractic school, *I* still can't tell if those hard to pronounce chemical compounds on labels are safe or not. And when I'm trying to grab a product in a hurry, I don't have time to look up lists of chemicals for their safety. Shopping for products shouldn't be this hard! Grrrr...
What's even more frustrating is that not all chemicals are listed as I mentioned above. For example, companies don't have to list the hundreds of chemicals that are in "fragrance" because it's considered a trade secret. So you have no idea what myriad of chemicals are in them!
But I admit, not all chemicals are bad. Actually, we produce natural chemicals in our own bodies. And while natural chemicals that feed life, allow us to breathe and live, there are synthetic, man-made chemicals that are toxic to our health. And when I say toxic, the effects can range from being skin irritants to being carcinogenic and everything else in between.
Unfortunately, "Under US law, chemicals are presumed safe until proven otherwise, and companies are rarely required to collect or disclose chemical-safety data." ~Mother Jones
Comforting, isn't it?
Mind the Store: Walgreens
I can always just avoid toxic chemicals as much as I can on my own but wouldn't it be simpler if I didn't have to worry about toxins when shopping for products?
So, when I heard about the Mind The Store

campaign from Safer Chemicals Healthy Families (SCHF), I had to get involved. SCHF's past campaigns were successful in convincing Walmart and Target to change their policies on toxic chemicals but Walgreens, the largest pharmacy chain in the nation, has been a laggard. So this time around, the campaign was specifically targeted toward Walgreens only.
I went to my local Walgreens to deliver a letter to the CEO and a list of 100+ toxic chemicals that are in many of the products they carry. I met the manager, showed him the ingredients on Johnson & Johnson baby lotion with paraben in it. I told him I liked Walgreens Ology brand better and that they should expand that line instead of carrying garbage like Johnson & Johnson that are toxic for our kids. He nodded, smiled, and took my letter and the list. He refused to take a photo with me so I thanked him and left. I am not holding my breath that he will actually send the letter but my goal was to educate him and his staff about the toxins they are exposed to while working at the store.
And now, to start the series of 10 Most Common Toxic Chemicals in Products to Avoid, here are the first 3 chemicals you'd find on product labels and why you should avoid them. Obviously, there are A LOT more toxic chemicals out there. But these are the 10 most common ones. The explanation is long so I had to divide them into three parts. Make sure to read Part 2 and Part 3  in coming days.
3 of the 10 Most Common Toxic Chemicals in Products to Avoid
Phthalates are a group of industrial chemicals that add flexibility and resilience to many consumer products. Phthalate plasticizers are commonly used to make hard plastic PVC more flexible but they don't bind to PVC. So they can leach, migrate or evaporate into indoor air and atmosphere. Human exposure to phthalates is through direct contact and use, indirectly through leaching into other products, or general environmental contamination.
Although some phthalates are being phased out of cosmetics under consumer pressure, diethyl phthalate (DEP) is still used in many products, including fragrance. In the Campaign for Safe Cosmetics' 2010 report "Not So Sexy", DEP was found in 12 of 17 fragrance products tested. In 2007, Consumer Reports ShopSmart magazine found the phthalates DEP and DEHP (which is banned in Europe) in each of eight popular perfumes tested. DEP is a ubiquitous pollutant of the human body, found in 97 percent of Americans tested by the U.S. Centers for Disease Control and Prevention.
Recent epidemiological studies have associated DEP with a range of health problems, including sperm damage in men since it's been found to cause hormone disruption, which can affect development and fertility.
Phthalates are used everywhere and not just in plastics. And one of the most common products is "fragrance". In fact, most fragrances don't list Phthalates on the label, but hide them under the term, "fragrance." In addition to 'fragrance' in cosmetics and in polyvinyl chloride (PVC)-based plastics, as well as other flexible plastics, Phthalates are found in: tablecloths, furniture, vinyl flooring, shower curtains, wall papers, garden hoses, inflatable swimming pools, plastic clothing such as raincoats, children's toys, automobile upholstery and tops, medical tubing, and blood storage bags. DEP and DBP are used in non-plastic consumer items as fixatives, detergents, lubricating oils, and solvents. Also in carpets, paints, glue, insect repellents, time release capsules, soap, shampoo, hair spray, nail polish, deodorants, and perfumes.
How can you avoid it?
Tell Congress to pass the Safe Cosmetics Act In order for safer products to be widely available and affordable for everyone, we must pass laws that shift the entire industry to non-toxic ingredients and safer production.
Choose products with no added "fragrance": Read ingredient labels, because even products advertised as "fragrance-free" may contain a masking fragrance.
Less is better: If you are very attached to your fragrance, consider eliminating other fragranced products from your routine, and using fragrance less often.
Avoid PVC.
Be careful of toys and household products without labels that you buy at garage sales and thrift stores.
Parabens are actually several distinct chemicals with a similar molecular structure. Four of these are used frequently in cosmetics: ethylparaben, butylparaben, methylparaben, and propylparaben. Methylparaben and propylparaben are the most common of these. Parabens are most common in personal care products that contain significant amounts of water, such as shampoos, conditioners, lotions and facial and shower cleansers and scrubs, in order to discourage the growth of microbes. Parabens are absorbed through intact skin and through the gastrointestinal tract and blood. U.K. researchers found measurable concentrations of six different parabens in 20 human breast tumors. The study highlights the need for more research on the potential link between products containing parabens and increased breast cancer risk.
According to Campaign for Safe Cosmetics, "Parabens mimic estrogen by binding to estrogen receptors on cells. They also increase the expression of genes usually regulated by estradiol (a natural form of estrogen); these genes cause human breast cancer cells to grow and multiply in cellular studies "
How can you avoid it?
Look for products labeled "paraben-free" and read ingredient lists on labels to avoid products with parabens. Many natural and organic cosmetics manufacturers have found effective alternatives to parabens to prevent microbial growth in personal care products. Some companies have created preservative-free products that have shorter shelf lives than conventional products (six months to a year), but if used daily are likely to be used up before they expire.
Lead is a proven neurotoxin that can cause learning, language and behavioral problems such as lowered IQ, reduced school performance, and increased aggression. Pregnant women are particularly vulnerable to lead exposure because lead easily crosses the placenta and enters the fetal brain where it can interfere with normal development," according to Sean Palfrey, M.D., a professor of pediatrics and public health at Boston University and the medical director of Boston's Lead Poisoning Prevention Program. In addition, lead builds up in the body so the exposure level can be significant if you are using products with lead repeatedly, as in lipstick or housewares. "The latest studies show there is no safe level of lead exposure." according to Mark Mitchell, MD, MPH, policy advisor of the Connecticut Coalition for Environmental Justice and co-chair of the Environmental Health Task Force for the National Medical Association.
In 2011, the FDA released the results of an expanded study of 400 lipsticks. The agency found lead in most of the brands tested, and some of the most popular brands of lipstick contained lead levels far higher than previously reported. The most lead-contaminated lipstick in the study, Maybelline Color Sensation by L'Oreal USA, contained more than 10 times the highest amount of lead found in the Campaign for Safe Cosmetics lipstick study.
Watch this trailer called Mislead, about lead poisoning by a mom of four. It's heartbreaking and you can see what effect lead has on humans.
How can you avoid it?
Be careful of old ceramic bowls and vases, especially from foreign countries.
Check your drinking water for lead.
Be careful of old painted toys, furniture, and walls of homes built before mid 1970's.
Don't drink water out of garden hoses as some may contain lead.
Are you overwhelmed yet? I know the feeling. But once you learn to recognize these chemicals, they will be easier to spot them on labels. But if you believe EPA should regulate these chemicals, tell your policy makers that we need stronger chemical reform. Tell them you are not a chemist and that toxic chemicals do not belong in products and EPA should protect the consumers.
Meanwhile, check your house to make sure none of the products have these three chemicals in them. And be sure to read Part 2 and Part 3
Check out these posts on toxins:
Top 10 Eco-Friendly Labels to Know - Eco-Mothering
Eliminate Toxins Hiding as Fragrance - Jen and Joey Go Green
6 Strategies for Choosing Non-Toxic Personal Care Products - Eco-Novice