Popsicles are easy and fun to make in the summer. My family loves these classic popsicles plus exotic but delicious ones like red bean popsicle. Help your family cool down while having fun!
Summer is not the only season for fun and healthy popsicles. If your family is like mine, popsicles are great any season.
Popsicles are easy to make and yet, really versatile. You can make them sweet, sour, tart, and even with beans!
First of all, I love using food grade stainless steel popsicle molds like this Onyx Ice Pop Mold. I washed them thoroughly with dishwashing soap and warm water with a brush before using them since I didn't want any stainless steel residue to get into my popsicles. I placed them in the freezer to make them colder, before filling them. And once the popsicles were done, I ran them under warm water, and the popsicles came right out. The bamboo sticks are not reusable but the company is coming out with reusable ones soon.
To start off, I made these easy delicious popsicles. You can make any popsicles, using all kinds of fresh fruits, creams, juices, and even coffee and tea. Just remember, if you don't use some kind of cream or dairy, popsicles will be nothing but a block of solid ice (which is fine too as you'll see below), and not the soft chewable kind.
Are you ready for a popsicle war? The amount of each ingredient is similar in proportion to Strawberry Popsicle. But you can change it up to your taste.
Onyx Popsicle Mold and Popsicle Recipes
Strawberry Popsicle
Strawberries - any amount you need.
Lemon Juice - half of lemon to 1 C. of whole strawberries
Simple Syrup - equal part of sugar and water
Blend or puree all the ingredients, as coarsely as you want. (This was my son's favorite)

Blueberry Popsicle
Blueberries
Lemon Juice
Simple Syrup
If you don't want the bits or blueberries' skin, you can strain them but why would you? All the goodness is on the skin!
Coconut
Coconut Milk
Shredded Coconuts
Simple Sugar
Blend all the ingredients but don't over blend if you want the shredded coconuts in the popsicle.
Pina Colada
Pineapple chunks
Coconut Milk
Lemon Juice
Simple Sugar
Puree the pineapple chunks. Add the rest of the ingredients and blend for about 2 seconds. Add rum if you want 'real' Pina Colada. 🙂
Coffee
Freshly brewed coffee
Condensed Milk or whipping cream
Simple Sugar if using cream.
Vanilla Extract (optional)
Mix all the ingredients and add vanilla extract last, if using. I didn't use cream in this popsicle but plain black coffee makes popsicle into a block of ice. So use cream, if you want softer popsicle. To make a vegan coffee popsicle, use almond milk or coconut milk instead of dairy.
Hibiscus tea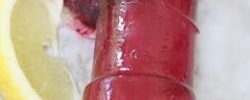 Hibiscus Tea
Simple Sugar
I wanted a refreshing tasting hibiscus tea popsicle so I didn't add cream. But if you want to turn any tea into a softer popsicle, add cream or coconut or almond milk & make a chai popsicle. Or get the real chai recipe and you can make chai popsicle.
Red Beans
Cooked Red Beans
Coconut Milk or condensed milk
Simple Sugar
This is my favorite. I can hear you thinking, "beans in a popsicle? ewwwww...."
But seriously, I used to eat red bean ice cream or popsicle in Korea every summer. I still buy them occasionally. So with this new shiny molds, I couldn't resist making my own.
Here are the two versions:
Regular Red Bean Popsicle
Canned Red Beans from an Asian grocery store - I bought canned red beans made in Japan. And since Japan bans using BPA, I felt safe enough to use their canned food. I don't eat canned foods anyway so buying one can of red beans made in Japan seemed ok for this. The sacrifices I make....Oy.
Mix ½ C of red bean from the can with 1 tablespoon of condensed milk and ½ C cold water. Whisk and blend well and freeze. You can adjust the sweetness by using more or less of the condensed milk.
Dairy-Free Red Bean Popsicle:
1 C Cooked Red Beans
About ½ C Coconut Milk or Almond Milk
Simple Sugar to taste
Soak the beans overnight and cook as you normally cook any beans until very soft. Add a pinch of salt to taste. Drain water. A little bit of leftover liquid is ok. Mash the beans against the side of the post with a spoon. Add coconut milk and simple sugar and mix well and freeze.
How. simple. was. that???
Hope you try one or two or all of these simple popsicles!