Do you want to start off the year right? Start with tea. Start with this tea. This sweet aromatic masala chai will make your new year whole.
By itself, chai or cha is merely the generic word for "tea" in much of South Asia (also in Korea) and Masala Chai means, "spiced tea". Masala tea has a long history that started 5000-9000 years ago in a royal court, somewhere in Asia. Some say, this royal court was located what it is now, India but some say it's Thai in origin. Regardless, it is said that a king created it as a cleansing, detoxing Ayurvedic beverage.
During this time, masala tea was served hot or cold and without tea leaves so it was caffeine-free. It wasn't until 1800's when the British established a tea plantation in Assam that tea leaves were added to masala tea. But this type of tea wasn't popular in India as black tea was still too expensive.
Then, in the early 1900s, the British-owned Indian Tea Association began to promote tea consumption within India but because black tea was the most expensive ingredient, vendors used milk, sugar and spices to keep their brews flavorful while keeping costs down. Masala chai became even more popular in India in the 1960s, when a mechanized form of tea production made black tea affordable for the Indian masses. The bold, tannic flavor of black tea made it a tasty counterpart to masala chai's sweet, creamy and spicy flavors. For this reason, masala chai remains a staple in many parts of India. Street vendors and train vendors called chai wallahs - "tea persons," (similar to a barista who serves coffee) serve masala chai to the public in India.
There are ingredients and then there are ingredients
The traditional masala chai is brewed or simmered tea leaves over heat, instead of steeping them in preheated water as it cools down. The strong black tea leaves are brewed with so-called "warm" spices like cardamom, cinnamon, fresh ginger, fennel seeds, peppercorn and cloves. Cardamom is the dominant spice, followed by cloves, fresh ginger, and black pepper.
If you are in Western India, fennel and black pepper are avoided. If you are from the Kashmir Valley, chai is brewed with green tea instead of black tea and has a more subtle blend of flavorings: almonds, cardamom, cinnamon, cloves and sometimes saffron. In Bhopal region, a pinch of salt is added. Other possible ingredients include nutmeg and rose flavoring (where rose petals are boiled along with the loose-leaf tea), or licorice root.
The current trend, outside India, involves even more variations as it has become popular with coffee houses and coffee shops popping up in every shopping malls. Espresso, chocolate, vanilla, steamed milk and even non-dairy creamers have been added to chai and marketed as Chai Tea (this really means "tea tea") or Chai Latte.
But I am all for authentic, from scratch, tea drinking, as with my cooking, so I asked my friend, the Tea Man, to serve up some Indian Masala Chai over the New Year's weekend. And this is what he served this authentic Chai seeking tea connoisseur apprentice.
Approximate Indian Masala Chai Recipe
Why is this called "approximate"? That's because the measurements for the ingredients are "approximate" and "variable". If you want to follow the exact measurements for strong, creamy, and sweet Masala Chai, you can. But, if you want to tweak the portions a little to accommodate your palate, you are more than welcome to. It's your tea. You can drink it anyway you want. But it behooves you to make it strong, aromatic, creamy, and sweet as Masala Chai should be. Just warning you.
Crush the cardamom pods inside a paper towel or cloth with a hammer. Once the pods are cracked, rub the shells together to release the aromatic seeds inside.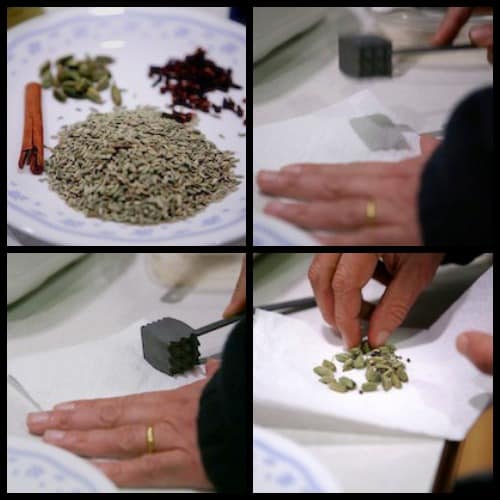 Dump the whole thing - shells and seeds - into the boiling water. Mmmm....can you smell the fragrant smell of the cardamom seeds?

Next, add all the spices into the boiling water with cardamom.

Then, we added Darjeeling Tea. But you can use any type of black tea leaves, like English Breakfast. Can you see all the goodness seeping in the pot, changing its color?
Add sweetener and milk.
 Strain into a cup or a mug and sip in blissfulness.

I would have found a nice dainty English tea cup for the picture but I loved what Snoopy says on this happy mug.
"Life doesn't get any better than this", as it is with this masala chai. You need a BIG real life mug to sip this baby.
Here is the actual "approximate-variable-ingredients-to-your-liking" Masala Chai recipe.
Ingredients
~4 C Boiling water
~4 teaspoon of Darjeeling Tea
~10-20 Cardamom Seeds in Pods
~10-20 Cloves
~3 tablespoon Fennel Seeds
~½ Stick Cinnamon
~1 teaspoon Black Ground Pepper
~⅓ C Cane Sugar or any sweetener of your choice
~Any type of milk of your choice.
Direction:
Boil 4 C of cold filtered water in a non-reactive pot. Crush cardamom pods and add all the shells and seeds into the boiling water. Let boil for about 30 seconds. Then, add the rest of the spices and tea leaves and lower the heat down to simmer for about a minute. Add sweetener and milk. Take if off the heat immediately. Strain and drink. Although this recipe starts out with 4 C of water, it yields less than that since some of it evaporates.
Sources: wikipedia and coffeetea.about.com