Dairy-Free Mango Lassi using coconut yogurt and milk is a delicious Indian drink for those with dairy allergies or sensitivities. Your family will love this naturally sweetened drink!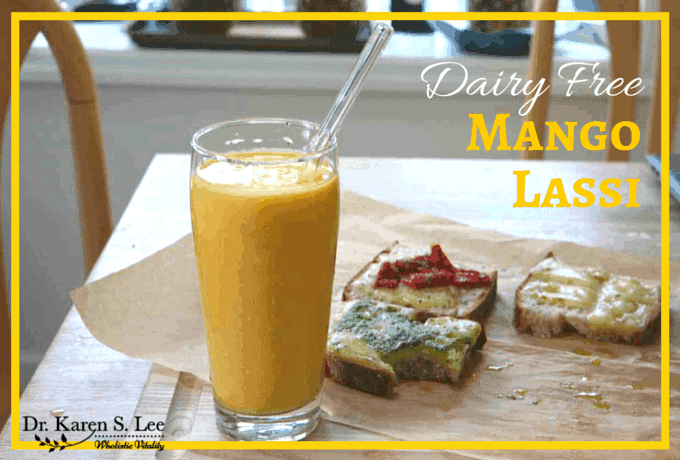 Jump to:
Intro
Sweet Coconut Mango Drink
Mango is one of my favorite fruits. It's so versatile since it can be eaten plain (as the sweet syrupy juice drip down my arms while I'm going at it) or used in a recipe, like a mango salsa. (Perfect for fish!)
What Is Mango Lassi?
Mango lassi is a drink that comes from India. It is basically a milkshake or smoothie that is made with some kind of yogurt and mango. Lots of people add different spices to it like cinnamon or cardamom.
I changed the classic dairy recipe and made it dairy-free.
Mango Health Benefits
Mango is very low in Saturated Fat, Cholesterol, and Sodium. It is also a good source of Dietary Fiber and Vitamin B6, and a very good source of Vitamin A and Vitamin C. You just can't have too many since it's sweet and high in sugar (28g of carb in 1 Cup).*
But sometimes the fruit overripens without my knowing. And then, I'm left with really soft, sweet, over-ripened mango that I'm "forced" make this yummy drink with!
Heaven in a glass. That's what Mango Lassi is. Perfect for hot days! This is one of my favorite smoothies!
Ingredients
Since we don't do dairy, I made this version without yogurt, instead of with coconut yogurt and coconut milk. And without sounding disrespectful towards Indian cooking, I think it's a great option for those with dairy allergies. Or maybe it might be classified as just plain mango smoothie.
Here's what I used in my drink:
Coconut Milk
Coconut Yogurt
2 Mangos
Honey
Cardamom Powder
Ice Cubes
Well, whatever you want to call it, make this for your family today. They'll love it and you'll save some overripe mangoes in the process.
Instructions
This is such a simple drink to make. All you do is place all the ingredients in a blender and pulse until it is the texture that you want.
If you are using an immersion blender, wait until after you blend the ingredients to add the ice.
You can leave out the yogurt but yogurt adds tanginess and it also has probiotics so I highly recommend adding it. If you are allergic to coconut, skip the coconut yogurt and use rice milk but not nut milk since it might change the flavor too much.
FAQ
Is mango lassi healthy?
Yes, my dairy-free mango lassi is extremely good for you. The mangoes are really high in vitamin C and heart-healthy fiber. The coconut milk and coconut yogurt is really high in protein and healthy fats.
Is this paleo?
If you use honey instead of processed sugar, this recipe is paleo-friendly.
How do you store leftover mango lassi?
This recipe tastes the best right after you make it. If you try to store it, it might separate and the texture will change. All you have to do is mix it up again and it is ready to go.

Store leftovers in the refrigerator for up to 3 days.
Is mango lassi a dessert?
You can enjoy mango lassi as a refreshing dessert. It's also perfect as a fiber-packed breakfast or a healthy snack.
Related recipes
If you enjoyed this mango lassi recipe, you will enjoy these drink recipes next!
Recipe
Did you try this recipe? We would love your feedback!
Click on the stars on the recipe card below.
Dairy-Free Mango Lassi Recipe
Dairy-Free Mango Lassi using coconut yogurt and milk is a delicious Indian drink for those with dairy allergies or sensitivities. Your family will love this naturally sweetened drink!
Ingredients
1

c

coconut Milk

1

c

coconut yogurt

2

med

over-ripe mangos

cut up

1

tablespoon

Honey

pinch

cardamon powder

optional

2

ice cubes
Instructions
Add all the ingredients to a blender, like Blendtec, adding ice cubes last, and blend until smooth.

If using an immersion blender, add ice afterward.
Disclosure
This recipe may contain links that pay commission to this site when you purchase from the links, at no extra cost to you. Full disclosure!
The taste is tangy as if it has yogurt in it but it's totally dairy-free. It thickens and makes the drink very smooth and refreshing.
Slurp with your straw and enjoy!
PIN IT FOR LATER
*Nutritional info from nutritiondata