I've been hearing about Bulletproof® coffee for awhile but the thought of adding a stick of butter in my morning coffee  just made me gag. Did you see the scene on The Big Bang Theory when Sheldon served coffee with sticks of butter in them with a mocking tone? Yea. That was me too, in my head, when I imagined drinking a greased up coffee. I yearn for a hot cup of clean black coffee to start the day, not an oil slick. Blech.
Seriously, you are not actually putting a whole stick of butter but the idea of adding butter to coffee still sounded weird. But since I love butter and I love coffee, I decided to try making it a few months ago. Suffice to say, I failed miserably and threw away my first attempt but recently I've been hearing more and more about adding butter to coffee and wanted to find out what the big deal was with this slick but frothy (how are they getting them to be so frothy???) beverage. If Sheldon mentioned it, it must be worth investigating, right? (*cough*) Even in real life, athletes and celebrities are raving about their morning routine that include this mysterious cup of yummy looking drink.
Here is what I found out.
Health Benefits of Buttered Drinks (Recipes)
Bulletproof® coffee was founded by a Silicon Valley entrepreneur, David Asprey after he hiked 18,000 feet up the Mount Kailash in Tibet. He hiked the mountain in 10 below weather and was left with no energy. But then, he was rejuvenated and energized after drinking a local Yak butter tea. He loved it so much that when he returned home, he experimented with various ways to make a similar drink using coffee. He started his Bulletproof® coffee company and wrote a book called, The Bulletproof® Diet. And the rest is history.
Asprey's recipe basically calls for non-toxic coffee (organic), grass-fed butter, and MCT oil. And what you are doing is adding saturated fat from butter and MCT oil to your caffeinated drinks for nutrition, fat metabolism and long lasting energy. The concept sounds academic since we know we should eat good fats so why not add them to our coffee, right? I mean, people use cream or milk in their coffee so adding butter shouldn't be that different. The problem with me was that I am a black coffee drinker so adding a.n.y.t.h.i.n.g. to my coffee tastes vile to me. So I thought.
To satisfy my curiosity, I tried making buttered coffee again, in various ways with his basic recipe using ingredients I had. Annnnd I became a convert (I can see why Asprey started his business.) Now, I only have creamy, frothy and smooth buttered drinks in the morning. I don't even eat breakfast sometimes because it keeps me from being hungry. It really does keep me energized and I don't get the mid-afternoon 'crash'.
Here are the broken down facts behind why buttered drinks are good for you.
Why are buttered drinks good for you?
Coffee or Caffeine - a modest amount of caffeine has been found to be beneficial in increasing blood flow, preventing cancer in colon, increasing mental clarity, and burning more calories. So while coffee itself is the main ingredient in Bulletproof® coffee, you can also use tea or chocolate instead.
Butter - saturated fat was demonized for years but recently, the science community took a reverse turn, saying saturated fat is good and that unsaturated fat and hydrogenated oil are bad. But you might think, even if it's good, to add butter to coffee seems a bit much. But more importantly, how would butter taste with coffee? I hear your trepidation. I was the same. But let me tell you, first of all, not all butter is good. You must use butter from grass fed cows, like Kerrygold Pure Irish Butter. Grass fed cows produce butter, rich in fatty acid called Conjugated Linoleic Acid (CLA) that help burn fat and prevent fat storage, unlike grain fed cows. Grass fed cows also have more Omega 3 fatty acids (from eating grass), making it even more nutritious. If you are allergic to dairy, you can use Grassfed Organic Ghee , although the taste is different from using butter, the benefit is the same and it's great for dairy intolerant people.
So, it behooves you to eat grass fed cow products in general. But back to coffee. Besides the nutritional benefit to adding butter to coffee, it makes coffee very creamy and smooth, like Café Latte. It definitely cuts the strong acidic taste of coffee and it mellows it down. So if you are one of those coffee drinkers who add cream or milk to their coffee, you will love how butter makes the coffee tastes. It's better than any cream or milk. Also, when you blend the saturated fat into the coffee, it binds with caffeine molecules and gets released slowly, making the buzz last longer instead of getting a sudden jolt from caffeine shooting into the bloodstream right away.
MCT Oil - MCT Oil (Medium Chain Triglyceride) has 6-12 carbons that metabolizes quickly in the liver and does not require that much bile enzyme to digest. MCT is responsible for fat burning, quick energy, and aids in absorption. MCT oil is present in coconut oil and palm oil. For my recipes, I used coconut oil, even though it's only 60% MCT. Bulletproof® coffee company suggests using 100% MCT oil but that's up to you. So in addition to butter's saturated fat, MCT's properties of fat burning and quick energy makes the drink even better as a real energy booster without the extra cup of caffeine. And if you exercise in the morning, drinking this energizer within an hour after a workout helps with fat burning and endurance.
NOTE: If you are on a high carb diet, adding more fat may cause your Triglyceride level to go up with drinking daily doses of saturated fat in your drinks. Also, drinking buttered drinks may decrease hunger, thereby, depriving you of eating a variety of foods that have other essential nutrients.
Buttered Drinks Recipes
While I'm making similar recipes as Bulletproof® coffee, I am using coconut oil so legally, I'm not allowed to call them bulletproof. You can buy his Bulletproof® Intro Kit that has everything you need to make the coffee but I love experimenting in my own way with ingredients I already have so here are the directions for making buttered drinks.
Basically, you will add Butter and Unrefined Organic Coconut Oil to a hot drink of your choice to a warm blender (Make sure to warm your blender with hot water before adding hot drinks to blend. Otherwise, the blender might explode. Yea. That happens.) Blend until the drink gets frothy. I love cinnamon so I sprinkle cinnamon after I pour the drinks in my cup. Or if you like vanilla flavor, you can add vanilla extract too. Just know that you'd have to add a lot of vanilla extract since the coffee flavor will be intense. Also, if you MUST, you can add any sweetener of your choice when blending. BUT, try without it. The flavor is so intense that you won't need any sweetener. Besides, even honey contains carb so if you are trying to watch your waistline, skip it all together. Trust me. You won't miss the sweetness from this hot, frothy and delicious smooth drink.
Buttered Coffee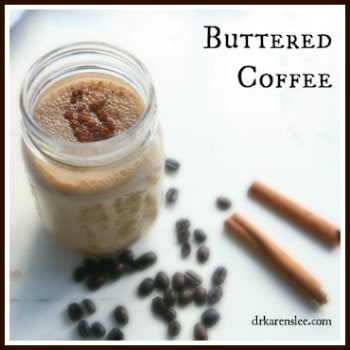 Ingredients
1 Cup of your hot favorite organic coffee
1 tablespoon of Kerrygold Pure Irish Unsalted Butter or Grassfed Butter
1 tablespoon of Unrefined Organic Coconut Oil
Ground Cinnamon for sprinkling on top (Optional)
Direction:
Blend all the ingredients together and sprinkle cinnamon on top if desired. Drink while it's hot.
Buttered Chai Tea
Ingredients
2 Cup of hot Chai Tea
1 Tbsp Kerrygold Pure Irish Unsalted Butter or Grassfed Organic Butter
1 tablespoon of Unrefined Organic Coconut Oil
Ground Cinnamon for sprinkling on top (optional)
Direction:
Blend all the ingredients together and sprinkle cinnamon on top if desired. Drink while it's hot.
Buttered Mocha Latte
Ingredients
1 Cup of your favorite hot cocoa
½ Cup of Coffee
1 teaspoon of Macca
1 teaspoon of Ground Cinnamon
1 TbspKerrygold Pure Irish Unsalted Butter or Grassfed Organic Butter
1 tablespoon of Unrefined Organic Coconut Oil
Ground Cinnamon for sprinkling on top (optional)
Direction:
Blend all the ingredients together and sprinkle cinnamon on top if desired. Drink while it's hot.
Bulletproof® are trademarks/service marks of Better Baby LLC
Sources:
https://www.bulletproofexec.com/bulletproof-coffee-recipe/
http://authoritynutrition.com/3-reasons-why-bulletproof-coffee-is-a-bad-idea/
http://www.nytimes.com/2014/12/14/style/the-cult-of-the-bulletproof-coffee-diet.html