Juicing vs. smoothies? Which is better? Read this guide to decide which to do and what the differences are - plus a bonus juice recipe.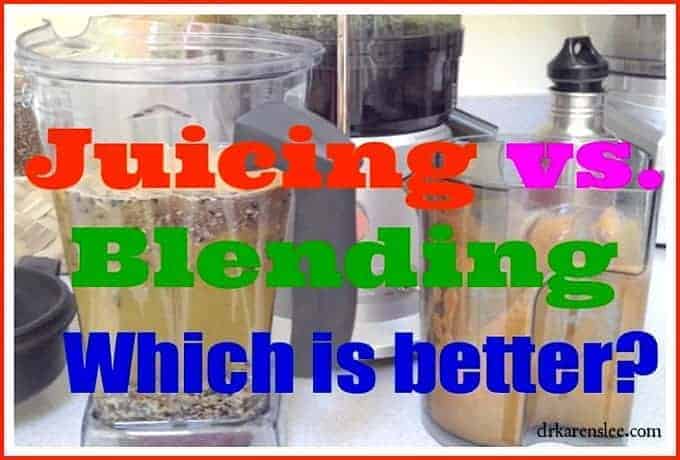 Jump to:
If you are trying to decide whether to buy a juicer or a blender, this is the perfect guide for you.
Juice or smoothie? Which do you prefer? Personally, I love both. But I've been making a hybrid lately since my current needs require the two-step approach to get the nutrients I need these days.
You can Google the difference between the two ways of making drinks from veggies and fruits and you'll get consistent answers about the pros and cons. There is no arguing that there are benefits to drinking green drinks but the differences between the two are definitive. And my conclusion of which is better is, 'it depends' on what you are trying to achieve. I know that's a cop-out but which one you should drink really depends on what your health goal is.
Intro
I make smoothies and rice milk in my blender (affiliate - use "DRKARENSLEE" for 20% OFF) and green drinks too. It's easy - just throw everything in the blender and blend away. A smoothie is hearty and it fills me up until lunch. I can also blend seeds, nuts, add frozen berries, and even make frozen slushes or ice cream.
Clean up is much MUCH easier with a blender than the million parts of a juicer. Just watch the sharp blades at the bottom of the blender (trust me. I've had my fingers nicked and sliced more than I want to admit) and you are done! A juicer is such a pain in the butt to clean!
But when my kids were on the GAPS diet for food allergies and Eczema and I needed to give them the nutrients that they need but make it gentler on their GI system so that they can digest easier. I didn't want to give them all that fibrous bulk from veggies and all the foam filled with air that smoothies create. They love it better and I don't have to chase them down to make sure they finish their veggie drinks.
So blending and juicing serve different purposes. But if you are still asking which better, read on.
Differences Between Juices and Smoothies
Before we try to decide which is healthier or better for you, it's important that you understand the differences between blending smoothies and using a juicer to make homemade juice.
Juices
When you use a juicer, you are removing all the fiber and extracting only the juice from the fruits and vegetables.
The juice that you are left with after you remove all the solid matter is extremely dense in vitamins, minerals, and antioxidants.
There are two types of juicers and they work in very different ways:
Centrifugal - This grinds the fruits into a pulp through a high-speed spinning action with a cutting blade. This also separates the juice from the solid parts.
Cold-Press - These are also called masticating juicers. It crushes and presses the food more slowly to extract as much juice as possible.
Smoothies
When you use a blender to create a smoothie, you are literally pulverizing the fruit or vegetable with a blade and mixing it with a liquid to make something you can drink.
This means that a smoothie will have a lot more fiber in it. The vitamins and minerals are the same but the smoothie itself will have more calories if you add more ingredients.
Juicing vs. Smoothies? Which Is better?
Now that you understand the differences between blending smoothies and juicing your fruits and vegetables, let's look closer at how to tell which is better for you.
So, is it better to use a blender or a juicer?
To answer this question, I am going to share an infographic from a health and wellness expert.
I had a serendipitous encounter on Twitter with the green juicing diva Crazy Sexy Wellness diva Kris Carr. She is my "shero" when it comes to green drinks. She is thriving from rare cancer she has and her green juicing/blending has something to do with her phenomenal health.
She let me use her pretty and informative infographic about the differences between juicing and blending and I am tickled green! She is the green drink diva. She has cookbooks and other products so check them out.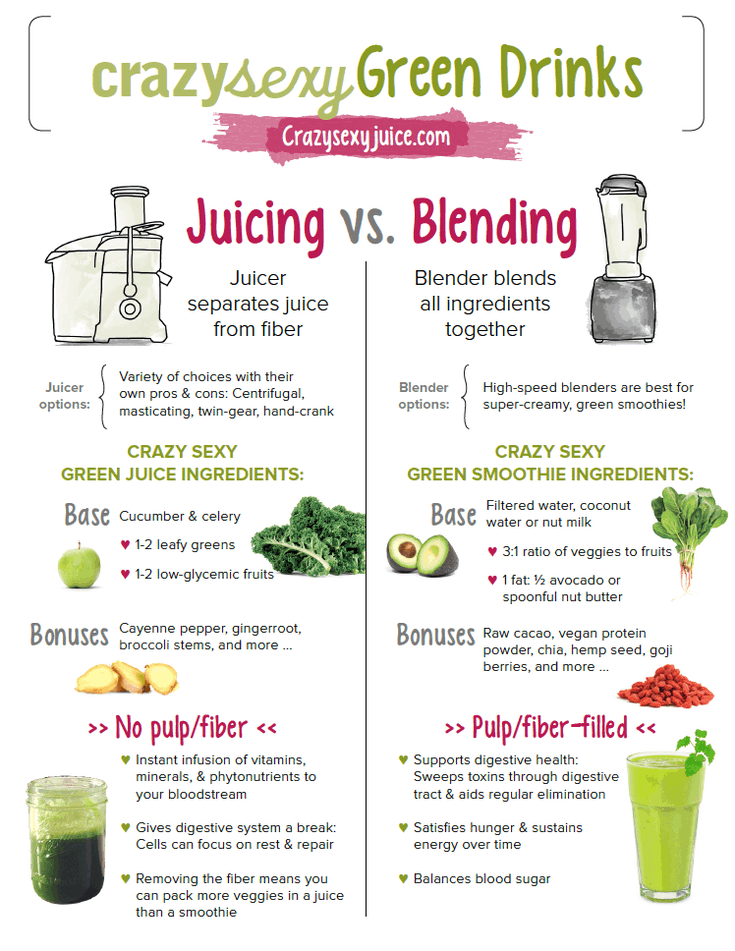 Juicing Is Better For Nutrients
If you are trying to get the most nutrients in a little cup of a powerhouse drink, you should juice. There are more nutrients in a cup of something that you juiced than in a cup of a smoothie you blended.
It's also better for your stomach and gut health. If you have digestive issues, then, you need to drink juice and not the smoothie. It'll be gentler on your stomach.
Smoothies Are More Filling
If you want "a meal" type of a drink that's more filling, then, go for the smoothie. Both are packed with nutrients but smoothie will take you longer to digest with all the fiber you are drinking.
Foods That Juice & Blend Well
Are there certain foods that you can juice and others that make better smoothies? Yes, there are!
In general, you can juice or blend any veggies and fruits BUT there are better vegetables for juicing and blending. Some veggies don't juice well.
Foods That Juice Well
Stay with vegetables with high water content like cucumbers, tomatoes, celery, even broccoli for juicing. Obviously, hard root vegetables like potatoes and sweet potatoes don't juice OR even blend well. So skip those.
Foods To Use In Smoothies
Beets are ok when you blend but you have to have a high power blender to blend. I love beets in my green drinks but the difficulty of juicing it was one of the reasons why I started making the hybrid "smoothjuice". Also, I can add seeds or nuts to my drinks too if I make smoothjuice.
Here is my latest smoothjuice recipe. Obviously, you can substitute with any veggies you'd like. But the important thing to remember is to vary the veggies. You shouldn't drink kale or spinach everyday. Just like everything in food, everything in moderation AND add variety.
Clean all veggies well and scrub gently with a brush but don't peel them if you don't have to. Of course, check for dirty dozen and buy organic fruits and veggies if they are on the dirty list.
Final Thoughts
When you are trying to decide between juicing vs smoothies, the decision depends on your goals. If you want the most nutrients with the least amount of fiber, then you need to juice. If you want a filling meal, then a smoothie is better.
Related Recipes
If you are looking for more drink recipes, these are some of the best ones!
⭐️ Have you tried this recipe? If you love this recipe, give it "5 star" ⭐️⭐️⭐️⭐️⭐️ rating on the recipe card! We appreciate your feedback!
Recipe
Did you try this recipe? We would love your feedback!
Click on the stars on the recipe card below.
Smoothie Juiced Drink
This is my smoothie juice drink recipe that I drink almost daily, especially, in the summer time. It's a combination of juice and a fiber rich smoothie.
Ingredients
2

large

carrots

scrubbed or cleaned

1

celery stalk

1

kirby cucumber

1

med

tomato

½

sweet pepper - red or yellow or orange

1

fruit

i.e kiwi, orange, ½ cup of pineapple or ½ apple etc. Don't add if you don't want any sugar.

2

large

dark leafy greens

i.e. kale, broccoli, swiss chard, spinach, etc
Instructions
Juice all the veggies and fruits (if using).

Then, pour the juice into the blender, add seeds or nuts or any frozen fruits you want to add in the blender. I buy organic frozen berries from Costco in the winter but now with fresh berries in season, I probably will juice the berries.

I also add any oils at this point, like coconut oil, omega-3 fish oil, fermented cod liver oil, etc.
Notes
You don't need a super blender to make a smoothie. You can check out Ninja or Nutribullet that are smaller and powerful. The motor might not last as long and I'm not sure about their warranties.
Nutrition
Serving:
12
ounces
|
Calories:
429.7
kcal
|
Carbohydrates:
101.3
g
|
Protein:
11
g
|
Fat:
2.5
g
|
Saturated Fat:
0.3
g
|
Sodium:
177.1
mg
|
Potassium:
2028.7
mg
|
Fiber:
14.2
g
|
Sugar:
62.5
g
|
Vitamin A:
37397.5
IU
|
Vitamin C:
278.2
mg
|
Calcium:
283
mg
|
Iron:
4.4
mg
Disclosure
This recipe may contain links that pay commission to this site when you purchase from the links, at no extra cost to you. Full disclosure!
➡️ Subscribe to our YouTube Channel for more recipes and tips. And follow @drkarensle on Pinterest, Facebook, Instagram and say "Hello!" 👋
💌 I would love to receive more posts like these in my inbox! SIGN ME UP for FREE newsletters!