Apple Hill Cake is the quickest and easiest cake you can make to please even the pickiest apple dessert lovers. This "dump and bake" cake turns out perfect every time and is a crowd pleaser for any occasion.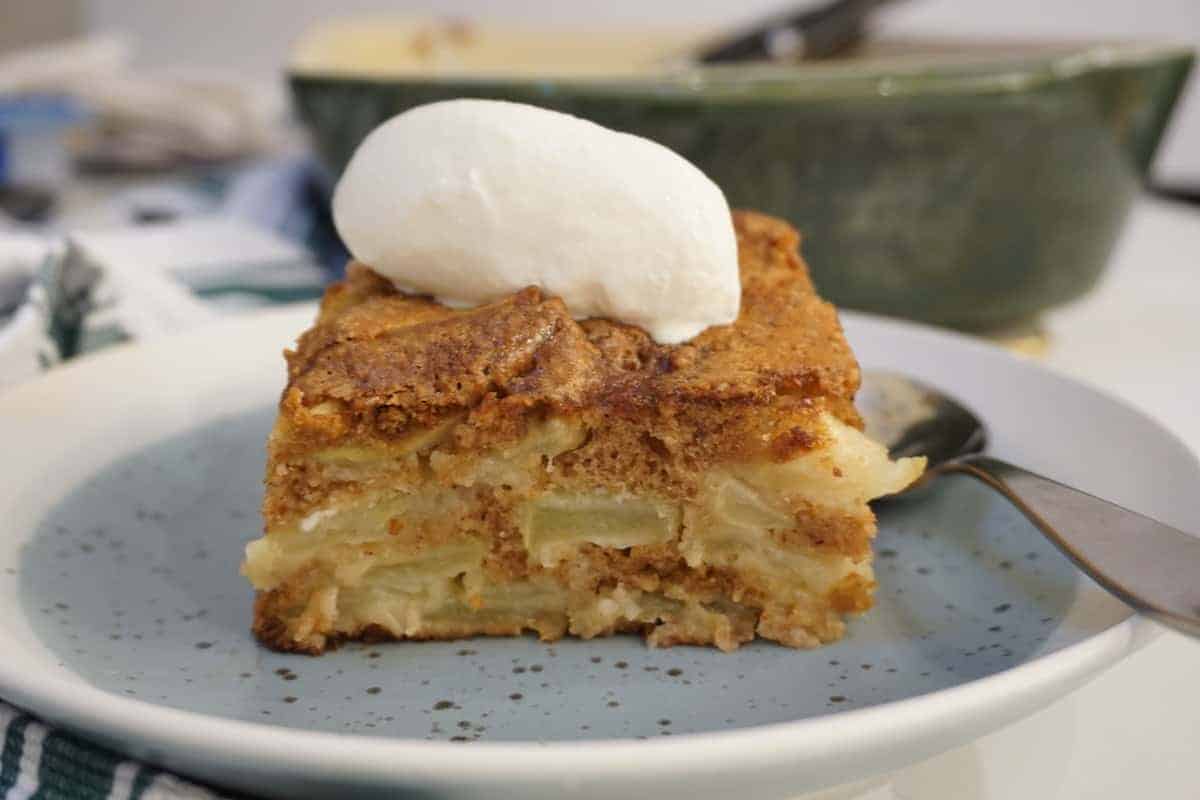 I don't bake pies. There. I said it. The thought of fiddling around with a rolling pin, worrying about the temperature of the dough, and stressing over whether the finished crust will turn out ok give me anxiety. But like most Americans, I love baked goods with apples so when I discovered this Apple Hill Cake, I was thrilled. I was thrilled that it's such an easy recipe that I was guaranteed that I won't fail.
Apple Hill Cake, the quintessential "dump and bake" cake, is so easy and takes hardly no skills to make that it's perfect for someone like me who has pie phobia. Yes, it's a real thing.
Enter Apple Hill Cake.
What kind of apples to use for Apple Hill Cake?
I got this recipe from my hubby's friend, Rod, who used to bring it for my kids whenever he came over for dinner. He'd used to say, "Don't worry. It's simple to make! It's almost too simple to screw up!"
But I did manage to screw up once when I used the wrong apples and it came out too soggy. You need to use crunchy hard baking apples like Granny Smith or Honey Crisp. Don't use soft apples like Fuji or Red Delicious. There is a reason why Granny Smiths are used for baking pies.
One more thing. Just make sure you use ORGANIC apples since apples are on the top of the EWG's Dirty Dozen and Clean 15 list of fruits for high pesticide content.
Apple Hill Cake Recipe
I used regular flour to bake this years ago. It was before we found out my kids were allergic to wheat and gluten. Since then, I've used gluten-free flour and it turns out great. To make a gluten free version, you can use your favorite gluten free flour but I like King Arthur's Paleo Flour (Amazon Affiliate LInk). It seems to have the right proportion of various gluten free flours to make the consistency of a wheat flour. I also don't use regular sugar anymore and use coconut cane sugar  (Amazon Affiliate Link)
Mix the apples with the batter to coat well. If some of the flour is not completely wet, as you can see below, don't stress. A little bit of dried flour is fine. They will all become coated and cooked.
Make sure to coat the pan with oil and dust off some flour so the cake doesn't stick to the pan.
Depending on what type of a pan or oven you're using, the cooking time may vary. A heavy ceramic pan like Staub (Amazon Affiliate Link) takes a bit longer than Pyrex glass pan. A convection oven will be quicker than a regular oven. The cake is done when a toothpick in the middle of the pan comes out clean. Or if the cake is springy when pressed down on the top of the cake gently.
Always take out a piece for yourself before serving since this cake will go FAST! Trust me.
Serve with a dollop of Ice Cream if you tolerate dairy. Or dairy-free ice cream of your choice. Vanilla is our favorite!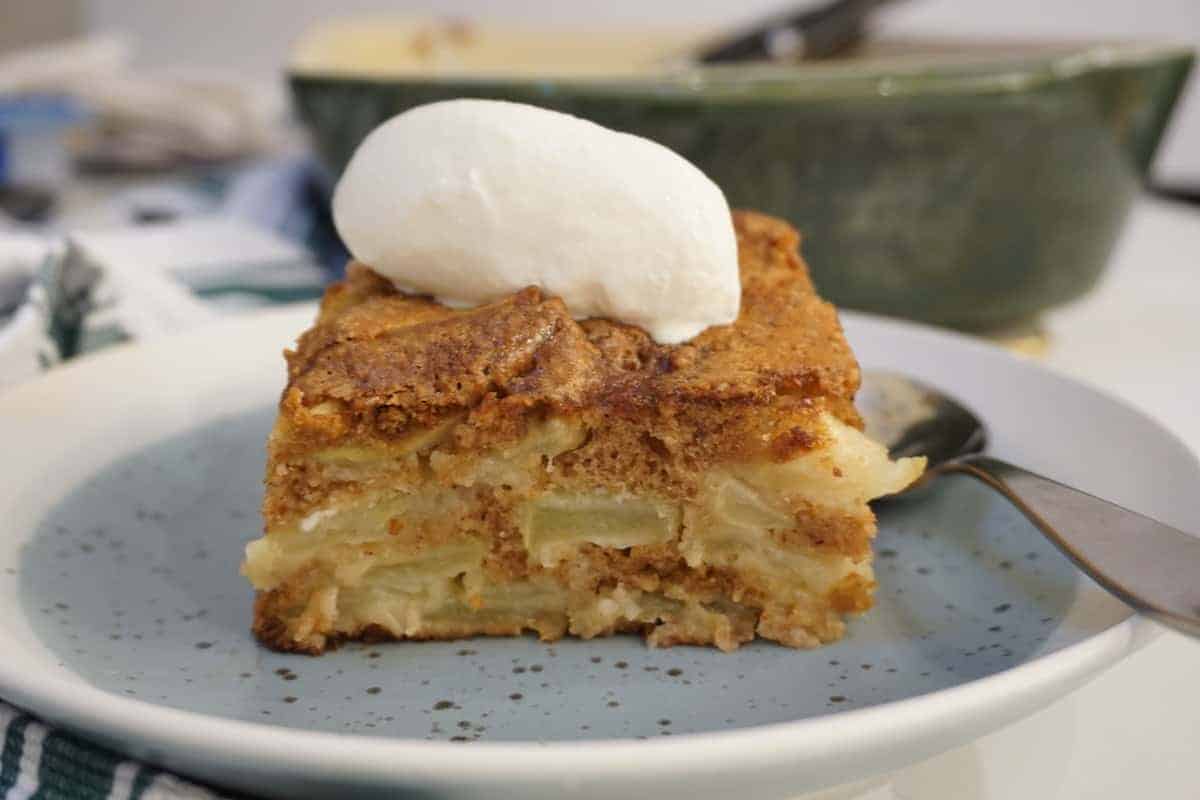 Did you try this recipe? We would love your feedback!
Click on the stars on the recipe card below.
Apple Hill Cake
Apple Hill Cake is an easy dump and bake cake that's too easy to mess up. Serve with a scoop of your favorite ice cream or by itself.
Total Time:
1
hour
15
minutes
Print Recipe
Pin Recipe
Ingredients
4

c

thinly sliced apples

about 6 medium apples

1

tbsp

Avocado oil

to coat the pan

1

tbsp

flour

for dusting the pan
Sugar Mixture
1 1/2

c

Coconut Cane Sugar

1/2

c

Avocado Oil

1

tsp

Molasses

2

eggs
Dry Ingredients
2

c

Flour

see below for gluten free version

2

tsp

baking soda

2

tsp

cinnamon

1

tsp

nutmeg

1

tsp

salt
Instructions
Preheat oven to 350 degrees.

Beat the sugar mixture and sift the dry ingredients.

Add apple slices to sugar mixture and coat the apples.

Add dry ingredients to the apple mixture and blend in and coat the apples evenly as possible. The consistency of the batter will be gooey.

Oil and flour a 9x13 glass pan

Bake the mixture in the pan for 60 minutes.
Notes
For Gluten Free version, use Gluten Free flour like King Arthur's Paleo Baking Flour
For Dairy-Free version, use coconut ice cream or soy ice cream. 
If using a ceramic pan, like Staub or Le Creuset, add additional ten minutes to the cooking times.