Make a thick and creamy cheddar corn chowder with tapioca starch, shredded potatoes, and bacon! Perfect soup for cold days.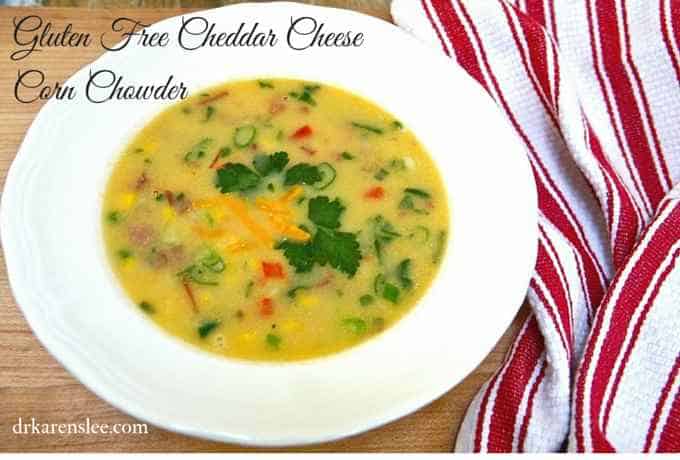 Jump to:
Intro
Cheesy Chowder Recipe
It's been really cold this past few weeks. I was trying to figure out what to cook when I saw the picture of "Smoky Cheese Chowder" on Life Currents. I almost drooled on my keyboard. It looked so creamy, warm, and inviting. I wanted to slurp the soup right off my screen. Doesn't it look delicious? Also, she had me at "....only takes 15-20 minutes.."!
I had to make the soup.
Ingredients
The only trouble was, I didn't have smoky gouda cheese. But I had cheddar cheese. Also, I had to make it gluten-free so I used tapioca flour. (If you are ok with gluten, you can use flour.) I had some leftover corn beef so I thought it'd go really well in the soup. Ham would have been great too. Or bacon. Oh, bacon would have been great. But if you want to leave out meat, that's totally cool too. I didn't have chives but had parsley and green onions.
So I adapted. Ok, stop drooling. Like I did.
Here are the ingredients I used in my soup:
Shredded Potatoes - Any type of potatoes will work
Chicken Broth
Yellow Corn - I used organic corn
Smoked Cheddar Cheese
Red Bell Pepper - use organic
Onion Powder
Tapioca Flour
Diced Ham - You can also use diced bacon instead
Chopped Scallions
Fresh Parsley - this is for the garnish at the end
Instructions
Here is how I made this soup.
I made this in a saucepan on my stove. Start with the corn, shredded potatoes, bell pepper, a cup of water, and the chicken broth. Bring all of that to a boil.
Then, reduce it to a simmer while stirring it. This helps the corn to cook completely.
Sprinkle in the onion powder. Next, grab a small bowl and mix the tapioca flour with ½ cup of water.
Stir this slurry into the soup. Cook the chowder until it thickens.
After it is thick, slowly stir in the shredded cheese and chopped scallions. Remove it from the heat and garnish it! You are ready to eat!
FAQ
How do you thicken corn chowder?
If you need to be gluten-free, thicken it with more tapioca flour and water. If you aren't gluten-free, you can mix equal parts of all-purpose flour and water. This creates a paste that will thicken your chowder.
How do you store the chowder?
You can either store it in the refrigerator or the freezer. If you store it in the refrigerator, keep it in an airtight container for up to a week.

To freeze it, place it in a resealable freezer-safe bag and lay it flat.

When you are ready to eat it again, just let it thaw in the refrigerator overnight and then reheat it in a saucepan over medium heat.
What do you eat corn chowder with?
I love to serve my corn chowder with a chopped salad and a side of roasted vegetables. You can also enjoy it with your favorite (gluten-free) bread or a roll.
What meat goes with corn chowder?
I think chicken and pork goes the best with corn chowder. I love to eat this with some ham or grilled chicken breast.
How do you make the soup creamier?
You can use milk instead of water if you want creamier soup. We don't drink milk so I used water. You can also experiment and use different types of milk with it. If you use almond milk, I suggest using unflavored and unsweetened almond milk so it doesn't change the taste.
Related recipes
If you enjoyed this chowder recipe, you will love my other soup recipes too.
It was too cold to go out so I used up what I had. Isn't that the fun part of cooking? Being creative and coming up with a recipe with what you have? If you like smoked gouda cheese, try her recipe. I'll have to buy gouda to try her version next time.
Recipe
Did you try this recipe? We would love your feedback!
Click on the stars on the recipe card below.
Gluten Free Cheddar Cheese Corn Chowder
Corn chowder is comforting and hearty. Add cheddar cheese and you have gooey and creamy chowder to keep you nourished,
Ingredients
2

C

Shredded Potatoes

1 ½

C

Water

1

C

Chicken Broth

2

C

Frozen Organic Yellow Corn

2

C

Shredded Smoked Cheddar Cheese + Little Extra for Garnish

½

C

Diced Organic Red Bell Pepper

¼

teaspoon

Onion Powder

1

tablespoon

Tapioca Flour

if you are ok with gluten, use 2+ tablespoon of flour

1

C

Diced Ham or Bacon

I used corn beef

½

C

Chopped Scallions + Little extra for Garnish

¼

C

Chopped Parsley

garnish
Instructions
In a medium saucepan, combine corn, potatoes, bell pepper, 1 Cup of water and chicken broth.

Bring to boil on high heat.

Reduce heat to simmer, while stirring, until corn is cooked.

Add onion powder.

In a small bowl, mix tapioca flour and ½ Cup of water

Stir tapioca mixture into the pot.

Cook until thickened.

Slowly stir in shredded cheese and chopped scallions.

Remove from heat. Garnish with scallions and parsley and serve immediately.
Disclosure
This recipe may contain links that pay commission to this site when you purchase from the links, at no extra cost to you. Full disclosure!
Click the image below to Pin It for later