I've been dying for cream of spinach soup lately. I never really liked cream in my soup but for some reason, cream of spinach soup was calling me since Thursday.
Today's grey and cold weather just nudged me enough to get the ingredients together and puree my way into blissdom. It didn't hurt that hubster brought home a half loaf of sourdough bread the other day so the image of toasted croutons soaked in the creamylicious soup was haunting me.
Here is the conversation that went down between Hubs and me when I made the soup today.
Me: Stop eating before it gets pureed! It's not done yet.
Hubs: Don't puree mine. I like it just the way it is.

He finishes two bowls before it gets pureed.
Then, he has two bowls of the original intended Cream of Spinach Soup without speaking a word…until,

Hubs: You should make a HUGE pot of this. This is great! How come you only made this much?
Me:That's because you had 2 bowls before I had a chance to finish the soup!
Hubs: Why did you let me eat it before you pureed it????? Make more. A HUGE pot!
So moral of the story is don't let anyone come into the kitchen when you are making this because you won't get to make the final "HUGE POT" worthy creamy soup; they'll want to eat it before it even makes it to that step.
And that would defeat the purpose of this recipe.
There are many recipes for cream of spinach soup but not vegan. So I tweaked to make it dairy-free and vegan. But anyone will love this soup.
If you are allergic to cashews, you can leave it out and use an extra potato. That works really well when you want a creamy soup. Remember my Roasted Cauliflower Potato Soup? It was potatoes that made it creamy.
Cream of Spinach Soup (Gluten and Dairy Free)
Soup purees really well in a blender like Vitamix  (Amazon Link) or a food processor (Amazon Link) or you can use an immersion blender (Amazon Link) right in the pot to blend.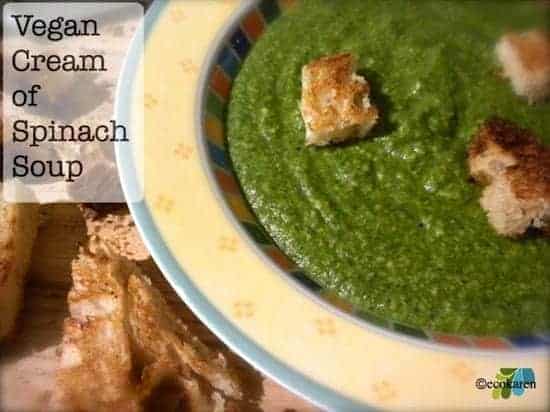 Cream of Spinach Soup (Dairy and Gluten-Free)
Print
Ingredients
2

Cups

fresh raw organic spinach

2

Med

organic white potatoes, sliced

1

Med

onion, chopped

2

cloves

garlic

3

Cups

vegetable broth

1

Cup

raw cashews, soaked overnight

1/2

tsp

dried tarragon

1/2

tsp

paprika

1

tbsp

fresh parsley and some for garnish

optional

salt and pepper to taste

1

C

Sourdough bread, cut in cubes
Instructions
Sauté garlic and onions until onions are translucent.

Add potatoes, vegetable broth and bring to boil. When it boils, turn down the heat to simmer over medium heat.

When potatoes are soft, add spinach, tarragon, paprika, and parsley.

Turn off the heat and let it cool for about 10 minutes.

While the soup is cooling, toast a couple of slices of sourdough bread and cut them into cubes and set aside.

When the soup is cooled, pour into a blender or a food processor or use an immersion blender right in the pot to blend. Don't put hot soup in a blender or a food processor. You'll regret it. Trust me on that.

Add cashews. Puree or blend until smooth. You can add more cashews if you want a thicker soup.

Add salt and pepper to taste and add the crouton and garnish with parsley if desired.
Nutrition
Calories:
225
kcal
|
Carbohydrates:
19
g
|
Protein:
7
g
|
Fat:
14
g
|
Saturated Fat:
2
g
|
Sodium:
758
mg
|
Potassium:
345
mg
|
Fiber:
2
g
|
Sugar:
4
g
|
Vitamin A:
2005
IU
|
Vitamin C:
8
mg
|
Calcium:
39
mg
|
Iron:
3
mg
Disclosure Policy
This post and recipe contain affiliate links for products or services that pay this site small commissions if purchases were made via those links at no additional cost to you. Read full disclosure here.