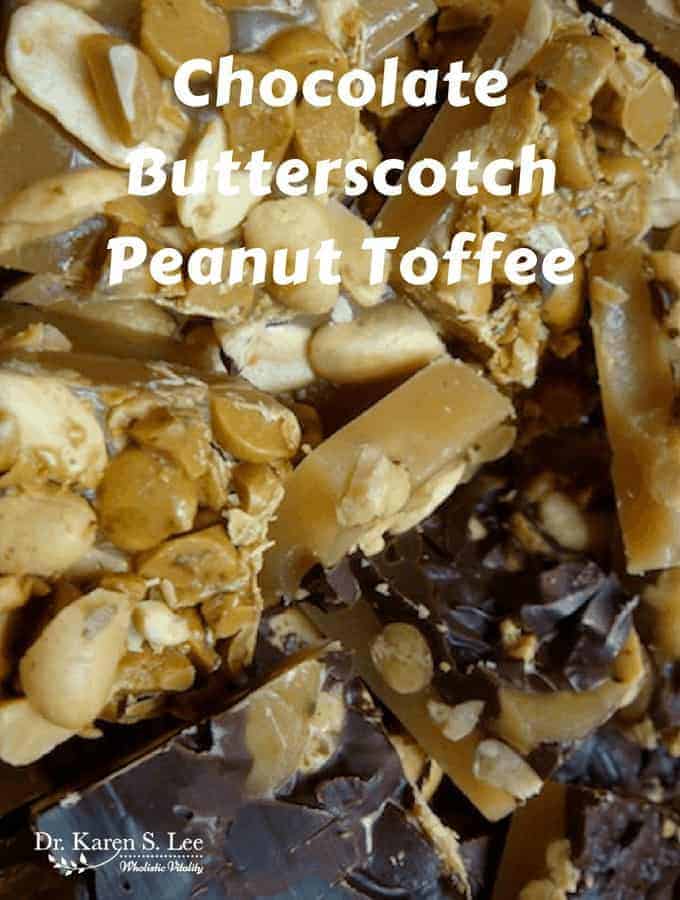 I did not bake this Christmas.
Nope. I didn't.
Instead, I made this crunchy chewy "I've died and gone to heaven" Chocolate Butterscotch Peanut Toffee. Twice.
I meant to bake cookies and short breads. But after I made these pieces of heaven, no one was asking for any cookies.
Besides, there's enough sugar in these suckers to keep your hair standing for hours so who needs sugar cookies?
The combination of two distinctive flavors are just perfect together in this toffee. The sweetness and the bitterness combination is just indescribably delicious. The bitter and darker the chocolate, the better. And the saltiness of the peanuts and the sweetness of the butterscotch morsels are just m..mm....mmm....yummilicious!
First, gather and chop 1 C of peanuts, chocolate, and butterscotch morsels. If you can't find butterscotch morsels, then, you can just double up on the chocolate and use just the chocolate.
Melt 1lb. (4 whopping sticks) of butter, yes, I said, ONE solid pound of butter. Don't worry. Unless you are planning to eat the whole thing by yourself, you won't be eating a pound of butter by yourself. So relax. What? You are planning to eat the whole..... Seriously? Are you? I don't blame you.
Whisk the butter as it melts.
After it boils, stir occasionally with a large spoon until the color becomes golden and the temperature reaches 300 degrees on the candy thermometer. What? You don't have one? Go get one before you proceed because you'll need it in the future. Why? Because you'll want to make this recipe again and again again and you'll need the candy thermometer to get it right. Your supermarket should carry it.
mmmm....smell of burnt sugar makes me giggle. I let it burn a little until the color becomes a little brownish. Look at the next picture when I add the peanuts. That's the color I'm after. (Sorry about the blurry photo. It's really hard to take a picture when I'm trying to briskly stir a pot of hot melting sugar)
*Caution....burnt sugar is very very hot. If a drop lands on your skin, you'll cuss. So, be very careful. Don't say I didn't warn you.
Add the whole peanuts and mix until all the peanuts are coated.
Then, pour the mixture onto the parchment lined cookie sheet and spread evenly with a spatula or with a back of a spoon. (a spoon is easier to lick off the sugar afterwards. Speaking from experience.)
Let it sit for about a minute or so.
Sprinkle chopped butterscotch and chocolate pieces evenly to coat the surface. Spread the pieces across so that they will melt.
Let it stand for about 5 minutes and then sprinkle the chopped peanuts on top.
Freeze until chocolate is firm for about 20 to 30 minutes. Then, break into piece and store them in an airtight container for up to 2 weeks in a cool room temperature or in the refrigerator....
......if it lasts that long....which reminds me, I'm craving for a piece. I'll be right....
OK. Who ate all my toffee? Look what's left.
No worries. I have plans for the crumbs.
Enjoy!
Chocolate Butterscotch Peanut Toffee
1 lb of grassfed unsalted butter (4 sticks), cut into pieces for easy melting. I buy these. (AMazon Affiliate)
2 C Organic Cane Sugar. I buy this. (Amazon Affiliate)
¼ teaspoon salt
4 C of Whole Slightly Salted peanuts
1 C of chopped Slightly Salted Peanuts
4 oz of 70% or higher bitter or dark chocolate (This is Gluten Free) (Amazon Aff Link) finely chopped
4 oz of butterscotch morsels finely chopped
Candy Thermometer - nothing fancy, I have this one. (Amazon Affiliate Link)
15 x 10 x 1 baking pan or cookie sheet lined with parchment paper
spatula or large spoon
Whisk
*You can find organic and fair trade ingredients from any grocery stores near you but the links in the ingredient list will take you to Amazon where the prices are reasonable.
*You can skip the butterscotch if you prefer chocolate only.
Directions:
Line the pan with parchment paper and put it on a heatproof surface
Bring butter, sugar, and salt to a boil in a 4-5 qt. heavy bottom pot over medium-high heat, whisking until smooth, then, boil, stirring occasionally, until mixture is deep golden and registers 300 degrees on candy thermometer, for about 15 to 20 minutes.
Immediately, stir in whole peanuts, then carefully pour hot toffee into center of baking pan. Spread with spatula or spoon, smoothing top, and let stand for 1 minute, then, immediately sprinkle chocolate on half and butterscotch the other half of the mixture on top.
Let stand until chocolate is melted, 4 to 5 minutes, then spread over toffee with cleaned spatula. Sprinkle evenly with chopped peanuts, then freeze until chocolate is firm, about 20 to 30 minutes. Break into pieces.
Note: When toffee reaches 300 degrees, it's at a "Hard" candy state. It will be hard and brittle so you can break them into pieces. But if your toffee mixture does not reach 300 degrees, toffee will be softer and more chewy. You can cut them in squares with a sharp knife into even square pieces. You can make it either way. I made them in both ways and they are both just as scrumptious.