Butternut Squash Soup Instant Pot Recipe is easy and quick but so flavorful. It's perfect for the fall and your family will ask for seconds!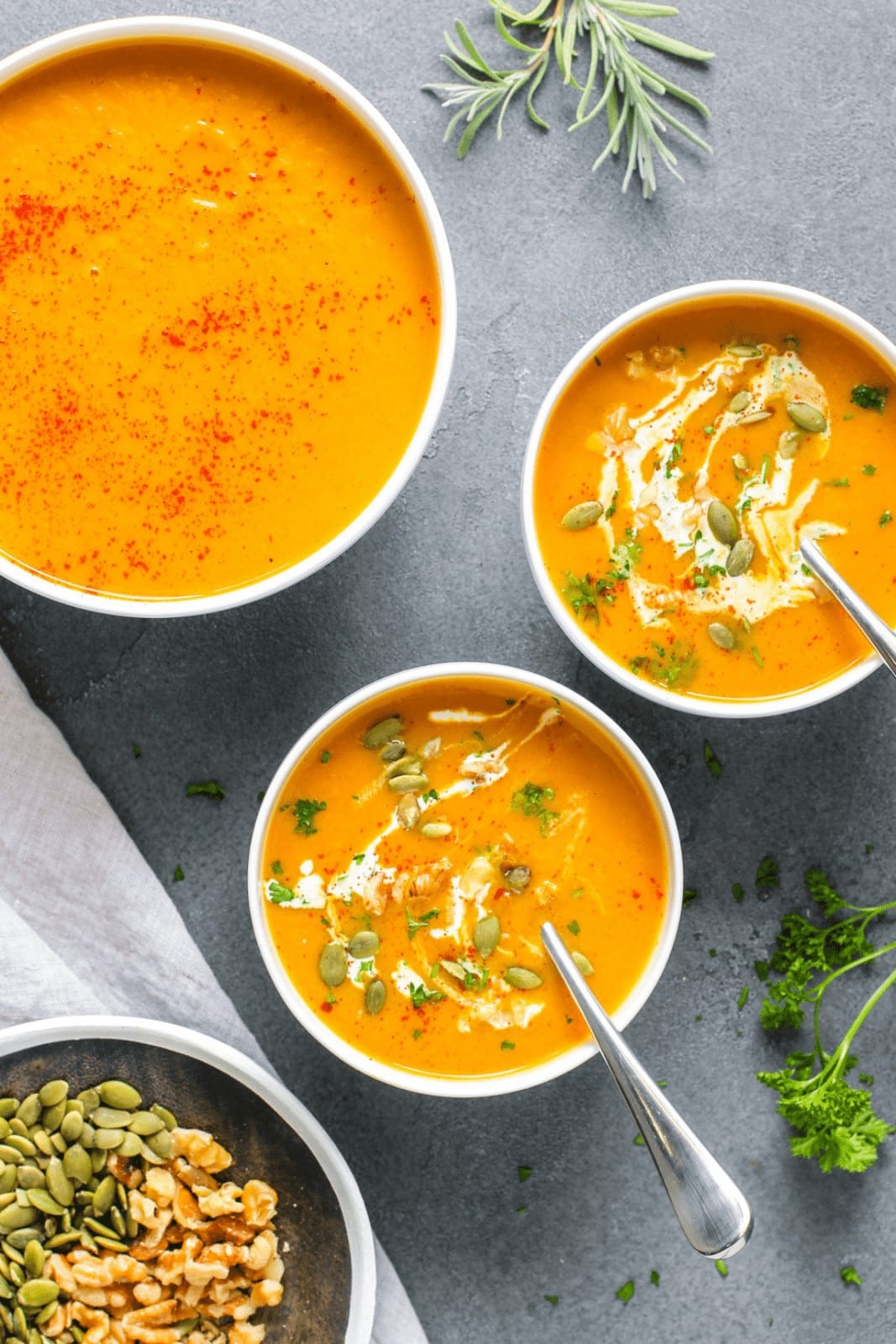 I'm addicted. To my Instant Pot. To an electric pressure cooker, if that makes sense. I haven't named her, yet, but I'm clearly addicted to her superpowers. I am constantly thinking of what (else) I can make in it. You can clearly see how much fun I'm having here my Instagram photos. Just check all the foods I've had in the last week or so. I bet you're drooling now that you've seen all the delicious dishes I made.
Perfect Winter Squash Soup
It's pretty shocking that you can make a hearty soup from raw vegetables in just 10 minutes. That's as long as it takes in my Instant Pot! (See why I love it so much?)
If possible, it is always best to cook with seasonal ingredients. Sweet potatoes, butternut squash, and onions are all vegetables that are in season in the fall.
Other types of winter squash are acorn squash and buttercup squash. This soup looks and tastes the best with butternut squash.
How To Make Butternut Squash Soup
The entire recipe is in the printable card at the bottom of this post. First, I have some helpful tips for you that I learned when I made this soup.
Use A Sturdy Vegetable Peeler
If you are going to peel the butternut squash, you need a strong and sturdy vegetable peeler like the one, pictured above. It's like no other vegetable peeler I ever had. It's strong and the entire peeler is made with stainless steel, not just the handle that gets weak after a while.
This is by far, the best peeler I've had. The set also comes with a shredder which is great for shredding carrots for salads.
Peel and Cut The Vegetables
Some people don't even cut the squash or sweet potatoes but I didn't want the skin so I peeled them, then, cut them up for even faster cooking.
Have you ever wondered how to cut a butternut squash? It's pretty simple! Just follow these steps and it will look like the photo above:
Cut the top and bottom off the squash.
Cut it in half lengthwise.
Scoop the seeds of the middle.
Use a vegetable peeler to peel the skin.
You don't have to chop them up into very small pieces. They will cook just as fast in large 3-inch chunks.
If you don't like sweet potatoes (That's ok. We can still be friends.), you can use carrots instead. Or skip the root vegetables all together. But be aware that it will be less sweet.
Use Pre-Made Bone Broth To Save Time
I already had a huge stash of bone broth I made in Instant Pot (2 hours on HIGH pressure made the densest gelatinous bone broth!) so that was another time saver. I recommend making homemade bone broth, if you can, as it will have more flavor than anything out of a can or a box.
But if you don't have homemade broth, you can still use a can or box. Just make sure you use bone broth instead of stock, since broth is thicker with more gelatin and you want a thick consistency for this soup.
Best Spices To Use In Butternut Squash Soup
The best thing about cooking your own soup is that you can alter these spices and make it as spicy or as mild as you wish. I loved the combination of sweet and heat that this spice mixture gave the soup.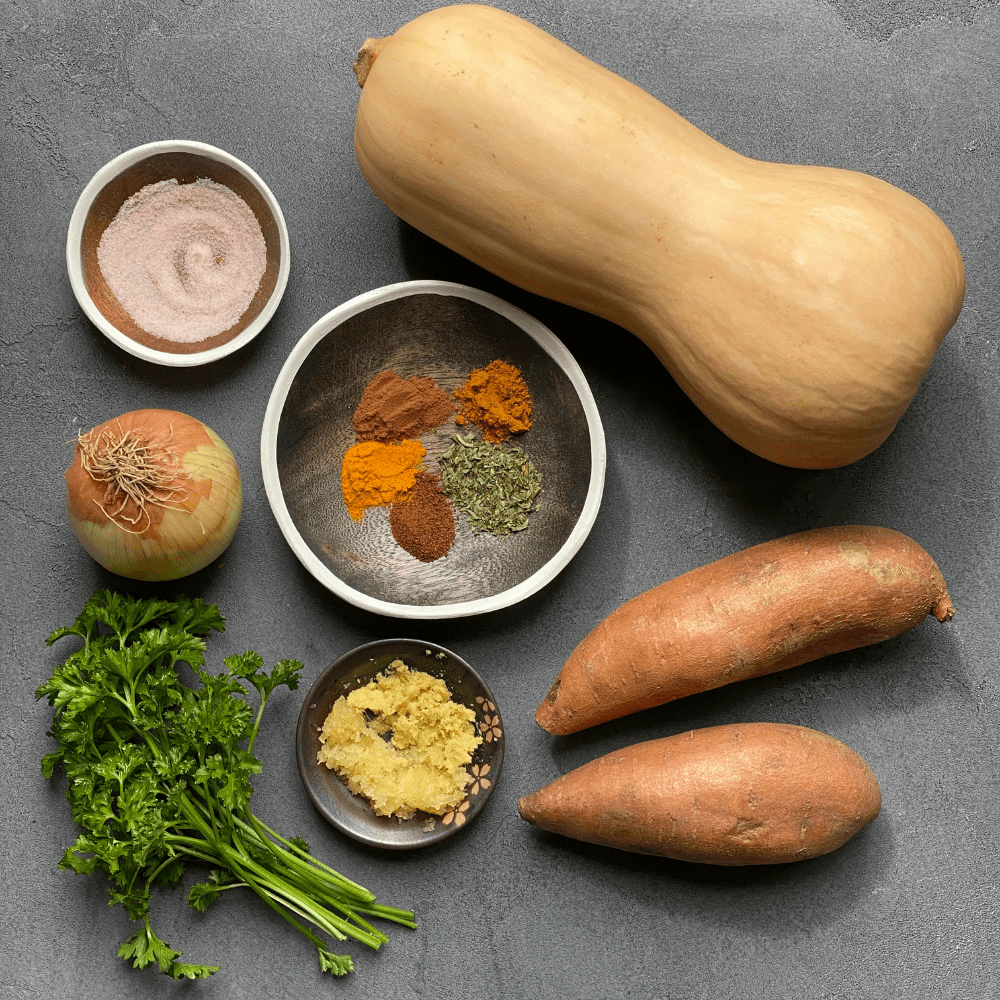 Garlic
Ginger
Pink Himalayan Salt
Curry
Turmeric
Cinnamon
Nutmeg
Tarragon
Parsley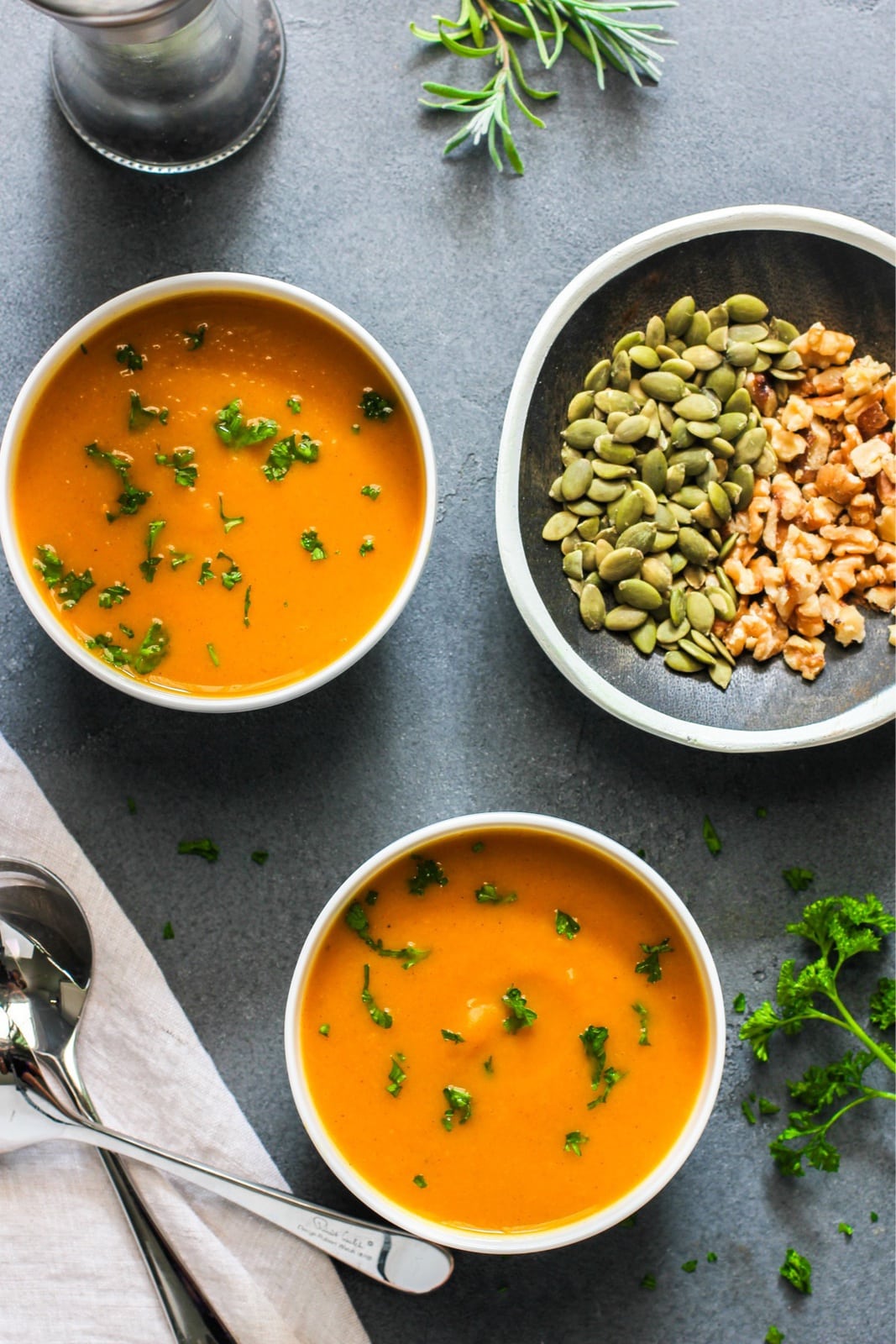 Easy Instructions
When the Instant Pot is hot, sauté onions, ginger, garlic, and a pinch of salt in coconut oil.
Sauté until onion is soft.
Add the vegetables and the spices.
Sitr to incorporate.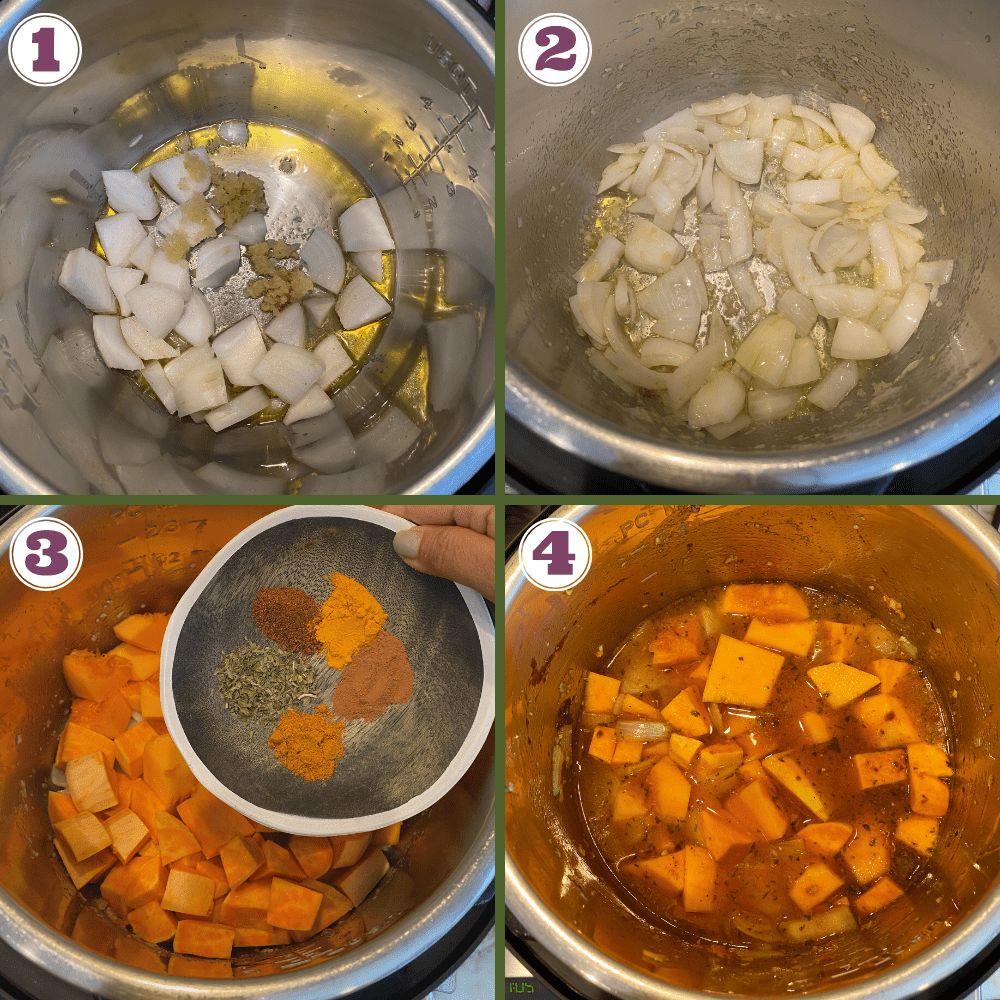 5. Set the Instant Pot on Manual or Pressure Cooker for 10 minutes on HIGH pressure.
6. When the timer ends, allow the Instant Pot to depressurize naturally.
7. Using an immersion blender, pureé the vegetables in the inner pot until smooth. If you don't have an immersion blender, allow the soup to cool a little and use the blender to pureé.
8. You can eat the soup 'as is' or garnish with coconut cream when serving.
Freeze This Soup For Later
Make this quintessential fall soup today and freeze what you don't finish. You'll appreciate a quick soup when the weather gets colder.
There are two ways you can freeze it - you can either do all the food prep and freeze all the ingredients with the bone broth or you can completely cook and prepare the soup, let it cool, and freeze it.
It is much faster to prepare if you freeze it after you cook it completely. That way, all you have to do is let the soup thaw and warm it up on the stove. Easy!
This soup will stay fresh in the freezer for up to 3 months.
Butternut Squash Soup Instant Pot Recipe
Not only does a pressure cooker method cooks food ⅓ times faster, saves energy, retains moisture and more nutrients, it also eliminates the need for using so many pots and pans. It makes one pot meals so much easier!
For this Butternut Squash soup, I didn't bake or steam or boil the squash first to make soup. I did everything in the Instant Pot, from the beginning 'til the end so clean up was so much easier. I'm all for fewer pots and pans to clean!
More Soup Recipes
If you enjoyed this hearty soup, I have more soup recipes you will love too.
Recipe
Did you try this recipe? We would love your feedback!
Click on the stars on the recipe card below.
Butternut Squash Soup Instant Pot Recipe
Savory butternut squash soup made in the Instant Pot is easy and quick!
Ingredients
2

tablespoon

Coconut Oil

1

small

onion

cubed

1

inch

ginger

grated

2

cloves

garlic

minced

2

cups

Butternut Squash

peeled, seeded, and cubed

2

cups

Sweet Potatoes

peeled and cubed

3

Cups

Bone broth or Chicken broth or Vegetable Broth if vegetarian

1

teaspoon

Himalayan Pink Salt

½

teaspoon

curry powder

½

teaspoon

turmeric

1

teaspoon

cinnamon

½

teaspoon

ground nutmeg

1

teaspoon

dried tarragon

1

teaspoon

finely chopped fresh parsley for garnish

optional

1

teaspoon

pumpkin seeds for garnish

optional

1

tablespoon

coconut cream or dairy cream for garnish

optional
Instructions
Press "Saute" setting on Instant Pot.

When 'HOT" appears on the screen, add coconut oil, onions, ginger, garlic and pinch of salt.

Sauté until onion is a bit soft.

Add the rest of the ingredients.

Stir to mix.

Close the lid tightly, make sure the vent release valve is on "SEALING".

Press "MANUAL" and set the timer to 10 minutes.

When the timer goes off, pressure release naturally.

When it's completely depressurized, open the lid carefully.

If you have an immersion blender, pureé, right in the pot.

If you DON'T have an immersion blender, transfer the soup to a food processor or a blender and pureé. Be careful with hot soup when using the food processor or blender.

If using, garnish with finely chopped parsley, cream of your choice (i.e. dairy or coconut cream), nuts, and/or pumpkin seeds before serving.
Notes
An immersion blender is very convenient to make smooth soups like this right in the inner pot. And since you don't have to transfer the soup into another blender, you have one less thing to wash! 
But if you don't have an immersion blender, you must allow the soup to cool down a little before pureeing in a blender as hot soup will splatter. 
If you don't have sweet potatoes, you can also use carrots. It'll taste just as sweet! Or you can omit the root vegetables all together for lower carbs! 
If you want to garnish with cream and you can tolerate dairy, top with heavy cream before serving. If you can't tolerate dairy, then, use coconut cream.  
Nutrition
Calories:
194
kcal
|
Carbohydrates:
25
g
|
Protein:
8
g
|
Fat:
7
g
|
Saturated Fat:
6
g
|
Sodium:
689
mg
|
Potassium:
510
mg
|
Fiber:
4
g
|
Sugar:
5
g
|
Vitamin A:
16875
IU
|
Vitamin C:
18.8
mg
|
Calcium:
69
mg
|
Iron:
1.2
mg
Disclosure
This recipe may contain links that pay commission to this site when you purchase from the links, at no extra cost to you. Full disclosure!