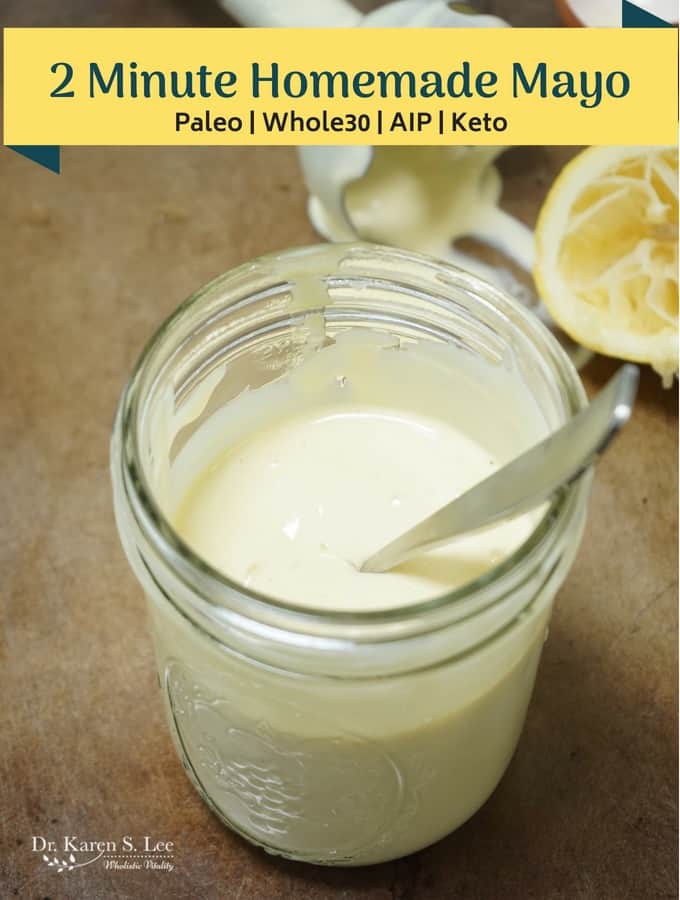 2 Minute homemade mayo takes less than 2 minutes to make and needs simple ingredients, unlike the store bought ones with unhealthy oils and "natural flavors." Make it today to use in your delicious recipes. Mayonnaise was never my favorite condiment so I never liked 'salads' made with mayo, like potato salad, egg salad, tuna salad, and even Caesar dressing, which is similar to mayo.
Well, that was until I made my own mayo at home.
And holy smokes. What a difference between homemade and store-bought mayo! I know you can't compare homemade with store bought anything but mayo is definitely in the "Homemade is (MUCH) better than the store-bought" camp. And it has something to do with the unhealthy oils, "natural flavors" (questionable chemicals) and preservatives commercial ones contain.
The crazy thing is, mayo is so simple to make it at home. My version takes less than 2 minutes if you use an immersion blender or a regular blender. Don't have a blender? Use your whisk and put your arm muscles to work. It'll take a couple of minutes longer but you'll get a work-out so you can skip the gym.
2 Minute Homemade Mayo Recipe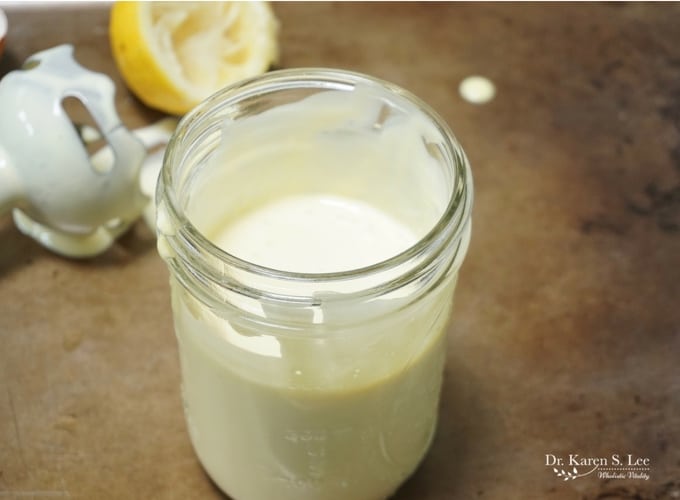 Note on Eggs
When growing up, we used to eat raw eggs without worrying. But now, salmonella contamination in eggs is common since most supermarket eggs are from factory farms. Did you know salmonella contamination can come from chickens that lay the eggs, mostly from caged factories? So it's really important that the eggs are from free roaming and pastured chickens raised from a healthy environment with unlimited outdoor access, eating what nature intended them to eat. You could read more about egg labels here but I just wanted to reiterate how important it is to use farm fresh eggs for this mayo recipe.
For egg-free version - if you're sensitive to eggs, omit the egg, substitute it with soaked raw cashews. Blend the nuts in a blender until pureed, then, add it at the end and blend with the immersion blender.
For AIP version - omit the egg and add equal amount of palm shortening as the oil used.
Note on Oils
One of the biggest reasons why I disliked store-bought mayonnaise is because of the unhealthy oil. Most commercial mayo - like Hellman's or Miracle Whip - is made with soybean oil which is unhealthy, highly processed refined oil. Some uses "vegetable oil" which could also mean soybean oil or canola oil, again, highly processed refined oil. There are healthier mayos on the market now, using olive oil or avocado oil but they are not refrigerated and use raw egg, which means, they must use some sort of preservatives. That's also not something I want to consume. So if you're going to make a homemade mayo, it's best to use healthy oils like avocado oil or real olive oils and consume within 4 weeks.
I prefer Chosen avocado oil because that's what I use for cooking anyway since it has a high smoking point (5oo degrees!) It's cold pressed and mild flavored oil so it's perfect for making mayo. I tried using their cold pressed olive oil too but it didn't taste like the plain mayo I wanted to recreate. But you can certainly use any mild flavored healthy oils you like. Just make sure it's cold pressed, which is not highly processed.
You'll Need
You probably already have these 5 ingredients to make this healthy delicious mayo at any time. You could start with these measurements and adjust the thickness to your liking. The recipe makes a smidgen more than 1 cup of mayo. For making and storing the mayo, use a wide mouth pint jar like this (and a lid) and an immersion blender which will fit in the jar very nicely. And you can add the oil first to the 1 cup mark on the jar so you won't even need to use a measuring cup. You could use a wide mouth 16 oz mason jar to double the recipe.
Recipe
Did you try this recipe? We would love your feedback!
Click on the stars on the recipe card below.
Homemade Mayonnaise (Paleo, Whole30, Keto, AIP-friendly)
This homemade mayonnaise takes 2 minutes to make without fillers or artificial emulsifiers.
Ingredients
1

cup

avocado oil

or extra virgin olive oil

1

large

farm fresh egg

from pastured and free roaming chicken (see AIP substitution option below)

2

tablespoon

lemon juice

1

teaspoon

dijon mustard

¼

teaspoon

fine sea salt

or pink Himalayan Salt

½

cup

soaked raw cashews or macadamia nuts

egg substitution for AIP
Instructions
In a large mouth mason jar, add the oil to the 1 cup mark, egg, and lemon juice.

If using an immersion blender, insert the wand in the mason jar, blend the liquid while moving the blender up and down to emulsify the oil.

If you are using a blender, add the egg and lemon juice to the blender first. Drizzle the oil into the blender slowly as the blender emulsifies and the oil thickens.

If making an egg-free AIP-friendly version, blend soaked raw cashews or macadamia nuts in a high power blender (like Blendtec or Vitamix) first, and then, drizzle the oil and lemon juice.

Add the mustard and sea salt. Blend to incorporate for a few seconds.

The mayo will thicken as you blend. Make sure to incorporate all the oil as you move the immersion blender wand up and down.

When done, close the lid and store in the refrigerator for up to 4 weeks. If using a blender, scrape every drop of the mayo into an airtight container, refrigerate up to 4 weeks. (This reason alone is worth investing in an immersion blender.)

Notes
Since you will be using raw eggs, it's really important to use farm fresh eggs that are from free roaming chickens that were pastured raised.  
For egg-free version - use soaked raw cashews. Blend the cashews in a blender, and add to the mayo at the end and use the immersion blender to mix.
For AIP friendly version - use equal amount of pam shortening as the oil used. 
Nutrition
Serving:
10
g
|
Calories:
16
kcal
|
Fat:
1
g
|
Cholesterol:
11
mg
|
Sodium:
40
mg
|
Potassium:
4
mg
|
Vitamin A:
15
IU
|
Vitamin C:
0.7
mg
|
Calcium:
2
mg
|
Iron:
0.1
mg
Disclosure
This recipe may contain links that pay commission to this site when you purchase from the links, at no extra cost to you. Full disclosure!