Easy Homemade Ketchup tastes just like store bought ketchup your family loves but without the refined sugar or high fructose corn syrup. It is one of the easiest condiments to make at home and you can control what goes in it.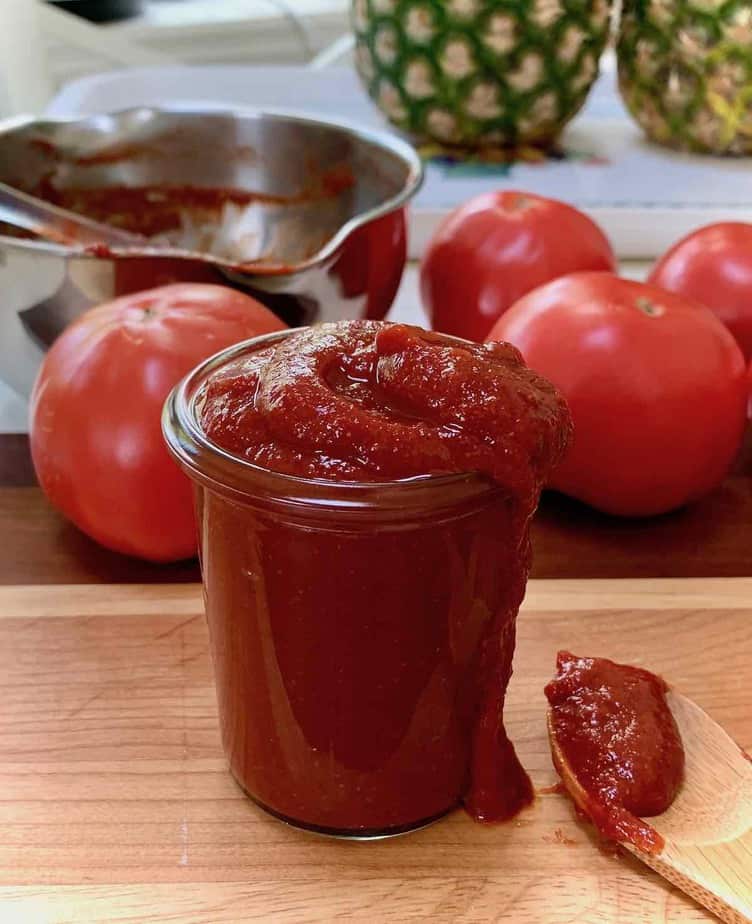 I always thought ketchup was overrated and complicated to make. And unfortunately, most of the brands are laden with refined sugar – mostly High Fructose Corn Syrup. As I try to serve real food without refined sugar to my family, I find most store bought ketchup to be too sweet.
Recently, I ran out of organic ketchup we love that does not have HFCS. And since we were about to sit down for dinner, I had no choice but try to recreate that ketchup. I read the ingredients on the almost empty bottle and recreated the flavors quickly for dinner.
Since then, I made it a few times until I came up with this version, which, I think, came out very close to that brand. Actually, I think it is even better since I use honey instead of cane sugar. Also, there are no hidden 'natural spices' but only a few common spices that I know everyone has in their cupboards.
I think you'll also agree this recipe is better than any store bought brands you've tried.
Easy Homemade Ketchup
See how beautiful and velvety this ketchup looks?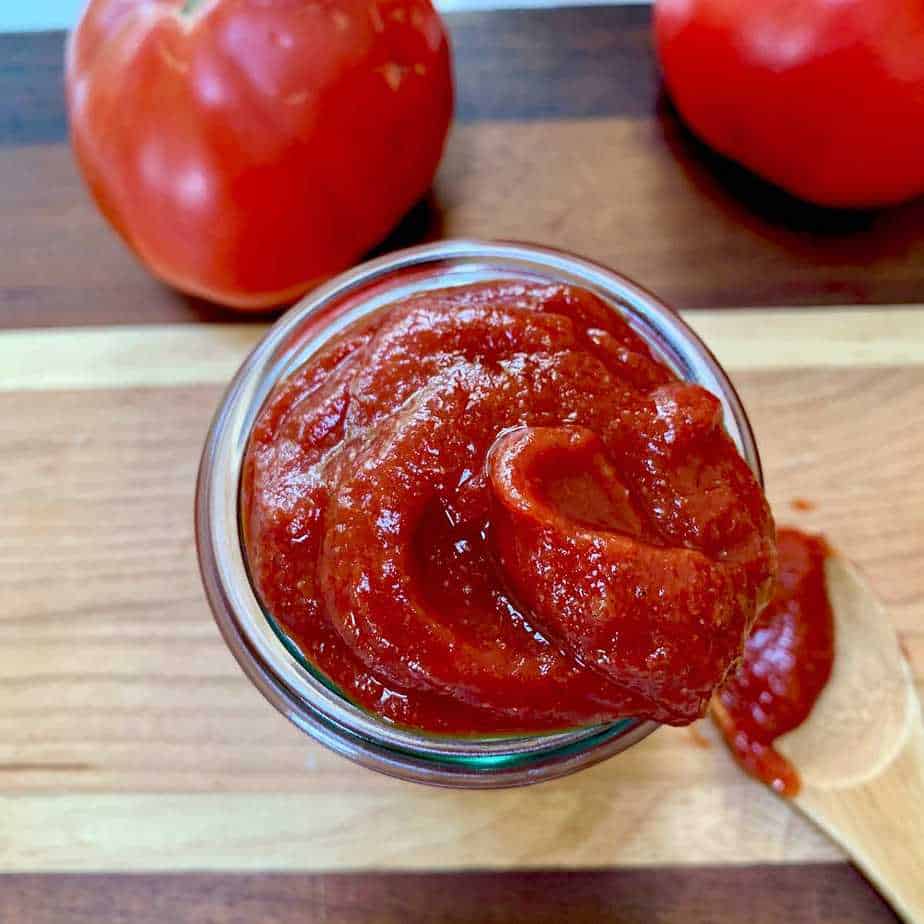 Homemade ketchup is so easy and quick to make and your family wouldn't be able to tell the difference between a name brand and this homemade version.
Serve it with sandwiches, burgers, fries, and use it to make shrimp cocktail sauces.
Once you make this homemade version, you'll never want to buy from stores again! Besides, you'll never run out ketchup since you can make it at home!
Other condiments you may want to make at home:
Did you try this recipe? We would love your feedback!
Click on the stars on the recipe card below.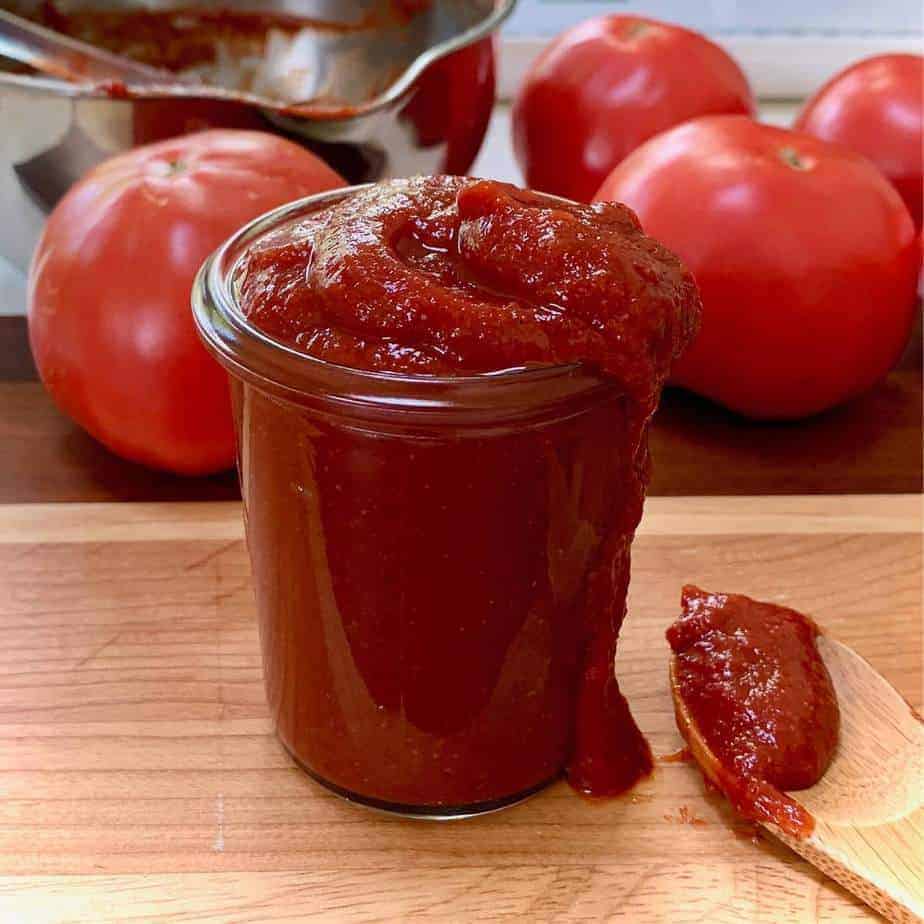 Easy Homemade Ketchup
Easy Homemade Ketchup is easy and quick to make and you can control what goes in it!
Print Recipe
Pin Recipe
Ingredients
6

oz can

tomato paste

1/2`

c

filtered water

or more

2

tbsp

honey

or more

2

tbsp

apple cider vinegar

1

tsp

onion powder

1

tsp

garlic powder

1/2

tsp

ground all spice

1/2

tsp

ground black pepper

1/2

tsp

sea salt
Instructions
Combine all the ingredients in a small saucepan over medium heat and whisk until it's well incorporated.

When it boils, lower the heat to simmer for 5 minutes while stirring.

Ketchup will splatter so be careful since it will be hot.

Remove the saucepan from the heat, cover until cool.

Transfer the ketchup in a glass bottle and refrigerate for up to 2 weeks.
Notes
Consistency - if you prefer thinner ketchup, you can add more water until you reach the consistency you like. 
Sweetness - use more honey if you prefer sweeter ketchup. 
Storage - since there are no preservatives in homemade ketchup, it will be good for only 2 weeks in the refrigerator. I like to make small batches at a time for freshness.