Easy homemade ketchup is made with honey, apple cider vinegar, tomato paste, and the best spices - get the recipe and make your own!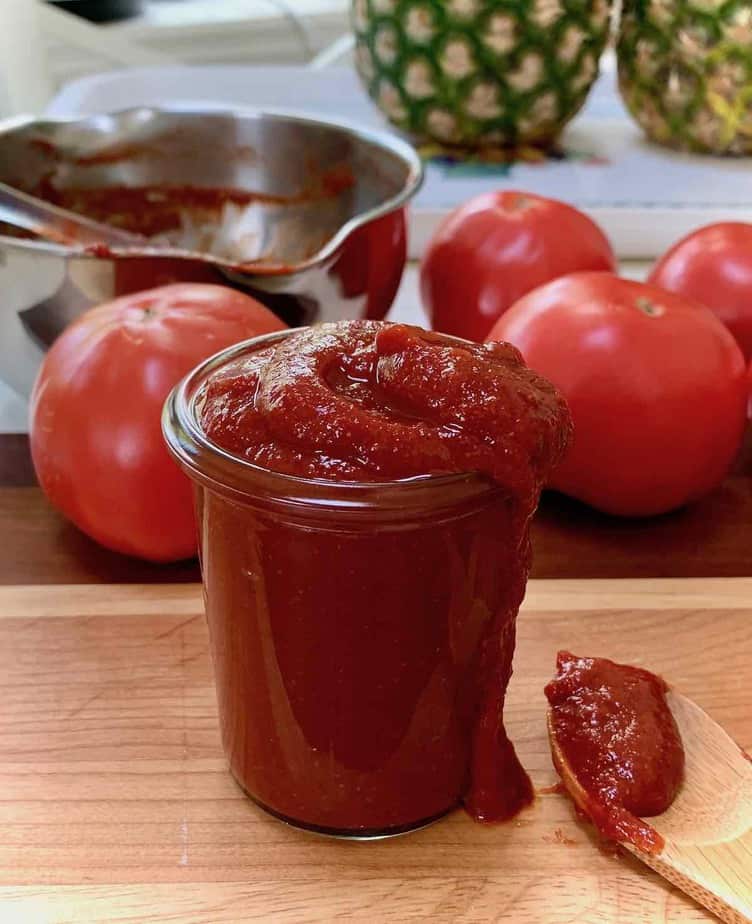 Easy Homemade Ketchup
This recipe tastes just like store-bought ketchup your family loves but without the refined sugar or high fructose corn syrup. It is one of the easiest condiments to make at home and you can control what goes in it.
Jump to:
Intro
Why Homemade Ketchup Is Better Than Store-Bought
I always thought ketchup was overrated and complicated to make. And unfortunately, most of the brands are laden with refined sugar - mostly High Fructose Corn Syrup. As I try to serve real food without refined sugar to my family, I find most store-bought ketchup to be too sweet.
Recently, I ran out of organic ketchup we love that does not have HFCS. And since we were about to sit down for dinner, I had no choice but try to recreate that ketchup. I read the ingredients on the almost empty bottle and recreated the flavors quickly for dinner.
Since then, I made it a few times until I came up with this version, which, I think, came out very close to that brand. Actually, I think it is even better since I use honey instead of cane sugar. Also, there are no hidden 'natural spices' but only a few common spices that I know everyone has in their cupboards.
I think you'll also agree this recipe is better than any store-bought brands you've tried.
Can't Tell The Difference
Homemade ketchup is so easy and quick to make and your family wouldn't be able to tell the difference between a name brand and this homemade version.
What To Serve It With
Serve it with sandwiches, burgers, fries, and use it to make shrimp cocktail sauces.
Once you make this homemade version, you'll never want to buy from stores again! Besides, you'll never run out ketchup since you can make it at home!
Ingredients
Tomato Paste:
I used just one small (6-ounce) can of tomato paste. Organic tomato paste is best and doesn't cost much more than the other kind.
Honey:
If you can find it, use local honey. It is better for your body and helps build up an immunity against local allergens.
Manuka honey is one of the healthiest types of raw honey that you can buy. It has really strong antimicrobial properties.
The least amount of processing that you can buy, the better for your body. Look for raw honey of any type.
Apple Cider Vinegar:
Any type of apple cider vinegar will work for this recipe. Unfiltered will still have bits of "mother" in it. If you are going to use unfiltered apple cider vinegar, strain it before you mix it into your ketchup.
Spices:
Matching the spices took a little bit of work, but I found the combination that tasted the best! I used:
Onion Powder
Garlic Powder
Allspice
Salt
Pepper
If you want your ketchup to have a little kick, you can sprinkle in a few red pepper flakes.
FAQ
How do you make a low-carb version?
Since my recipe has honey in it, it's not keto-friendly or low-carb. Instead of honey, use a sugar-free sweetener like erythritol or monk fruit sweetener.
How do you store the ketchup?
Store the homemade ketchup in a small mason jar with a lid and keep it in the refrigerator. Since there aren't any preservatives in it, this will only last about 2 weeks. Make small batches to avoid food waste.
How do I make my homemade ketchup thinner?
If you think the recipe makes the ketchup too thick, add just a touch more water. Add just a little bit of water at a time until it is the consistency that you like.
Related recipes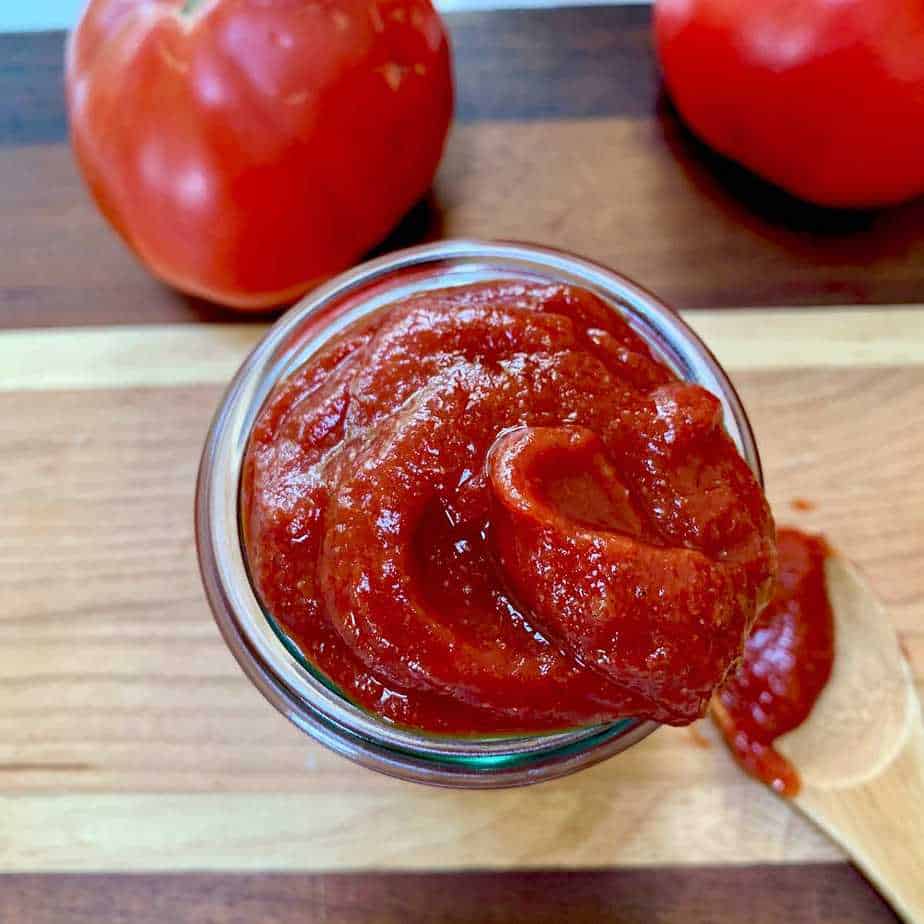 ⭐️ Have you tried this recipe? If you love this recipe, give it "5 star" ⭐️⭐️⭐️⭐️⭐️ rating on the recipe card! We appreciate your feedback!
Easy Homemade Ketchup
Recipe
Recipe
Did you try this recipe? We would love your feedback!
Click on the stars on the recipe card below.
Easy Homemade Ketchup
Easy Homemade Ketchup is easy and quick to make and you can control what goes in it!
Ingredients
6

oz can

tomato paste

½`

c

filtered water

or more

2

tablespoon

honey

or more

2

tablespoon

apple cider vinegar

1

teaspoon

onion powder

1

teaspoon

garlic powder

½

teaspoon

ground all spice

½

teaspoon

ground black pepper

½

teaspoon

sea salt
Instructions
Combine all the ingredients in a small saucepan over medium heat and whisk until it's well incorporated.

When it boils, lower the heat to simmer for 5 minutes while stirring.

Ketchup will splatter so be careful since it will be hot.

Remove the saucepan from the heat, cover until cool.

Transfer the ketchup in a glass bottle and refrigerate for up to 2 weeks.
Notes
Consistency - if you prefer thinner ketchup, you can add more water until you reach the consistency you like. 
Sweetness - use more honey if you prefer sweeter ketchup. 
Storage - since there are no preservatives in homemade ketchup, it will be good for only 2 weeks in the refrigerator. I like to make small batches at a time for freshness. 
Nutrition
Serving:
1
tablespoon
|
Calories:
99.2
kcal
|
Carbohydrates:
23.3
g
|
Protein:
4.5
g
|
Fat:
0.5
g
|
Saturated Fat:
0.1
g
|
Sodium:
923.4
mg
|
Potassium:
1037.9
mg
|
Fiber:
4.3
g
|
Sugar:
15.9
g
|
Vitamin A:
1555.5
IU
|
Vitamin C:
22.3
mg
|
Calcium:
36.7
mg
|
Iron:
3
mg
Disclosure
This recipe may contain links that pay commission to this site when you purchase from the links, at no extra cost to you. Full disclosure!
➡️ Subscribe to our YouTube Channel for more recipes and tips. And follow @drkarensle on Pinterest, Facebook, Instagram and say "Hello!" 👋
💌 I would love to receive more posts like these in my inbox! SIGN ME UP for FREE newsletters!