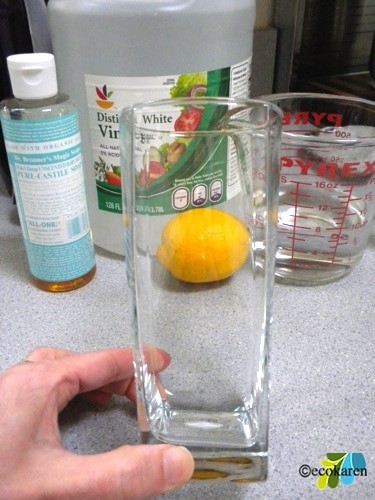 OK, the party is over. This middle-aged, pampered, prima donna has to get back to doing the dishes after celebrating her 50th birthday.
And after my hubby finished cooking - yes, he grilled this awesome Asian Citrus Salmon on my birthday and even brought home a Strawberry Shortcake! Emily was sick as a dog to bake me her fabulous version but that's ok.  And he even did the dishes! Bless his heart.
And, as life doesn't disappoint, we ran out of the dishwasher detergent.
So instead of buying a new one, I wanted to check to see if my castile soap can be used as a dishwasher detergent. I bought a bottle to make various types of cleansers - remember the Natural Soft Scrub I made? Dr Bronner's Castile Soap has NOTHING but certified organic vegetable oils. So even if there's a little bit of residue left on my dishes, I wouldn't ingest artificially harmful chemicals so I know it's safe. Besides, it's biodegradable so it won't harm the water system.
These were the same reasons why I used plant derived dishwashing detergents anyway but I wanted to see if I can use this magic soap since it would be cheaper. And being that Dr. Bonner's soap is for washing and not made specifically for dishwashers, I wasn't sure if it'd be too sudsy for the dishwasher. So I checked for the recipe and "Bingo!" You sure can use it in the dishwasher! Yesss!
I decided to skip a few ingredients and go to the hardcore version - I wasn't about to buy a new set of essential oil, yet.
The difference between soap and detergent
But before I tell you the recipe, here is some basics about the difference between soap and detergent.
Detergent is " synthetic. Simple. Some detergents are very toxic to fish and wildlife. Detergent are better for hard water since it react less to minerals in the water.
Soap is naturally derived and is safe for the environment. The drawback of using soap is it reacts with minerals in water, and depending on whether you have hard water or soft water, it may leave an insoluble film on dishes.
Dishwasher VS. Handwashing
You may wonder if it's more eco-friendly to wash dishes by using the dishwasher. I have great news for you divas.
YES, it is!
According to Treehugger;
...thanks to a scientific study at the University of Bonn in Germany, you can have your cake and eat it too-relaxed in the knowledge that the cleaning up with your trusted machine will be a piece of cake and the eco-friendly thing to do...The Bonn study proves that the dishwasher uses only half the energy and one-sixth of the water, less soap too. Even the most sparing and careful washers could not beat the modern dishwasher. The study also rated the cleanliness achieved, again in favor of the washing machine...
Booyah! and Yesssss!
Of course, you wouldn't want to run a dishwasher if it's not full but rest be assured that if you are washing the same number of dishes, it's better to wash in a dishwasher. But I do wash small items and dishes that can't be washed in a dishwasher in a big pot that needs to be washed or in a dishpan. I dont' let the water run and I don't use soap for each dish.
Oh, but before your do your next wash with this detergent recipe, check this article on how to use your dishwasher - Yes, there is a right and a wrong way to use your dishwasher. What's not on the list, though, is skipping the dry cycle, which uses a ton of energy. Just open the dishwasher door when the wash is done, and air dry. The hot water will evaporate and dry very quickly - you don't need to use the dry cycle.
Now, this is a simple recipe for dishwasher detergent soap.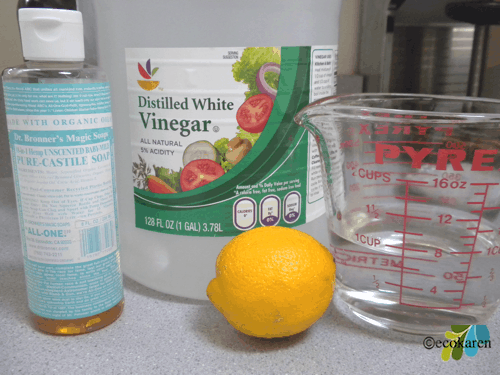 Non-Toxic and Cheap Dishwasher Detergent
Ingredients:
1 8 oz Bottle of Castile Soap - the fragrance of your choice. Almond or Citrus is the best option for the kitchen.
1 C Water
2 teaspoon Lemon Juice or more if  you'd like but totally optional. Personally, I didn't smell any lemon when the dishes were done but  I saw this tip somewhere so I'd try it this time.
1 Qt. Size Glass Jar with lid
IMPORTANT::: > ESPECIALLY if you you have hard water, use about 1 ½ C to 1 C of White Vinegar in the second detergent compartment (mine opens after the first washing cycle)
Direction:
Mix the ingredients in a jar, close the lid and shake gently.
That's it!
How to use castile dishwasher detergent
There are some recipes on the web, telling you to add vinegar to Castile soap. Even baking soda.
But let me tell you why that's a bad idea. Castile soap is basic. Vinegar is acidic. When you add them together, at the same time, you'll neutralize the soap and you can visibly see clumping in your soap. That means, the two compounds are reacting and the soap will lose the cleaning property. Yes, that might depend on the pH level of both but with most castile soaps, and most household white vinegar, they will neutralize when they meet.
So, DO NOT mix vinegar and soap together. Don't ever say I never warned you. 🙂
Fill OPEN compartment with 1 tablespoon of the castile soap mixture made above.
Fill CLOSED compartment with about 1 to 1 ½ Cup of white vinegar. You can use MORE vinegar if your water is hard. I found that I needed a little more vinegar so I put vinegar in the "Rinse Aid" compartment as well.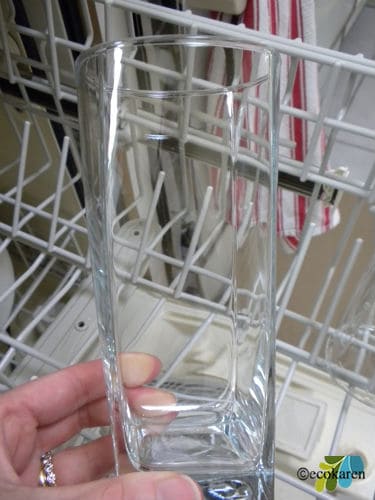 One thing I found is that if I let food dry up on dishes before running the dishwasher, they do not get cleaned very well since I don't pre-rinse. That sounds like a common sense, no? But I don't know if my commercial detergents worked better at cleaning dried up food or not since I never really checked as thoroughly before. But with usual washes, I am really satisfied with this recipe and I don't have to sorry about toxicity on dishes.
FOR HARDWATER - If you find that your dishes are coming out cloudy after a cycle, add 1 CUP of vinegar in the machine - just pour straight into the bottom of the machine - and run a rinse cycle once. Air dry afterwards.
And here is how to make dishwashing liquid soap for washing dishes by hand....for pots and pans, and other little (and big) things that can't go in the dishwasher.