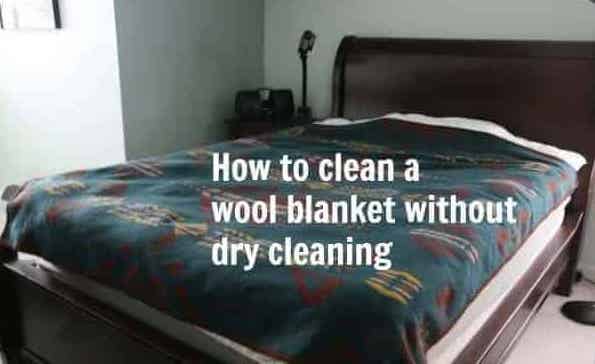 Practically Green states that "most common chemical used, perchloroethylene aka perc, is dangerous. The EPA says perc causes cancer in lab animals, and is a likely human carcinogen that impacts brain, liver, and kidney function. It's no good for the environment, either. Yet 85 percent of U.S. dry cleaners use perc (there are an estimated 35,000 of them)." And according to Washington Post, Perc remains in dry cleaned clothes! Yikes!
So why not use "Green Dry Cleaners" then? While they might be less toxic, the chemicals they use is still derived from petrochemicals and are still not that safe.
Do you know what's the safest method then? And cheaper? "Wet" cleaning. Really. In fact, I've been hand washing "Dry Clean" only linens and silks and line drying them for years.
But I admit; I used to send heavy Pendleton wool blankets to be dry cleaned because I was afraid that they will shrink if I washed them in water. Well, it turns out, I was wrong.
I washed my Pendleton wool blankets in cold water a month of ago and they came out perfect!
I used my non-toxic detergent mixture to wash and rinse the blanket in "COLD" water and GENTLE CYCLE. Then, I used extra rinse to make sure all the soap was rinsed out. Then, I tumble dried it under "Air Dry" setting for about 20 minutes. "Air Dry" setting has no heat but it just tumbles the blanket to give them a good shake to get all the wrinkles out. I took out the blanket, and draped it over two dining room chairs, like a tent. I let it dry over night in the living room. I don't know if line drying it outside would be a good idea since I don't know what the direct sunlight would do.
Anyway, washing it and drying it this way made the blanket come out as if it was "dry" cleaned! No wrinkles. No shrinkage. AND best part? NO CHEMICALS!! And for once, they felt cleaned! Just make sure you don't do this TOO often as wool might get 'felted' and shrink if you wash it too often. I'd wash it once every two years for normal usage.
Have you washed "Dry Clean Only" items before? What have you washed and how did they come out?
*I take no responsibility in how your wool blanket would come out since every wool is different. Yes, this is a disclaimer. 🙂