Goddess Garden Organics did it again!
Their safe sunscreens were rated as #1 in Environment Working Group's 2015 Sun Safe Campaign again!
Goddess Garden Safe Sunscreens Rated High by EWG's Sun Safe Guide!
It's hard to find safe sunscreens that are effective and does not leave your skin sticky or white and pasty. But I discovered Goddess Garden Organics last year when I wrote THIS about my sun damaged skin. And since then, putting on sunscreen has been part of my morning routine.
One Year Later….
Curious how my skin looks since I've been using Goddess Garden sunscreen for a year? This is how I looked before using Goddess Garden sunscreen daily.
Not pretty, right? And remember I had to go to a Dermatologist to remove all the damaged spots?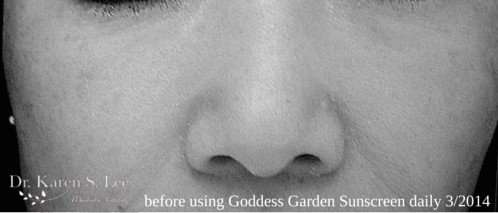 This is how I look TODAY,  a year after!
No new sun spots after the damaged ones were removed. And this is after using sunscreen DAILY! Even in the winter.
But I'm glad I'm not the only one who loves Goddess Garden. Here is a guest post by Healthy Green Flamingo who discovered Goddess Garden Organics safe sunscreens this year and wrote what she thought of them. Read on…
Even though I'm not a huge fan of sun bathing, my lifestyle requires that I spend A LOT of time in the sun between the months of May and September. As a competitive beach volleyball player, I spend almost every weekend and some week nights volleying it up with my partner in the sand. Up until now, I haven't found a sunscreen that has been able to meet all of my expectations.
Hi, my name is Karen and I'm a total sunscreen snob.
While it's true that conventional products do a decent job at protecting me from turning into a lobster, I almost always: get red bumps on my face, smell like sunscreen for days, and am unable to completely wash away the sunscreen residue from my summer clothes. Plus, the toxicity of a conventional sunscreen just doesn't sit right with me. It's extremely toxic stuff, you guys. And when you apply it as much as I do for my pale, white, Irish/English/German skin, that's a pretty hefty dose of toxic chemicals throughout the course of the summer.
Recently, I gave Green Goddess products a try and was pretty impressed by the products that I tried. The three products I tried included: Everyday Continuous Spray, Everyday Trigger Spray, and Sport Lotion.  
Click HERE to find out the details of my reasons why I was impressed with Goddess Garden Organics sunscreens:
You can also receive 20% off of any Goddess Garden products by using the discount code "sunsafegoddess" at checkout. Discount is only valid until July 31!
My feelings are exactly like Karen's. I love Goddess Garden's sheer sunscreens that go on smooth and doesn't leave my skin sticky. I tried this year's formula and I have to say it's even better than last year's. And I love the new packaging and the look too!
So check out their products and get 20% off! Your skin deserves protection against damaging UV rays.
Wanna check out what Green Sisterhood's Network bloggers are saying about Goddess Garden? Check their reviews here.