Cook steak perfectly using this foolproof method from Anya Fernald, a co-founder of Belcampo Meat Co. and a cookbook author of Home Cooked.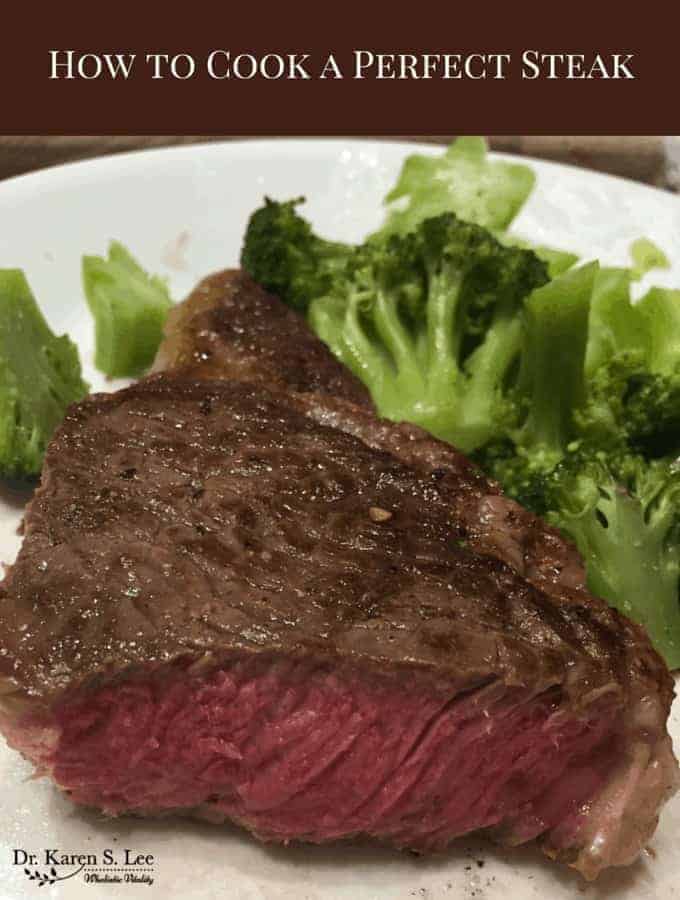 The Perfect Steak
One of my husband's favorite foods is steak. He can have a steak any day if you ask him what he wants for dinner. And truth be told, I also think there is nothing like a rib-eye steak perfectly cooked on a cast iron pan or a grill.
I don't crave it as often as he does but it is tasty if done right. But I admit, I didn't exactly know how to cook a perfect steak that was foolproof. Steaks would come out perfect sometimes and other times, so-so. We were already eating grass-fed and finished beef so I knew it wasn't the quality of the meat but I wondered it was the cut or where the meat came from.
Well, I found out, after reading Anya Fernald's cookbook, "Home Cooked," my inconsistent steak results were due to my cooking method. You see, Anya Hernald knows a thing or two about meat because she co-owns Belcampo Co., a grass-fed and finish meat ranch company in CA.
Disclaimer: I received a copy of "Home Cooked" because I wanted to review it. My opinions are my own.
Jump to:
Intro
Meet Author Anya Fernald of Belcampo
Before I share the details about how to cook the perfect steak, I need to you to Anya Fernald. I used her tips - so you've got to learn a bit more about her.
Anya Fernald's connection to food started when she was young. Fernald knew even when she was in college, her career would involve food. So after graduation, she received a fellowship to spend a year working in cheese dairies in southern Europe and northern Africa. While she traveled, she learned to eat. A lot of what she cooks now come from what she learned from watching farmers eat simple food in their homes so when she wrote Home Cooked, her knowledge and style of cooking reflected her early days in Europe.
When she moved back to the U.S., she became involved with various food related organizations and eventually co-founded Belcampo to raise healthy, happy animals that are grass fed and finished to be sold in their butcher shops and restaurants. The farm raises animals in open land with ethical and sustainable practices. The animals are fed with food grown in rich soil and are processed and sold in their stores, restaurants, and resorts in CA. You can read more about their practices here.
I like Fernald's latest cookbook because she not only illustrates her philosophy of using fresh ingredients but she uses all the parts of an animal - nose to tail - in her recipes. She allows you to respect all of the animal through her recipes. Ironically, the cookbook has a lot of non-meat recipes but I do love her knowledge on meat. She offers a lot of info about animals for food, which makes you appreciate what you're eating.
Now, finally, her directions on how to cook a perfect steak.
How to Cook a Perfect Steak
Rib eye or NY Strip is what she recommends for a great steak but, personally, rib eye beats any cut of meat for a great steak, hands down. You can't get this beautiful marbled fat on other cuts. And I think the fat makes the meat really tender and the taste can't be beat.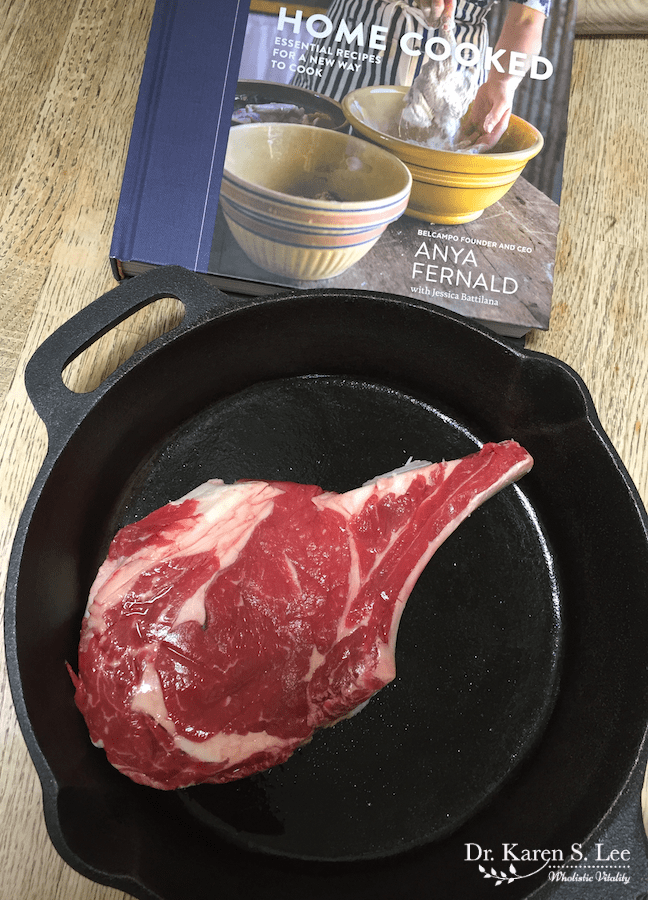 After you cook both sides, she recommends searing the edges for total of 2 minutes. Use long tongs for searing meat on a hot cast iron pan so you don't burn yourself. Don't ask me how I know this.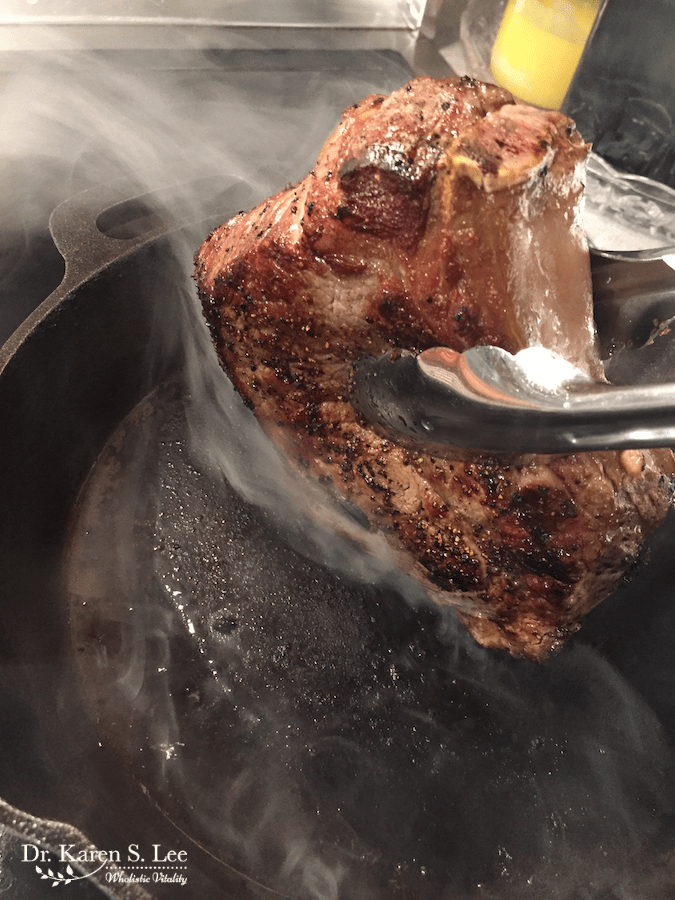 We like our meat, medium rare. You may feel uncomfortable with such pink/raw inside but with grass fed meats, there is less chance of E. Coli compared to grain fed. But still, if you want the steak to be medium, cook 1 minute more on each side. Fernald recommends doubling the times but I think that's too long. You meat will be well done if you do and in my opinion, you might as well eat a beef jerky if you like leathery meat.
Check out the step by step instructions in the printable recipe card below. I hope you'll get a chance to cook a perfect steak soon!
FAQ
What is the best steak to make at home?
Rib-eye is always the best cut of meat to make at home. It has the perfect amount of fat and always turns out tender and juicy.
How do you sear the edges of the steak safely?
Always use metal tongs to grab the meat and hold it on the pan as you sear the edges. The longer the tongs, the better. Hold the meat on the pan for about 2 minutes on each edge.
Is it safe to eat medium-rare steak?
Eating medium-rare steak with a pink middle is completely safe. It's even safer when you eat grass-fed beef because the chance of E.coli is lower.
How do you cook a steak medium or well-done?
If you want your steak to be really well cooked - without very much pink - just follow my recipe and cook it for about 1 more minute on each side.
I don't have a cast iron pan. What other pans can I use?
You can use any heavy bottom stainless steel pan to yield a similar result. The heavy bottom pans or skillets retain and evenly distributes heat much better than thinner pans.
Related recipes
⭐️ Have you tried this recipe? If you love this recipe, give it "5 star" ⭐️⭐️⭐️⭐️⭐️ rating on the recipe card! We appreciate your feedback!
Recipe
Recipe
Did you try this recipe? We would love your feedback!
Click on the stars on the recipe card below.
How to Cook a Perfect Steak
This is a hands down, tried and true method for making perfect steak from a rancher who know about cooking steaks. Check out this fail-proof method if you want to have a perfect steak every time.
Ingredients
1

lb

Bone-In-Ribeye Steak

1 ½ inches thick

⅛

c

Kosher salt or coarse sea salt

Black pepper

as needed
Instructions
Take out the steaks in the morning and rub with salt.

Leave the steak at room temperature for at least 3 hours or more. (If the room temperature is more than 70 degrees, don't leave the steak out all day but just a few hours.)

If you are unable to get the steak salted and to room temperature the slow way, put it in a plastic ziplock bag and run warm water over the meat for 15 minutes, then, salt it.

Put the cast-iron pan on the hottest burner and let it sit on the heat for at least 3 minutes and up to 5 minutes until it's screaming hot.

When the pan is hot, add the steak and sear for 2 minutes, 1 minute on each side, and - holding the steak upright with your tongs - spend about 2 minutes more searing all of the edges of the steak: the fat cap, the bone, and any red exposed flesh on the sides of the steak.

From this point on, I tweaked the original recipe a little.

Then turn the heat off under the pan and let your steak rest in the pan for another minute on each side.

Then, add grass fed butter, like Kerrygold, on top of the steak, and cover with aluminum foil and let it rest for 8 minutes.

Serve immediately.
Notes
Anya Fernald says to put the steak on the cutting board and, invert the cast-iron pan over the steaks, and let rest for 10 minutes. But I don't want to invert a greasy hot cast iron pan on my cutting board so I just let the steaks rest on the cast-iron pan for 8 minutes.
Nutrition
Calories:
471
kcal
|
Protein:
45
g
|
Fat:
32
g
|
Saturated Fat:
14
g
|
Cholesterol:
138
mg
|
Sodium:
117
mg
|
Potassium:
607
mg
|
Vitamin A:
35
IU
|
Calcium:
16
mg
|
Iron:
3.9
mg
Disclosure
This recipe may contain links that pay commission to this site when you purchase from the links, at no extra cost to you. Full disclosure!
➡️ Subscribe to our YouTube Channel for more recipes and tips. And follow @drkarensle on Pinterest, Facebook, Instagram and say "Hello!" 👋
💌 I would love to receive more posts like these in my inbox! SIGN ME UP for FREE newsletters!