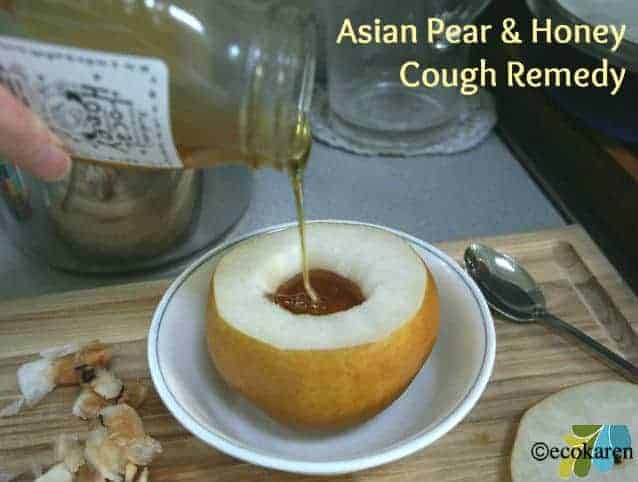 When the flu season hits, I take all the precautions I possibly can, in order NOT to get KO'd from the flu including this ancient Korean secret –  Asian Pear & Honey Cough Remedy.
This remedy is the go-to remedy that my grandmother, aunts, and mother used – and still use – for a hacking cough. Hope you won't need this but if you do, make sure to finish it within a day. Freshness is the key.
Ingredients Notes:
Asian Pear – what is so great about Asian Pears for a cough remedy? They are low in fat, cholesterol, and sodium – almost zero – but high in Vitamin C and K which are great for helping your immune system.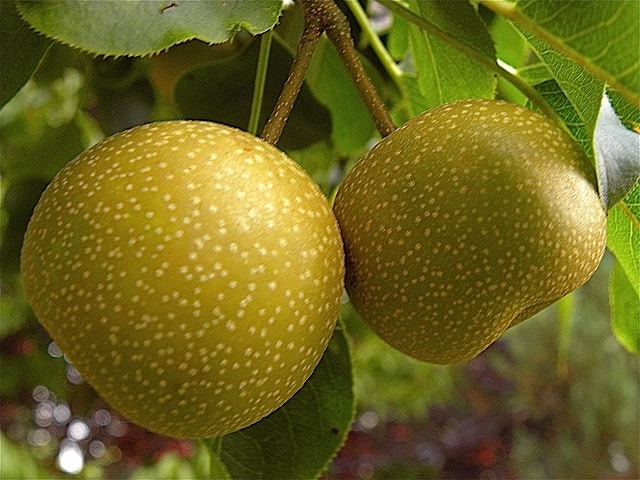 First Image: CC image of Asian Pears via Flickr
Asian Pear and Honey Cough Remedy
Ingredients
Large Asian Pear
High quality pure organic honey
3-5 Pieces of Sliced Ginger
Heat resistant bowl big enough to fit the pear
Steamer
Large pot big enough to fit the steamer
Water
Directions
Wash the pear well with fruit wash or white vinegar. Rinse thoroughly. Take the stem off if it's still intact.
1. Cut the bottom of the pear so it can fit inside the bowl flat. 2. Cut the top of the pear and make lid. Core out the middle. 3. Insert ginger slices.
1. (oops. mis-labled these images) Pour honey on top of the ginger slices to fill to the top. 2. Cover the lid. 3. Cover the hole where the stem was with a ginger slice.
1. Place the bowl, on top of the steamer, and steam until pear is soft. If the fruit is large, it may take up to 20 minutes in high heat. Check periodically to make sure there is water in the pot. 2. When the pear is done, you'll see the skin crack, as shown. Gently peel the skin. 3. Now you are ready to eat the fruit and drink the pear  juice with honey.
You can divide the pear into two servings and eat while it's warm. Save unused portion and steam it again before eating.
While this pear will soothe your throat and reduce your coughing, it will not cure  your flu. If coughing persists, see a doctor. Promise?