30 Paleo Summer BBQ Recipe makes summer cooking so much easier!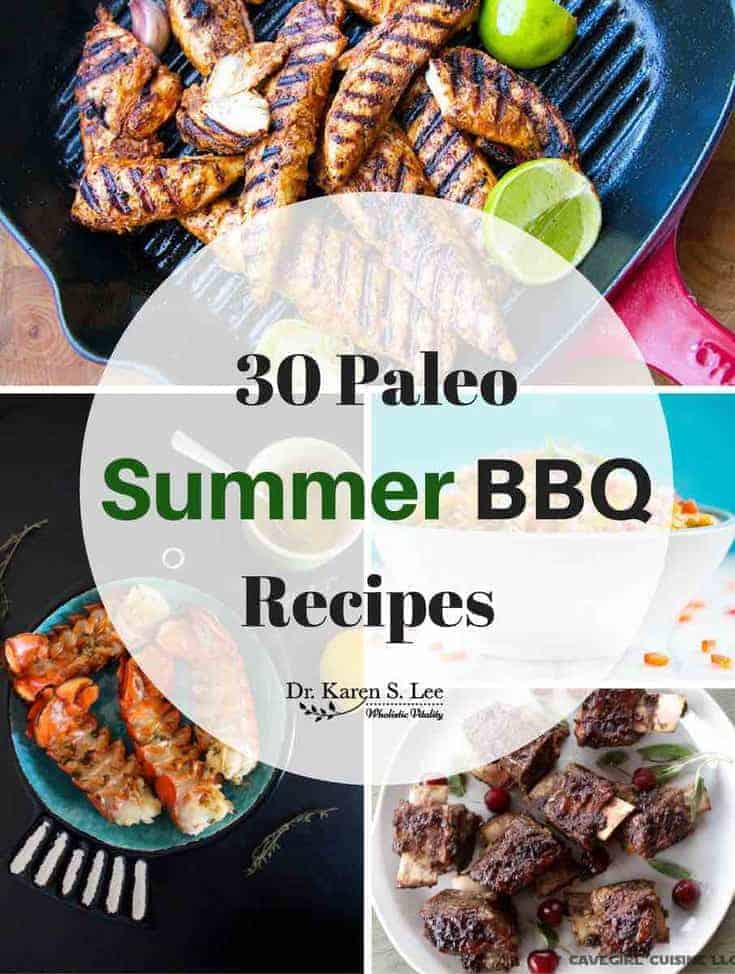 Summer is my favorite season for cooking. No sweating bullets wrestling with the stove top or the oven! I recruit my family to grill while I prep in the kitchen and half the work is done by someone else other than me! As long as I can plan ahead and marinade the food (and some don't even need advance prep!), there's minimal time spent on actual cooking in the kitchen. It's a wonderful time of the year for this chef. But did you know there are safe ways to grill since charred food can be carcinogenic? It's imperative that you marinade the meat and don't burn it. Read more about safe grilling here. And my favorite BBQ recipe, Korean BBQ Kalbi!
And to get your summer sizzling hot with delicious easy food, here are 30 Paleo Summer BBQ Recipes so you can spend less time in the kitchen too!
30 Paleo Summer BBQ Recipes
1.] Delicious Bacon & Bone Broth BBQ Sauce [Real Food RN]
2.] Easy Homemade Ketchup [Whole New Mom]
3.] Caramelized Pineapple Salsa [Get Inspired Everyday]
4.] Strawberry Turkey Burgers [The Castaway Kitchen]
5.] Strawberry Spritzer [A Girl Worth Saving]
6.] Homemade Refrigerator Pickles [Recipes to Nourish]
7.] Creamy Paleo Coleslaw [Grass Fed Girl]
8.] Fabulous Fennel Salad [Studio Botanical]
9.]  Strawberry, Bacon, Chicken Salad [Everyday Full]
10.] Paleo Oven Baked Ribs [Jay's Baking Me Crazy]
11.] Cherry BBQ Short Ribs [Cavegirl Cuisine]
12.] Argentinian Beef Kabobs with Chimichurri Sauce [The Organic Kitchen]
13.] Chipotle BBQ Wings with Avocado Cream [The Foraged Dish]
14.] Chicken and Bacon Skewers [A Calculated Whisk]
15.] Indonesian Chicken Skewers with Peanut Sauce [Rubies and Radishes]


16.] Grilled Chicken with Pineapple Salsa [The Nourished Home]
17.] Spicy Paprika & Lime Chicken [Eat Drink Paleo]
18.] Spicy Grilled Italian Chicken [Paleo Leap]
19.] Paleo Grilled Greek Lemon Chicken [Recipe This]
20.] My Favorite Paleo Pork Burgers [Pure and Simple Nourishment]
21.] Stuffed Cheddar Beef Burgers [Delicious Obsessions]
22.] Zinger Apple Burgers [Flabs to Fitness]
23.] Vietnamese Restaurant Style Grilled Lemongrass Pork [I Heart Umami]
24.] Grilled Cumin Crusted Lamb Chops [Paleo Flourish]
25.] Lamb Tarragon and Mint Koftas [Comfort Bites]
26.] Lemon Butter Grilled Lobster Tails [What Great Grandma Ate]
27.] Gorgeous Grilled Peaches [Studio Botanica]
28.] Kombucha Popsicles [Healy Eats Real]
29.] Green Tea Ice Cream [Dr. Karen Lee]
30.] Blueberry Lemon Tart [Zenbelly]
Finally, here are some of my favorite grilling tools. (Amazon Affiliate Links)