Fall is such a lovely time of year marked by an abundant harvest of fruits and vegetables given to us by Mother Nature. We pick this bounty with the greatest love, respect, and care and use them to make a wide variety of seasonal meals and to preserve them by canning them into jellies, relishes, and sauces. In addition, many families enjoy fall festivities like visiting pumpkin patches, going on hay rides and corn mazes.
And if you are like most families, you'll come home with more pumpkins than you don't know what to do with! Sure, you'll carve a few for Halloween and let your creativity shine through with different shapes and designs. Then, on Halloween, one night of the year, adults and children alike get dressed up in costumes for a night of candy, carnivals, and fun. But as the sun rises on the next day, the festivities have passed and you are left with an abundance of pumpkins. Now, while this may be overwhelming to some, anyone who loves to cook as much as I do would see it as a blessing.
Not a pumpkin eater but prefer squash instead? I got you covered. You can try my Stuffed Acorn Squash or Butternut Squash Soup or Stuffed Artichokes with Squash.
For the rest of you pumpkin lovers, here is a list of some delicious gluten free recipes from real food bloggers that will help you celebrate the harvest season.
30 Gluten Free Pumpkin Recipes
1.] Pumpkin Pie Smoothie - Mary Vance NC
2.] Herbal Pumpkin Mocha - Delicious Obsessions
3.] Maple Pumpkin Spiced Popcorn -The Organic Kitchen
4.] Roasted (Soaked and Sprouted) Pumpkin Seeds Three Ways - This is So Good!
5.] Pumpkin Bagels - Beauty and the Foodie
6.] Cavegirl Pumpkin Paleo Cereal - Cavegirl Cuisine
7.] Pumpkin Cinnamon Roll Oatmeal - Fresh Planet Flavor
8.] Paleo Cauliflower & Pumpkin 'Dal' - Eat Drink Paleo
9.] Parsnip and Pumpkin Soup - A Calculated Wisk
10.] Cream of Pumpkin Soup - Oh Snap Let's Eat!
11.] Pumpkin Seafood Chowder - Fearless Eating
12.] Curried Pumpkin and Apple with Raisins - The Primal Desire
13.] Paleo Baked Pumpkin Fries - The Things We'll Make
14.] Pumpkin Ravioli in Herbed Brown Butter - The Family That Heals Together
15.] Roasted Stuffed Pumpkin with Balsamic Beef - Comfort Bites
16.] Savory Pumpkin in Thai Red Coconut Curry - My Paleos
17.] Sweet Potato Pumpkin Chili -Real Food RN
18.] Stuffed Pumpkin - Raising Generation Nourished
19.] Pumpkin Pie Chia Pudding - The Natural Nuturer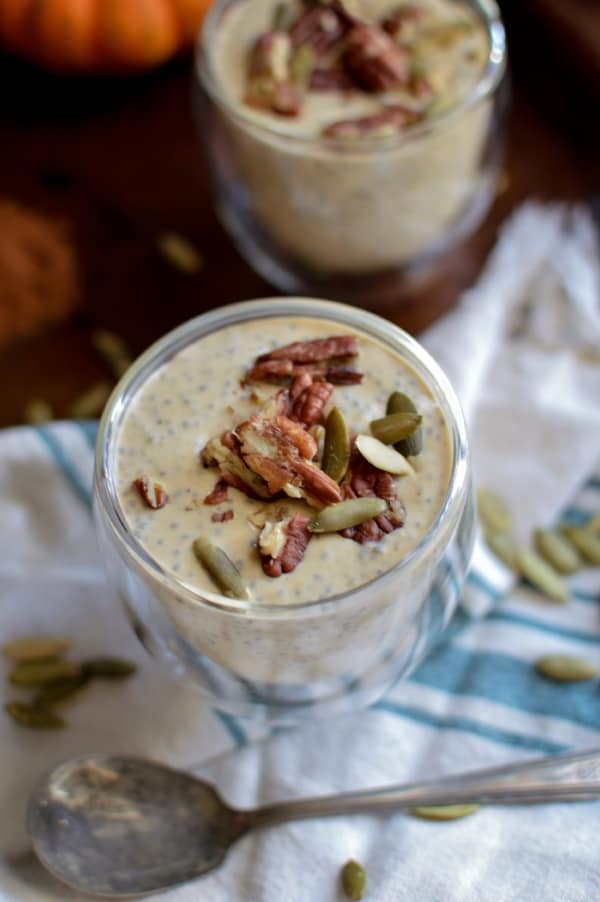 20.] Paleo Pumpkin Spice Cupcakes - Gusty By Nature
21.] Paleo Pumpkin Spice Poppers - Rubies & Radishes
22.] Pumpkin Pie Truffles -The Real Food RDs
23.] Grain Free Pumpkin Spice Bars - Life Made Full
24.] Paleo Pumpkin Cheesecake - A Girl Worth Saving
25.] Pumpkin Spice Ice Cream - Get Inspired Everyday
26.] Paleo Pumpkin Pudding - On Diet and Health
27.]Pumpkin Chocolate Chip Muffins - Back Porch Paleo
28.] Chipotle Roasted Pumpkin Seed Brittle - Nomageddon
29.] Coconut Flour Pumpkin Spice Mug Cake - Leelacious
30.] Paleo Pumpkin Coffee Cake - Jay's Baking Me Crazy
I hope all these recipes are part of all your fall celebrations and you enjoy them with friends and family every year!