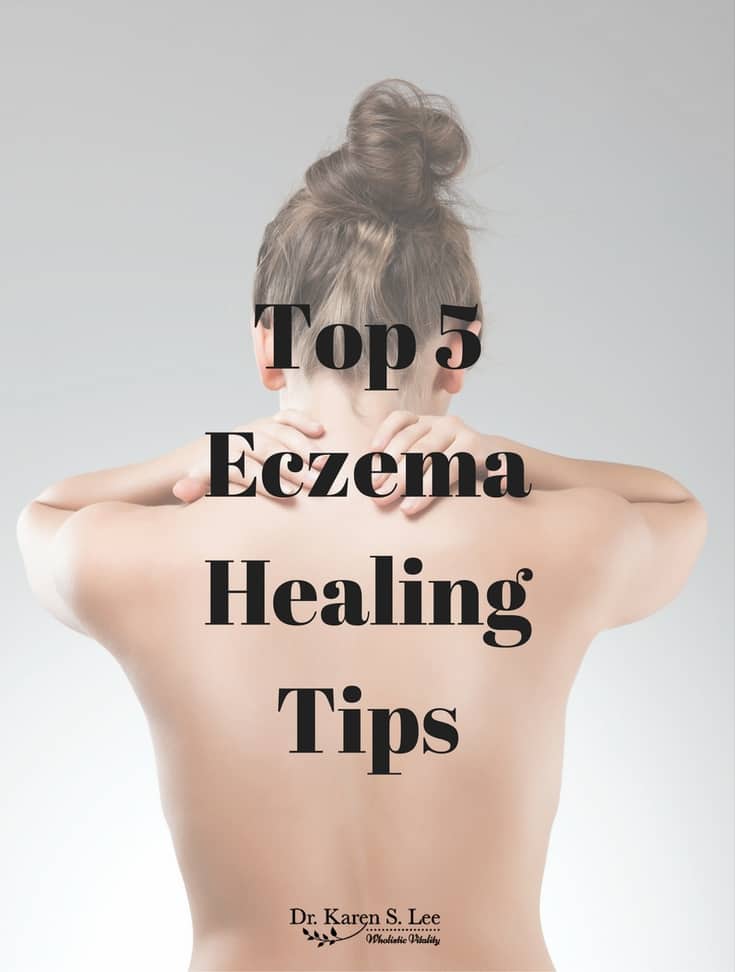 Disclaimer: There are affiliate links in this post. If you purchase using the links, your price is the same but the website makes a small commission. The opinions and reviews are independent of the commission. 
Eczema is an autoimmune disorder that exhibits symptoms on the skin, the largest organ in the body, with redness, dry, scaly rash and inflammation. Beauty might be only skin deep but if you have Eczema, it's not just about vanity. It can be due to more serious healthy issues.
The cause is not exactly known, but unfortunately, it can be genetic. Also, leaky gut has been connected to Eczema. In addition, a person who suffers from Eczema also has allergies and Asthma.
For some children, Eczema can start when they are toddlers, and they grow out of it when they are older. But for some, it comes back when they are teenagers and either disappear when they are adults or continue into adulthood.
The most common symptoms are:
Dryness
Scaly and itchy
Red and inflamed
Recurring rash
Rough spots
Toughened epidermis
Red and raw skin
Oozing
Crustiness
Swollen areas
Some of the terms that Eczema can be referred to are:
Atopic Dermatitis
Contact Dermatitis
Seborrheic Dermatitis
Dyshidrotic Eczema
What causes Eczema:
Leaky Gut
Stress
Food allergies (see the list below)
Environmental allergies to pollutants and chemicals in air and on products
Dust Mites - on bedding and carpet
Histamine Intolerance
Top 5 Eczema Healing Tips
1. Heal Leaky Gut - my children were on the Gut And Psychology Syndrom (GAPS) three years ago, and while they were only on the strict diet for less than a year, they benefitted a great deal from the diet. When they are not too busy with school, they will have to be back on it again. But for certain, the leaky gut is what caused their Eczema, and unless they heal their digestive systems, their autoimmunity will continue to cause their symptoms to flare up. Read more about how to heal leaky gut here.
2. Avoid Food Triggers - not everyone has the same food triggers, but these are the most common foods that trigger Eczema to flare up or exacerbated.
Dairy
Wheat
Eggs
Soy
Gluten
Sugar
Processed Foods
Artificial colors and dyes
Stone fruits or nuts for some people.
Grains.
Night Shades - eggplants, tomatoes, potatoes, and peppers
Some may react to high histamine foods like fermented foods.
3. Eat these Healing Foods:
Bone Broth - rich in mineral, collagen, and gelatin for skin repair
Fatty Acid Omega-3 (at least 1500 mg/daily): for reducing inflammation. Wild Caught Salmon, Sardines, or Flax Seeds. Fermented Cod Liver Oil (amazon Affiliate Link) is one of the best Omega 3 containing supplements.
Probiotics: Fermented foods (if the trigger is high histamine food, this category should be avoided), Kefir, Kombucha, Probiotics like Bio-Kult (amazon Affiliate Link)
Vitamin A: orange and yellow colored foods like carrots, pumpkins, for skin health
Food high in Zinc - like oysters, pumpkins to metabolize fatty acids
4. Natural Remedies to Help Heal Eczema:
Vitamin D3: Sun exposure helps with killing germs to prevent secondary infections and to improve the immune system
Use NON-TOXIC health and beauty products WITHOUT chemicals. Check here , here, and here for the lists of toxic chemicals that might be in soaps, shampoos that you might react to. The best thing to do is to try various brands to see what works for you. But one thing for sure, less number of ingredients the better. One of the latest products my children love is called "CURE E Set" and "Spot" from a company called Bloom Naturals. It's very hydrating and used like a lotion when applied right after a shower. It keeps the skin moist much longer than any other lotions they tried. The "Spot" is a roll-on that's great for spot treatments. The tube is small but potent so you can carry it in your purse for a quick emergency remedy. My daughter in college loves how effective it is on her finger. She admits, it "smells" a little but it's a small price to pay for an effective skin remedy. (Bloom Naturals is offering $15 off when you purchase the Healthy Living Bundle as a bonus!)
Mineral Bath - take a 15-minute dead sea salt mineral bath with oatmeal. Do not take more than 15 minutes and avoid daily baths or showers as your skin may dry out. You can also add lavender essential oil to the bath for healing and relaxation.
Exercise - moderate level of exercise that causes you to sweat will detox toxins out of your skin. Some people love infared steam sauna to sweat out the toxins too.
Reduce Stress - this is very important since cortisol can cause inflammation so try to reduce stress levels. Meditate, drink Natural Calm for Magnesium to relax your muscles and calm your mind, practice Yoga, or use these stress reduction techniques to be more relaxed and less stressed.
5. Diets
I believe food as medicine for healing diseases, especially, Eczema. As a general rule, I've listed foods to avoid and foods to eat above but I highly recommend the following diets to alleviate or heal Eczema, if not to cure.
Paleo - avoid grains, added sugar, processed foods, gluten, dairy, legumes, and potatoes
Autoimmune Protocol (AIP) - similar to Paleo but more restrictions. Read the differences here.
Whole 30  - similar to Paleo. No sugar, alcohol, grains, etc. Read the list here.
Alkaline - this is hard to do if you eat meat since meat is highly acidic. But, if you can balance your meals with LOTS of vegetables which is what I recommend anyway,  then, your body will be more alkaline, which causes less stress on the immune system.