Toasted Coconut Teriyaki Scallops sound more like a tropical dessert but this quick and easy meal will be a regular "go-to" dish for your family!


Disclaimer: Dang Foods sponsored this post and sent me two month supply of their products to create an Asian inspired recipe. As always, I only post about products I recommend and as you can see, I highly recommend their toasted coconut chips! 
I admit; I am not really a snacking type of person. So, when Dang Foods sent me a box of their lightly salted coconut chips (Amazon Affiliate Link) and toasted coconut chips to develop an "Asian inspired" recipe, I was relieved that they wanted a meal, not just a snack recipe. Whew!
I mean, don't get me wrong. I love snacks and I really enjoyed eating these Dang's Toasted Coconut Chips right out of the bag….and on yogurt bowls and smoothies. They added just enough sweetness and crunch to my morning breakfast.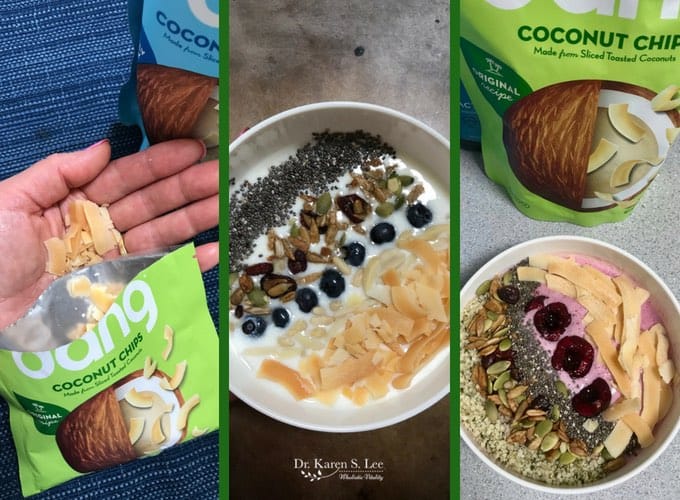 But as easily as I could have been addicted to eating them out of the bag, I really wanted to create a real food, you know, to nourish my family and not just to satisfy their snacking habits. Of course, before that happened, I had to hide some of the bags from my husband who devoured a couple of them when I wasn't looking. Yup. I sometimes have to hide food from him. Sigh… But I don't blame him for munching on these since they are perfect snacks with low calories and sodium! I barely had enough to use them for testing recipes! But I digress.
Back to the recipe….
As I was trying to come up with a knock-out Asian inspired recipe using the toasted coconut chips, which is more challenging than you think, I was thinking the recipe had to be easy, and not too coconut-y. I mean, I love coconut flavored foods but for meals, strong coconut flavor can be overwhelming and it can turn people off.
So I decided to make our all-time favorite, Paleo-friendly teriyaki flavored scallops. The toasted coconut chips worked perfectly well as flavoring garnish for the scallops and the coconut rice. Teriyaki sauce is usually made with sugar, soy sauce, and some sort of a thickener. But since we're a Paleo family because of gut health issues, we don't use sugar or funky thickeners. The paleo Teriyaki sauce I used in this recipe is from my cookbook, Paleo Cooking with your Air Fryer and it's delicious on meats, vegetables and of course, seafood. But shhhh….don't tell my publisher I'm sharing the recipe with you.

I love using large sea scallops as they are usually wild caught or raised on sustainable farms. Scallops are rich in Vitamin B12, Iodine, Protein and low in carbs. This recipe calls for marinating them in coconut milk and coconut liquid aminos for subtle flavor but the sugars in them help to caramelize the outside.
I know you'll love this flavor combination. The crunchiness and subtle coconut flavor from toasted coconut chip flakes on top of the scallops and the coconut milk rice will make your family coming back for seconds. And because this is so easy to prepare, I'm sure you'll love making them again and again. The Toasted Coconut Teriyaki Scallops have 9g of carbs. You can serve the scallops with salad instead of the rice if you're on the Keto diet.
If you prefer baked scallops, you can dip them in a beaten egg first, and then coat them with Dang's Toasted Coconut Chip flakes (see the instructions in the recipe below), bake them for 20 minutes at 400°F . Serve with the chips and salad for a complete meal! The chips are great with hamburgers and sandwiches too and so much healthier than potato chips or french fries!
Why Use Coconut Chips and Not Coconut Flakes?
Dang's Toasted Coconut Chips are different than regular coconut flakes. They are crunchier and firmer so they hold up better for cooking or baking or eating them plain. Make sure to use lightly salted coconut chips (Amazon Affiliate Link) – the blue bag – for this recipe if you're watching your carb intake. I think coconut is sweet enough but if you want them even sweeter, the regular chips (Amazon Affiliate LInk) – the green bag – are slightly sweetened with cane sugar.
Lastly, one of the reasons why I decided to accept this campaign to develop an Asian inspired recipe from Dang Foods is that they are a Certified B-Corps, meaning they meet rigorous standards of social and environmental performance alongside profit goals. What a great company to support, isn't it? Also, their products are Non-GMO Project Certified, which is another great reason for my wanting to try this product. Their goal is to connect cultures through food and fun is truly admirable!
Toasted Coconut Teriyaki Scallops
If you love seafood, check out my other seafood recipes!