Quick Instant Pot Seafood Paella is an easy dinner for a weeknight, especially if you use frozen seafood mix! Everyone will love this all in one meal!
I've been cooking with my Instant Pot (Affiliate link) about three weeks now and I haven't used my stove top or oven for making main entreés. I've used them to make sauce for cheesecake and brown salmon but that's about it. I also haven't used other kitchen appliances like the rice cooker (!) or the crock pot. I even reheated leftovers in the Instant Pot and haven't used the microwave as often. I love it so much that I became an affiliate. See the discount details on the sidebar. It's cheaper than buying from Amazon with my discount codes!
Instant Pot® DUO60
I have the model DUO60, which is not the Bluetooth ready, SMART model, but even without the extra features, it's enough for me. If you own one, you're probably like me; you use it every day and appreciate how it's making your life so much healthier and easier.
The food cooks in ⅓ the time!
It retains moisture.
It retains nutrition better than any other cooking method!
You can delay cooking so you can set the timer to start cooking.
The pot is heavy bottom stainless steel so there is no Teflon!
You can make yogurts, rice, soups, bone broth in 2 hours (!), cheesecake (recipe to follow!!), and so much more!
I'm not much of an infomercial sales person - heck, I don't even like watching them - but this pot is really the only appliance you'll need for cooking. It saves time and counter space! I know you'll love it. Check out the website for more incredible things about this awesome kitchen appliance you're going to love!
hip Pressure Cooking Cookbook Review
One of the websites I go to for pressure cooking information, besides Instant Pot, is a site called hipPressureCooking.com, published by Laura Pazzaglia, who can be seen on videos throughout Instant Pot's website. Cooking with a pressure cooker is easy but some education is needed at first for things like proper liquid ratios, timing, pressure setting and types of recipes that work best in it. And it turns out, she has a cookbook (Amazon affiliate link) filled with all those info AND amazing recipes! So I was thrilled when she offered her book for me to review, share a recipe from it AND offered a copy to giveaway too! Aren't YOU lucky!
I will be sharing more recipes from the book this week but first, I want to share one of my favorite, FAVORITE, dishes, Paella.
Quick Seafood Paella Recipe from hip Pressure Cooking Cookbook
I have never made Paella, although it's one of my favorite dishes, because it's a bit complicated to make and it "requires" a special Paella pan. I'm always trying to reduce what I have so I didn't want to buy a pan just to make one dish. But I love Paella's deep seafood flavor enriched saffron rice mixed in with the variety of seafood and shellfish I love. When I order at a restaurant, even the single portions are so big that I always end up sharing with my family. So this was a perfect dinner menu for the Instant pot.
Paella usually takes hours and multiple steps to cook. But with Instant Pot, it took longer to wash squid and shrimp than to cook this meal!
Sauté the veggies right in the pot.
Add rice, stock, and spices.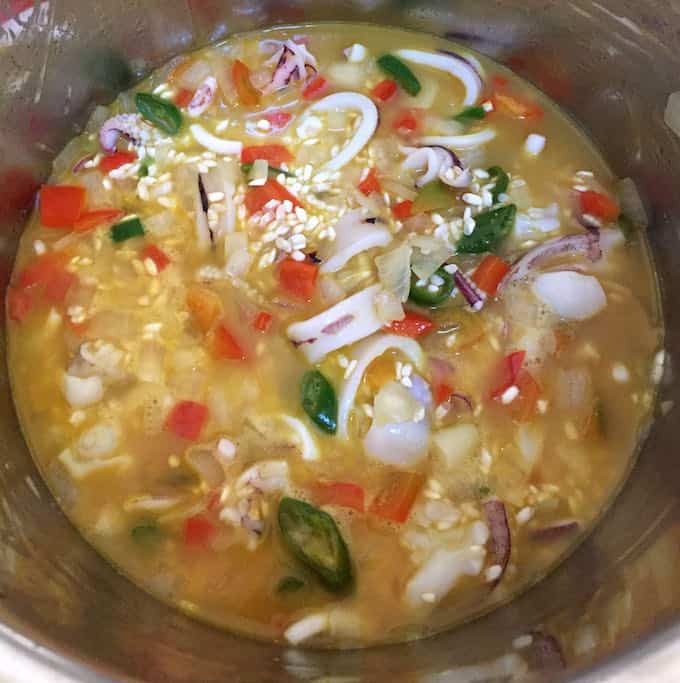 Cook on HIGH for 6 minutes. That's 6 MINUTES!! No lie.
So are you in? Thought so.
Here is the Paella recipe from Laura's hip Pressure Cooking cookbook.
Recipe
Did you try this recipe? We would love your feedback!
Click on the stars on the recipe card below.
Quick Instant Pot Seafood Paella Recipe
Quick Instant Pot Seafood Paella is an easy dinner for a weeknight, especially if you use frozen seafood mix!
Ingredients
Fish Stock
4

white fish heads

I used cod

2

carrots

1

celery

1

bay leaf

1

bunch

parsley with stems

6

Cups

water
Paella
4

tablespoon

EVOO

1

Medium Yellow Onion

diced

1

Red Bell Pepper

diced

1

Green Bell Pepper

diced

1

large

pinch saffron threads

2

cups

short-grain rice

See Notes

1 ¾

cups

Vegetable Stock or Seafood Stock

See Notes

⅛

teaspoon

Ground Turmeric

2

teaspoon

Sea Salt

1

cup

seafood mix

squid, meaty white fish, scallops

2

cups

mixed shellfish

clams, mussels, shrimp
Instructions
Fish Stock
Add all the ingredients to Instant Pot

Set on HIGH for 5 minutes

When timer goes off, use NPR to release pressure
Paella
Set Instant Pot on "SAUTE" and heat EVOO. If using stove top pressure cooker, heat the pot on medium heat until the pot is hot and add EVOO. All the other electric pressure cooker, use the direction to heat the unit hot to add EVOO.

When the oil gets hot, add onions and peppers and saute until onions soften, about 4 minutes.

Stir in the saffron, rice, and seafood and sauté everything together for 2 minutes.

Then add stock, turmeric, salt, and mix well.

Add the seafood and put the shellfish on top and do not mix further.

Close and lock the lid of the pressure cooker.

Cook at HIGH pressure for 6 minutes.

When timer is up, use natural pressure release (NPR) method.

If NPR doesn't release pressure in 15 minutes, release the pressure manually by opening the vent valve.

After the pressure is completely released, open the lid, mix the paella well, cover and let stand for 1 minute before serving.
Notes
Fish Stock: I made my own fish stock in the Instant Pot but you can use vegetable stock if you have. But fish stock it was really simple to make in the Instant Pot before starting this recipe.
Rice: I added 2 cups of rice and 1 ¾ cups of fish stock with the seafood to cook in one pot. Then, I made extra rice using the same ratio in another pot (I have two pot liners so I can make two things at once) and added it to the rest of the dish afterwards. The reason being, I didn't want the pot to get too full if I used more rice. But if you don't have another pot liner (I highly recommend getting the accessory setfrom the company's website), you can probably fit 3 cups of rice and add about 2 ⅔ cups of fish stock.
EVOO: Sauté setting on Instant Pot does not get very hot so I felt comfortable using EVOO but if you don't, then, you can use Avocado oil.
Disclosure
This recipe may contain links that pay commission to this site when you purchase from the links, at no extra cost to you. Full disclosure!