If I told you, I had the best sandwich, ever, at a college varsity sporting event, you won't believe me.
But I did.
It was so divine that I devoured it in three bites and I didn't even have a chance to take out my phone to take a photo.
Murphy's Law; When you need a camera, you run out of battery. Fact. Film would have been the answer if we are talking about the 80's.
Usually, vegetarian options at sports events are either a questionable Tuna Fish sandwich or some wilted lettuce leaves with anorexic slivers of carrot shavings. But at this particular event, I had a real sandwich. No. More than just a sandwich. I had a meal.
I had Beets Sandwich with Caramelized Onions, Candied Walnuts and Goat Cheese on Multigrain Bread.
I. kid. you. not.
I've been thinking about that sandwich ever since and I just had to make it again, with some of my own favorite ingredients,
I added roasted peppers to balance out the sweetness of the beets, apple slices, and candied walnuts.
Whoever paired caramelized onions to sandwiches was a genius. I sauteed mine with some drizzled balsamic vinegar.
And then, I piled up mile high on a multi-grain Panini bread, layering without thinking how the heck am I going to bite into this stack.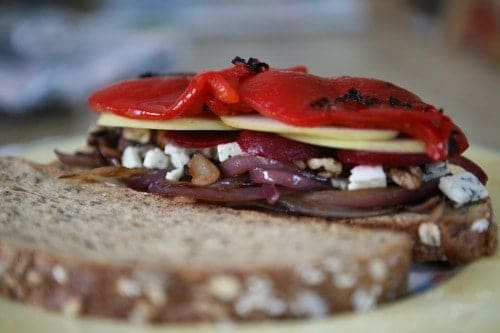 Then, I made one for my carnivorous Accidental Recycler. Because I am nice.
Admiring at the deliciousness.
Two minutes later....
Stop drooling and make the sandwich. Go on.
Beets, Caramelized Onions, and Apple Walnut Sandwich
8 slices of Pickled Beets
1 Roasted Peppers
½ Med Red Onion, sauteed in EVOO and 1 teaspoon Balsamic Vinegar
6 Apple Slices - any variety
Crumbled Blue Cheese or Goat Cheese
Candied Walnuts or Plain Walnuts
Multi-Grain Bread
Layer the ingredients on the bread and devour!
**To make it vegan, leave out the cheese.